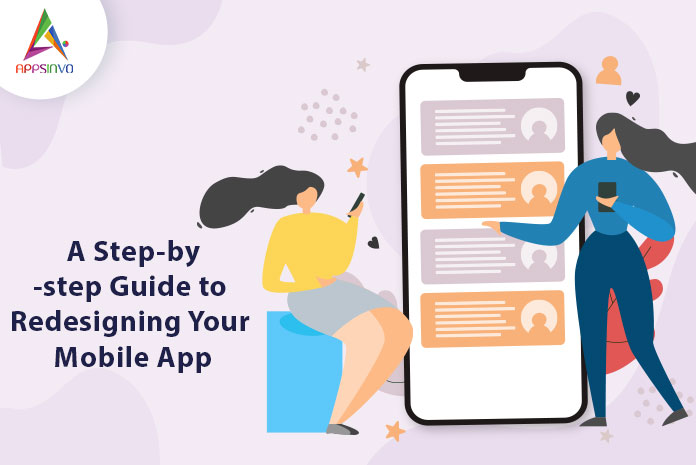 Technology is emerging very rapidly nowadays so whatever you have made last year will be considered as unfashionable or out of trend in the current days. Like you will not be going to wear your mom's old saree or your dad's shirt that is out of trend right now, right? The same thing also applies to the website and mobile apps, especially if it is old for more than 2 years. In this article, we will get to know why you need to redesign your mobile app and steps to redesign it. 
When is it Need to Redesign Your App?
Let suppose, you have created mobile apps years ago for your business but it is not earning the same or enough revenue as it was earning or maybe you are trying to follow the trend every time and expecting your mobile app adopt as soon as possible before the trend fade. Here are some most common reasons to redesign your app. 
Your app may be outdated, we all know how technology is emerging day by day. So if your app is more than one year old and you don't give any update to your app till now, so it is high time to redesign your app.

Do not have enough designs. Having a successful app for your business is good but that app does not have enough graphics that are required for the app can be a turn-off. So it id important to give a redesign to your app.

Confronting feature issues that are not working properly. If your app does not work properly, there are hundreds of trouble-free apps out there you users will go to them. So before your customer base go to the other side, give a redesign to your app.
Redesigning Your App
Identify the Main Cause
From the above, you get the reasons to start redesigning your app but before jumping directly to the redesigning it is very important to figure out which reason fits as per your business. After all, it is imperative to understand the required changes and start functioning to fulfill the lacking. 
Collect User Feedback
The user's feedback is always important for your app redesigning. You can get feedback from your app comment section on the Play or App store or you can also perform some poll inside the app or on the social media. Through this method, you can easily find out what your users love or hate about your app, these feedbacks are valuable information for your business. 
Indulge Fashion Trends
As we all know technology is evolving every day, so the technology trends are come and go, it is becoming very important to stay in the current trends in the IT world. There are many technologies out there that make your app more innovative and unique from others. You can use technologies like AR/VR, IoT, Blockchain, chatbot, with unique programming languages like the flutter, react native, Kotlin, and many more that add value to your app. 
Do Competitive Analysis
Competitive analysis is one of the important reasons to redesign your app. As per the download rating, you can easily found many apps on the play store. Here you need to use those apps and identify their winning features. This will help you to get new ideas for your app and give it a new look and design that will be loved by the users. 
Test the Changes
This is the second last and the foremost step of the app redesigning is testing whatever the changes you have given your app while redesigning it. It is suggested to test the app more than twice. This will make sure the app you will launch is bug and error-free. You can also launch the beta version of your app to the specific users who have knowledge so on their basis you can male your app better before the deployment. 
Monitor Response After Launch
After redesigning the app, you are now ready to launch your new app with new changes and new ideas after all your hard work but you need to make sure the new updates of your app are well advertised in the market. Because the public will notice how much time and endeavors you put into your app redesigning. So just launching your new app is not enough, you also have to collect all the feedbacks and reviews of your new app that will help you to improve your app for the later updates. 
Conclusion
the whole process of mobile app redesigning can seem overwhelming at earlier but by following the steps mentioned above will make sure all the work you have done or about to going to start will be worthy. if you are interested in redesigning your mobile app, we would love to chat and redesign your app. Our team helped many overseas and Indian companies of all shapes and sizes redesign their apps.
Till then, stay safe, stay at home, wash your hands, and be happy
For more updates, stay connected and keep reading
Toddles!!