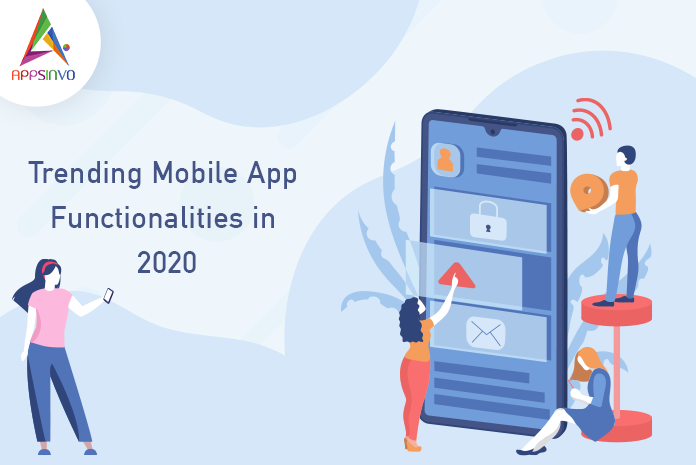 After seeing the current scenario we can see a vivid image of how the usage of mobile phones or smartphones is growing day-by-day. 
There are many applications in the market that no one resists using use them while other apps are worse, forgotten or uninstalled.
For making a remarkable app you need to know and follow the trends in the mobile applications in this way it summarizes the demands of the users and market.
It is not an easy job to allure the users. Through this article, we'll help you to make your app as per the trend and more notable.
Artificial Intelligence
Using artificial intelligence in mobile apps has begun to see in recent years. But in 2020, AI is expecting to expand its usage in the health sector.
By using the AI in the mobile app it makes the user experience more satisfying. There is a high demand for using chatbots and virtual assistance because they give personalized customer service.
Moreover, AI used in mobile apps to make it more secure, to do tasks automatically and resolve technical glitches. 
AR & VR
In the starting of Augmented reality and virtual reality, it is just limited to video games. Now this time, it gets out of its comfort zone and expands to the domains.
In the new version of google maps, they are using AR to show the real-time direction. In a similar way, AR is using in real estate to choose the color and the interior design of your house.
On-demand Apps
These essential mobile applications that operate as a medium between provider and client. The foremost function of these apps is that the user gets meaningful time, effort, and money savings. 
Therefore, on-demand apps are experiencing rapid growth and will remain in trend for mobile applications in 2020.
Mobile Wallets
We all have been using mobile wallets for many years through payment systems like credit or debit cards, customer loyalty cards, or discount cards that can be stored. The main advantage of using that is they securely do payments in a flexible approach.
Web and Mobile integration
Our 60% of our time we consume on mobile by using the applications. But there are certain tasks are only done through the desktop. 
In 2020, there is a trend of application integrated with the desktop web. This function in your app makes it more useful and versatile for your users.
Conclusion
These are the trends that not only make your mobile app notable but also make it different from others that make you unique and more notable.