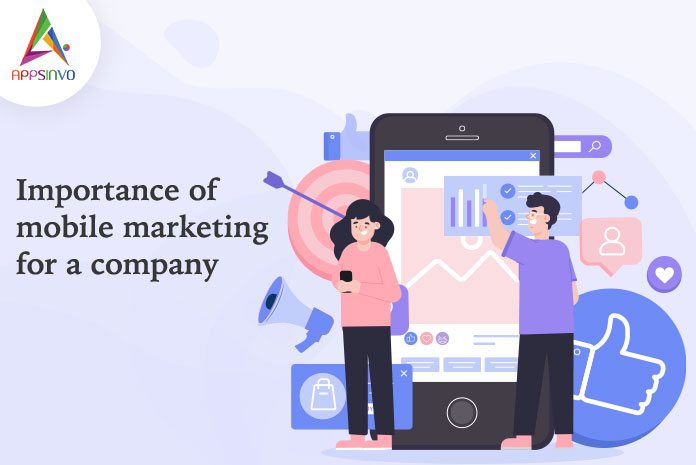 In the world of technology, there are more users of mobile than desktop versions. Everyone is loving mobility that makes us more suitable to do work from anywhere and enable us to access any information from your own place. So excess usage of mobile phones enhances its importance for doing marketing. 
Every company, startups, businesses, organizations, and SMEs need to understand the importance of mobile marketing. So, in today's blog, we're going to tell you the importance of mobile marketing for a company. 
Importance of Mobile Marketing for a Company
More Convenience
Apps for convenience may be worth for marketing, but there are three restraints. First, they strengthen relationships with existing customers. Second, built brands with an excellent customer base and take advantage of customers using apps to address and adhere to itself – so they are not suitable for every company. And third, offer more and more vendors effective apps, so it becomes more tricky to distinguish on this basis.
Deliver a Unique Value
Some apps can not be used on desktop or laptop devices, so they use the mobile facility to fulfill the gap. So it is essential to deliver unique value to your customers so they easily get connected to you and your business. In the current scenario, there are mobile users are more than desktop users so take the advantage of mobile and do mobile marketing that adds more value to your business.
Build Social Benefits
Through mobile marketing, your company can easily take social benefits. It helps the company to build its long-term relationships with their clients by using different social media platforms. For mobile marketing, you can use different social media platforms to not only make your business a brand but also helps to do marketing for your mobile app so you can get the lead for your business. 
Give Incentives
Through mobile marketing, you can entice new customers by giving them incentives. It helps them to entice new customers. The fundamental idea is several companies are seeking to make short-term advertisements and other reasons for customers to buy their products. To ensure a position among the several apps on the smartphone of a customer, you have to come up with more lucrative temptations.
Entertain
Smartphone users spend their 40% time on gaming apps and for tablet users, this ratio is even higher. So here all you need to do clever marketing to make this an advantage for your business. After the overnight success of Angry Birds, Pokemon Go, and PUBG, the mobile app industry has attracted the young professional who can develop gaming apps and its marketing that gives you benefit. 
More mobile screens than ever
In a study, it is shown that more than 79% of people always keep their phones with and give it more preference than laptops and desktops. The people users their mobile phones almost the whole day, this is one of the biggest reason behind mobile marketing. This helps the marketer to reach their targeted audience 24/7. Through mobile marketing, marketers can interact with their audience anytime whenever they want, whether it is for complaint, service, product information, sale announcement, or anything else. 
Conclusion
People spend many hours on their smartphones so this is the best way to do mobile marketing and through the above points you get a clear idea about the significance of mobile marketing for a company. 
Till then, stay safe, stay at home, wash your hands, and be happy 
For more updates, stay connected and keep reading
Toddles!!