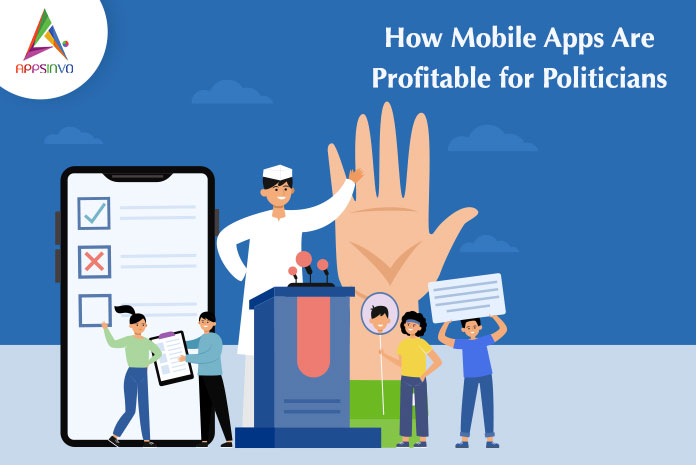 In today's world, almost everyone is using smartphones and doing most of the work through mobile apps. Mobile apps are expanding at a fast speed in every domain, it is present everywhere from ordering food to medical care, you name it and the app is right in front of you. In the smartphone world, radio, televisions are becoming less using devices because the smartphone's fascinating features are replacing them within just a few taps on them. 
In the 21st century, almost every device is getting switched with a smartphone, people started streaming on their smartphones instead of TV, desktop, or laptops. There are many domains in which mobile apps are available like banking, news, finance, eCommerce, healthcare, music, videos, and many more. Now mobile apps are also covering the politics that would not only good for political parties or leaders but also the country. 
The former president of the USA Barack Obama is the first political that developed a mobile app meanwhile his presidential rule. This app helped people to connect with their relatives and friends from different places, donation interface, and other attributes to inform about events taking place. 
This app released by the former president of the USA got huge success and drastic results. After this incident, many political leaders started developing a political mobile app. This gave top mobile app development companies another sector to develop unique apps. This shows the significance of technology in the political domain as well. 
The political leaders need to reach their supporters and technology is the best way to do it without spending a lot on traveling. Through this article, we will discuss how mobile apps are beneficial for political parties and leaders. Let's see the advantages of the mobile app for politicians.
Profit of Mobile Apps for Politicians
Create Awareness
Political parties need to create awareness about their political plans and agendas. It is necessary to let the public know what are the new things they are doing for the public and why the public should vote for you. A mobile app for the political party can help them to create awareness about the aim of the party and update them about the social work party is doing for the public. 
Fundraising
The mobile app for the political party can help them to raise the fund for a noble cause or aim. If civilians find the aim is for the betterment of society, they will definitely come for the donation. A small donation from a large group of people can generate huge funds and politicians can use this fund for social welfare in a significant way. 
Disseminating Message
India's current PM Mr, Narendra Modi also has an app through which our honorable PM can send their message to the citizen of India because mobile apps enable to reach a mass of the crowd. Moreover, mobile apps have internet connectivity, therefore it becomes easy to access from anywhere and from anyone. 
Spread Awareness
At times, when political parties or leaders remain unaware of the issues of the citizens that they need to resolve. These mobile apps play a vital role here to spread awareness of particular topics and make it understandable for the general public. Political leads must be honest about their objectives and this is not possible without any medium. Therefore, a mobile app is the best way to make everything lucid and easy. 
Engagement
With the help of mobile apps, it becomes easy for the supporter to know more about the parties and can engage through the app. The mobile app is a platform for political parties or leaders to express their beliefs and ideas to the public that motivated them to share their opinions. This approach not only brings engagement in an app but also create the awareness that the party is working for the civils
Surveys
It is important for the political parties to know what citizens are thinking about them or know what are their opinions about their party or works. Suck kinds of surveys and studies help the political parties and leaders to collect information about a circumstance to take essential steps. This continuous interaction between normal people and political parties or leaders will develop a relationship of trust. This app data can be used for the betterment of society through the party. 
Final Thoughts
Many mobile app development companies have shown their caliber by delivering and developing an unmatched mobile app in many domains and politics is also one of them. If you are a general user with a deep understanding of politics, this app will definitely help you. If you are a political leader and party and do not have an app yet, you must consider having an app to gain access to a huge mass. 
Till then, stay safe, stay at home, wash your hands, and be happy
For more updates, stay connected and keep reading
Toddles!!