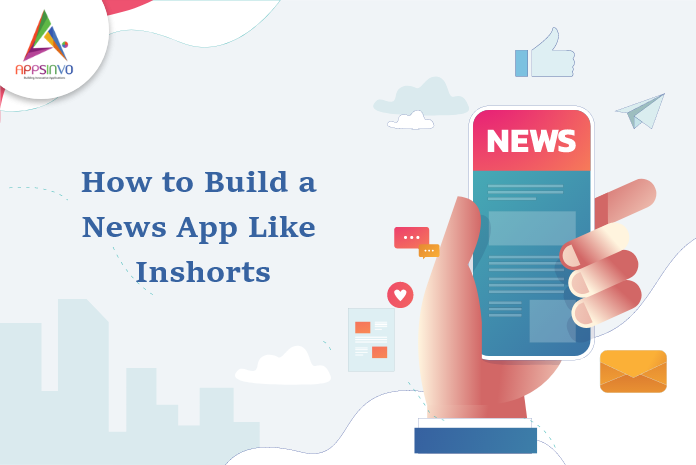 The normal mornings be like have a cup of tea and holding a newspaper in your hands. Those days are gone after the age of digital technology. There is no doubt that the newspaper is still one of the most preferred options when it comes to saving paper and encourages sustainable behavior, our smartphones help us to give the idea of having a news app.
In the era of gen z, news apps are more relevant than the old and conventional newspapers. There is no doubt that in the nearest future, everyone will rely on the smartphone app instead of the newspaper to keep up with the current events. 
The print media may cease to exist in the future. Inshorts is one of a slew of news apps that are available in the app and play store and it is one of the most popular. Therefore, we have decided to cover this app's details in this blog like its functions, features and how much does it cost you to develop an app like inshorts.
Inshorts is a popular and widely used news app that combines news from different resources and brief them into minute news. The other article like blogs, detailed news, etc is also there in the objective style but with the limit of words (50-60). The information is presented in an eye-catching and economical manner. Whether it is a story about the entertainment industry. The app provides a description of current events and happenings. 
What are the types of News Apps?
There are many types of news app but only two kinds of news apps are famous in the marketplace. 
Aggregator News App
This type of news app has virtually all of the most recent news from across the world. These are some of the most popular apps since they don't restrict material based on community, geography, or other factors.
News Resource Mobile App
These apps are essential for an electronic version of existing print media. These apps provide you with news updates, headlines, and refreshers frequently.
Top Other News App Like Inshorts
Apart from the inshorts, there are many news apps available on the play and app store which gives short information about the news and if you want more detail about a piece of particular news, you can also read that. let's see some other news app
It is a news hunt app & is also available in the google play store. It provides the latest news in Hindi, English, and many local languages from leading newspapers of India. Get breaking news, daily headlines & updates on politics, sports, business, Bollywood & entertainment, technology & automobile. Stay updated with trending news & Live cricket score on India's best news app. Also, read magazines & free books.
It gives a comprehensive and personalized view of headline stories and local stories & weather. It covered news from 75,000 publications from around the world. Instant-load read experience with AMP (Accelerated Mobile Pages). It having an easy swipe way to categories such as Top Stories, Technology, Sport, and Weather.
News Point
News Point is the fastest news app. It provides breaking news alerts from trusted daily national and international sources in a crisp, precise, and personalized form. It gives a simple, fast, and clean reading experience to millions of enthusiastic new's readers in India and supports 11 languages.
It provides short paraphrased news in different languages. It presents to you a unique flip reading experience with shortened and short stories in 9 Indian languages.  This app updates the latest headline stories from your favorite newspapers and magazines across various categories.
Necessary Features for News App Like Inshorts
The functionalities and features of a news app find how your app will function in the marketplace. There are many apps is already in the market but the place of the Inshorts app is unplaceable. Here are some features that make the inshorts app unique from others and you can also use them in your news app.
| | |
| --- | --- |
| User App | Admin Panel |
| Registration | Live Streaming |
| User Profile | Enabling Surveys |
| Pop up alerts | Control Ads |
| Search | CMS Manager |
| Offline option | Offline Solution |
| Real-time News | |
| Sharing Feature | |
| Filters | |
| Media Compatibility | |
Factors that can affect the Developing cost of News App like Inshorts
The building of news apps like inshorts should be robust so they can easily stand out in the market and be updated with the time and trends. Here are some points that could easily affect the developing cost of news app
Type of the app

Including features

Hiring the right app development company

UI/UX design

Number of platforms

Location
How much does it cost to develop app like inshorts
After seeing the popularity of inshorts, there are many people & businesses who are using inshorts. So this is the right time and grabs the opportunity by creating your own app like inshorts. Now the most imperative question arises here, what would be the actual or estimated cost of developing an app like TikTok. So the cost of the app will depend on the features and technologies you are using in your app but an estimated cost of developing an app will be $6500-$9500. For more detailed information, feel free to contact our sales team, they are always available for you.
Conclusion
If you are planning to develop a news app, there are many opportunities for your app to succeed. The team of mobile app development professionals at Appsinvo a top mobile app development company in USA will help you to turn your concept into a fully functional app that will meet the demands of the customers.
Till then, stay safe, stay at home, wash your hands, and be happy 
For more updates, stay connected and keep reading
Toddles!!