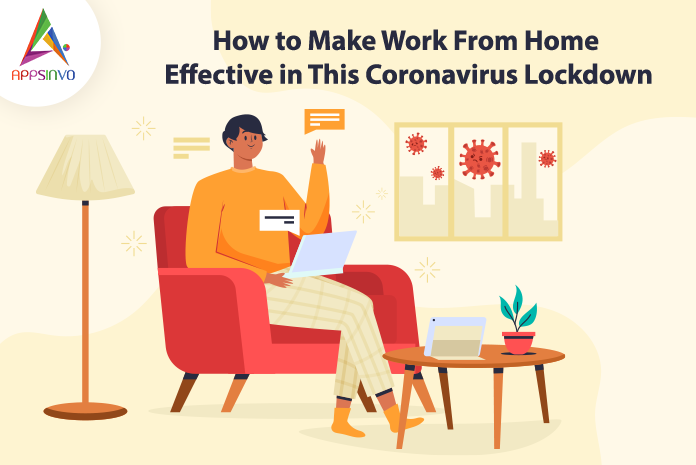 A lot of things are undergone in the drastic change like work, socialize, play, etc in this 21 days lockdown period. In order to stop the spread of this virus, Indian government authorities are planning to extend this lockdown till 30 April for the sake of Indian citizens. 
And due to coronavirus lockdown, many companies are preferring Work from home that keeps their businesses afloat. 
In this current situation, you can easily see two kinds of people- one who is enjoying their home time and making memories or reliving their hobbies, learning new things like my friends and on the other hand, other people who are working from home/pg/hostel and stuck at their pg because they were not informed on time.
So if you are the one who is working from home, this article will definitely help you in any way. So without taking you much time let's dive into the article that will help to make your work from home effective in this coronavirus lockdown:
Build a Proper Workspace
If you are working from home, you can set up a proper workspace easily, but if you are stuck or staying in your pgs or hostels and not enough space in your rooms you can set up your space at bed using a small bed table also known as Chauki. 
Use Updated Tech
Whether you're working from home or pg, it is your responsibility to stay updated with tech. You need to make sure that you have enough source of internet, install apps that are used for video conferencing and meetings like skype, zoom, etc. Also, keep your system or laptop updated otherwise it may affect your work.
Wear Comfortable Clothes
It is very necessary to wear comfortable clothes. The newsreader look is perfect for you right now because if someone calls you, he will see you from the waist up. You can stay in your PJs also.
Communication is essential
Self-isolation doesn't mean social isolation, so make sure you stay connected with your colleagues. Using video calling is the best way to sustain human connection. Ensure you take every opportunity and stay connected with your colleagues.
Curtail Distractions
If you're working from home or PG, there will be many distractions you need to face or tackle and have to find some alternative for it. For that, you can inform your working timing and give them time during lunch and coffee breaks. This will reduce the chances of conflict with your family, pet, roommates, or partner.
Take Small Breaks
It is necessary to take frequent breaks. Take tea/coffee breaks during work, it is imperative, go outside for a walk during lunch the fresh air will boost your productivity.
Conclusion
The above-mentioned points will help you to do your work from home effectively in this lockdown period. The coronavirus pandemic is not permanent.  So don't get panic, enjoy this period of time.
Till then, stay safe, stay at home, wash your hands, and be happy
For more updates, stay connected and keep reading
Toddles!!❤🙏