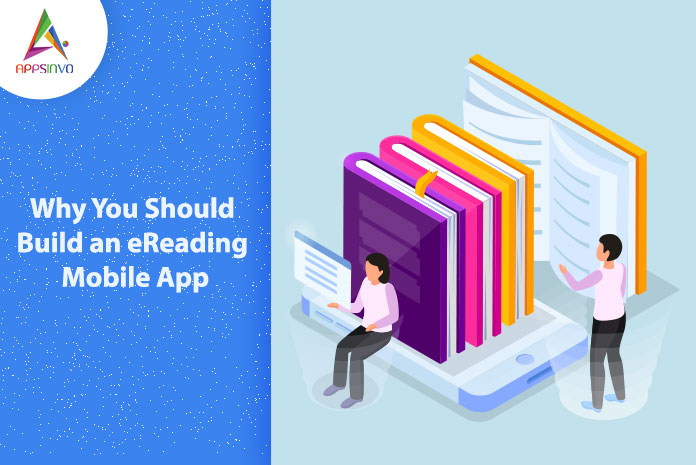 Sometimes businesses are looking for something that is exceptional, unique, and strong sales and marketing channels that helps to grow placidly. It does not matter how much your business developing and accomplished until now, you still need to reach more clients. This applies to every business either it is a startup or big enterprise, everyone is seeking for digital users and offline retailers. Nowadays, the offline retailers of the books are looking for a digital alternative and interested in taking the benefits of online reading apps. 
Therefore it is high time to follow the current trends as every book publisher is started creating its e-reading apps. So in this blog, we will discuss what is an e-reading apps and the reasons why you should build an e-reading app for your business that boost your business sales and revenue. 
What is an E-reading App?
As its names show, an e-reading app is an app that lets the users download and view the electronic books and publish them on your smartphone, desktop, and laptop as well. This robust mobile service is built to make the reading process simple, easy, convenient, enjoyable, and hassle-free. The app has control navigation within the e-reading app for turning the ebook into pages to take the feel of the book. 
Why You Should Develop an eReading Mobile App
In this tech-savvy world, every person has their smartphones that is the best way to reach millions of audiences and it also offers the platform for selling your eReading mobile app. Since people are becoming technology-friendly, so they always look for easy and convenient alternatives and the eReading app is also one of them. Through this app, users not only read the app in their smartphones from anywhere but also purchase the book within a couple of seconds. There are many reasons that tell you why you should develop an eReading mobile app, here are some of them have a look
Higher Sales
When purchasing the books becomes easy and just a few clicks away, there is no doubt that the sales of the business will also go higher. 
Give Feasibility
Caring the book you want to ready every time can be tedious. That is why eReading mobile app is feasible you can access it from anywhere at any time. The main objective of the e-books to give access to the users to read the book on the way. So no need to waste your money on buying heavy books until you are the one who loves to read-only from paper books.
Various Options
The eReading app is for every type of user. If users want to enjoy the library enrich of books that contain free or paid both books as per the taste of the users. Therefore the process to find your preferred piece of the book is highly assisted. 
Improved Brand Loyalty
When you develop an eReading app for your business, it will improve your brand loyalty because of the features of your app. Your customers and client will stay loyal to your app, so it is necessary for you to maintain the content and the appearance of your app.
Extra Value for Clients
Through the eReading app, your clients will get an extra way to interact with your business and a way to buy the book through the app instead of browsing the book online. 
Customization
If you buy a book you cannot change the way of the book like its font size because they are published and unchangeable, they are going to be the same forever but the case is different from the eReading app. In the app, users can select the background, font size, in fact in which format they wanted to read the book, in short users can customize the book at their convenience.  
Create Brand Awareness
Having an eReading mobile app creates an extra channel to boost your reach and assist you to build your own brand value in the market whether it is online or offline. 
Summary
After seeing the reasons, we hope we will understand why you should develop an eReading app. At Appsinvo, we will help you to develop a unique reading app with lots of features that entice the users and builds a strong brand value in the market. All you need is just drop a line and we'll take care of rest.
Till then, stay safe, stay at home, wash your hands, and be happy
For more updates, stay connected and keep reading
Toddles!!