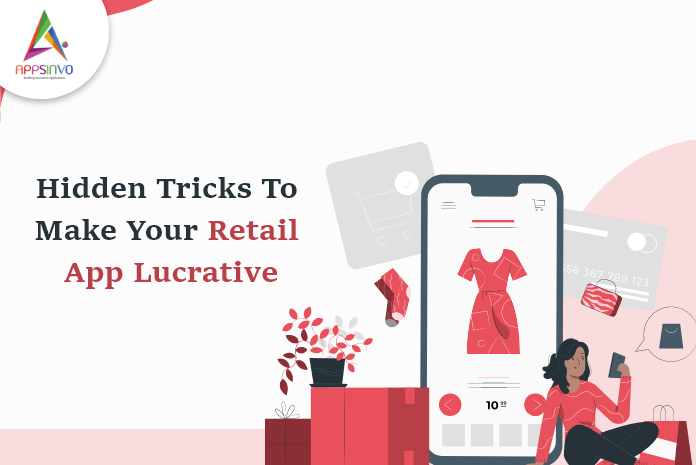 Those days are gone when customers prefer physical shop for shopping. Now e-commerce websites and mobile apps have taken place of everything in the market. Mobile app solutions have been on the rise and are seeking the attention of loyal customers, especially in the retail sector. Even it is proving that the demand for eCommerce solutions is constantly accelerating and surely will be high in the future. 
Having visually appealing UI/UX design in your retail app will help your business in many ways, from fostering your clients to using unique technologies to allow the users to have a look at the product virtually. Whether you have a website, blog, or company, creating your retail app is a great choice to break into the digital market. 
Now here the simple question arises that how you can make your retail app more lucrative?. This article will be helpful for you to build an eCommerce app development to beat your competitors. Here is a list of top hidden tricks that will help you to build a creative retail app for your business. 
Hidden Tricks To Make Your Retail App Lucrative
Find a problem & come up with a solution
The right way to start app development or project is to first identify a problem. The problem should be related to the obstacles that normal people are confronting in their daily lives. So it is better to develop an app or website that can personally encounter the daily problems that motivate you to work.
Gather a team
After identifying the problem, you need to hire a top mobile app development company in India. The company you hire for your project will understand how to build a product that can solve the problem, take responsibility for the technologies using in the app, and helps in engaging with the users. 
Select business model
While designing your app, don't forget to monetize your app. There are many other ways to monetize your apps like paid subscriptions, in-app purchases, and many more. Through monetizing your app, you will get the opportunity to address the value of your app in the market. 
Improve brand identity
Having a cool name for your app definitely affect its brand identity. The name of your app should be simple. We are already living in a highly competitive world, so try to keep your app name short and simple that will help your users to remember your app easily and increase your business brand identity.
Build a prototype
For building the prototype the top mobile app development company in Canada will help you and if still did not hire any company, you can also do this step on your own with the help of proto.io and Invision tools. If you are done creating the prototype, you can start developing your app. 
Find your potential users
Users and their feedback is the backbone of your app. After receiving positive and encouraging feedback from the users for your beta version app, you can easily launch your app into the market. As long as you are not convinced with your product and people like what you have developed, there is no point to spend more time and money on marketing.
Make the app noticeable
Most of the sales of the app are done in the app store. So try and make sure your app shows in the top list of the app for that you need to optimize well your product. It will help you to boost your brand identity and increase the usage between the potential users.
Collect funds
In the starting, you should stick to self-financing for your app development. When it comes to expanding, you can surely think about the investors and funds for your app. 
Grow in the right direction
Your app main concentration should be on users. Communicate with the users regularly to improve yourself and try to maintain their interest in your app.
Summary
So if you are planning to build a retail app for your business and stuck with this post, I am sure you will be happy to know these tricks that really can help you to make your retail app lucrative. For more details, you can contact the top mobile app development company in USA. 
Till then, stay safe, stay at home, wash your hands, and be happy 
For more updates, stay connected and keep reading
Toddles!!