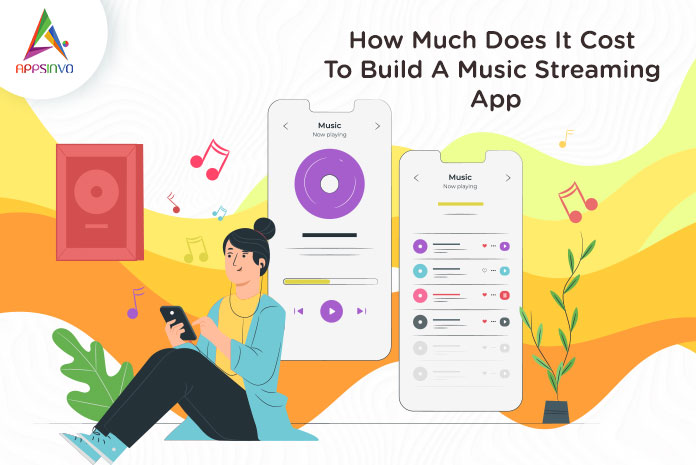 The pandemic has completely changed the way people live and perceive the idea of entertainment and music. The thing that was used to be nice to have has gradually become a must-have changing the reality of the subsequent consumption. 
The resultant lockdown time when people locked themselves indoors the only entertainment in the form of audio or video and there are many video and music streaming app that provides content. And this has led the music industry to be more creative and utilize the many technologies to bring new features to engage with a wider audience. 
We are not going to analyze the effect of the current pandemic on the music industry or the music streaming app. Through this article, we are going to give you a brief of how much does it cost to build a music streaming app. 
Examples of Some Music Streaming Apps
Deezer (PC to windows, Android to Blackberry)

iHeartRadio (Blackberry, iOS, Android, Windows, and Xbox)

TIDAL (Android, iOS)

Apple Music (Android, iOS)

Pandora (Android, iOS)

Xbox Music (suitable for Microsoft Windows Device)

Youtube Music (Android, iOS)

Spotify (Windows, Blackberry, iOS, and Android)

Amazon Music

TuneIn Radio

SoundCloud Go (Android, iOS)

Mixcloud (iOS & Android)
Types of the Music Streaming Apps
We are not sure that the music learning apps, editing apps, or musical bands, identification apps are the necessary part of music streaming apps. But in general, the music streaming apps are two types: radios and On-demand
On-demand music streaming apps enables users to build playlists to their choice songs and easily share with your family and friends.

The radio streaming apps are not about listening to particular songs as per your choice at any time. This type of music streaming apps are about tuning the frequency modulation and simply relishing what is already being played. 
Features in the Music Streaming Apps
There is no doubt that in thor article we are talking about the on-demand music streaming apps that allows the users to play the song as per their own choice, download it and play it later without any ads, share the song with your family and friends. 
Such kind of apps often prompts to upgrade the account for ad-free streaming, charging something minimal and give alternatives to redeem loyalty points. Here are some basic features that should be in every music streaming apps
Login

Search bar

Create your playlist

Offline mode

Social sharing

Customized music player
Process to Start Music Streaming App Development
There are some points you need to follow before starting the development 
Find your app demands

Make a list of required features

Hire a team of highly skilled designers, developers, and testing engineers.

Develop the MVP version of your music streaming app.

Do not forget to add a module to get the users' feedback and add pro features.

Make sure that your app gets regular updates and maintenance.
Final Thoughts
After considering all the factors that are mentioned in the above article will help you in developing the music streaming app and you will get a rough idea about the estimated cost of app development because it is not possible to find the exact cost of the music streaming app development. Appsinvo is a top mobile app development company that has years of experience in developing innovative and exceptional web and mobile app solutions. 
Till then, stay safe, stay at home, wash your hands, and be happy
For more updates, stay connected and keep reading
Toddles!!