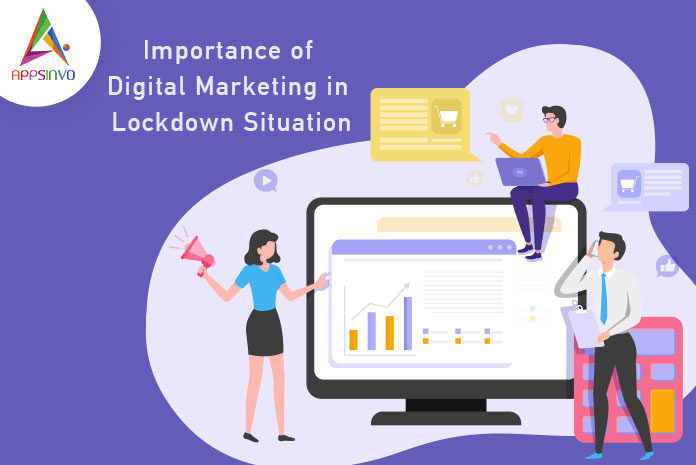 We all are in lockdown due to the global pandemic Coronavirus. Many businesses are facing slow down in their sales if it is not related to the essential services as per the Indian government. 
When everything is shut down apart from the essential services, your customers are browsing on the internet, using social media because of the free time in this lockdown. 
People are using social media for interaction, entertainment and get the latest news- what is trendy on the Tiktok or in the world other than the corona with more time than the normal days. 
This is the best time when you can make your virtual presence in your customers' minds. But for that, you need to understand the importance of digital marketing in the lockdown situation. 
In this global pandemic crisis, no one business and individual can do anything rather than staying safe at home. If we see in other prospective, lockdown gives us a pause to set back and think about our old strategies and find the loops and ways to fill those loops. 
The effects of this pandemic will show the many changes in the world because businesses are finding new ways to make grow their businesses. 
Businesses are adopting digital marketing at a rapid speed and finding the opportunity of growth factors before or after the crisis. There are some ways of digital marketing you can apply for your businesses. Here are the points of digital marketing that will help you in the lockdown situation. 
Customers service is Foremost
Customer service is the foremost priority of every business. This is the best time to utilize it. Ask your existing customers about your services to get feedback from them and make your next strategy according to the feedback. 
Remote Work will Continue
To keep their businesses keep going, companies are preferring work remotely or work from home. There are chances that it will keep going after the crisis will over. There are some rumors that TCS will allow its 25% workforce to come office. Because work from home will less the operational costs, improve productivity, and enable global partnerships.
Client Engagement
As like client servicer, client engagement is also imperative for your business. There are many ways to engage with clients than in the last decade. Social media is the best way to engage with your clients through Facebook, youtube, Instagram, Twitter, and many other platforms you can use to engage with your clients in this lockdown. Try to find out through which content clients are engaging the most. That will help you to make new strategies. 
Embrace New Changes
As I already told you this is the best time to take challenges for trying new strategies also learn to embrace changes. Strategies and new technologies are waiting for fine new ways to connect with more clients and grow their businesses for the post-lockdown time.
Conclusion
This is the best time to revamp and redefine your digital marketing strategies also try new things or strategies. These new ways help you to find out where your business is lagging and find solutions to grow your business.
Till then, stay safe, stay at home, wash your hands, and be happy
For more updates, stay connected and keep reading
Toddles!!