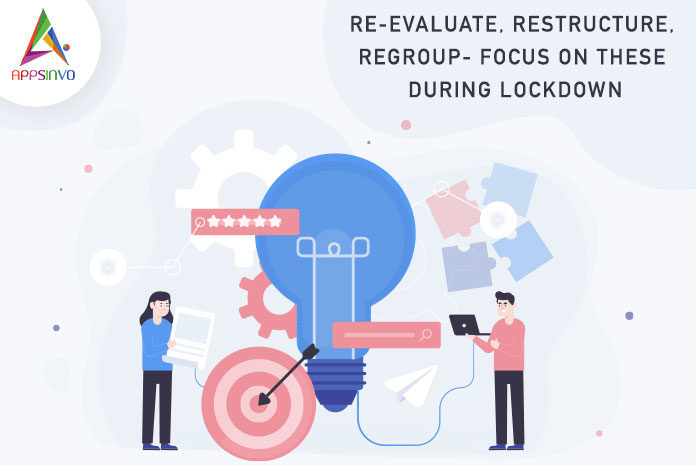 We all are living in the lockdown and everything has been shutting down rather than essential services, since 24th March due to COVID-19. 
Many companies had already shut down their operation, appointments, events, meetings, etc for the uncertain time. But still, there is a way you can use this time for growing your business whether you are working from home or completely stopped your operation. 
You can utilize this time to make your business future proof. In our earlier blog, I have told you the importance of digital marketing and ways to do marketing in this lockdown situation. 
So, if you don't take any further steps to make your business in a new way, use the next upcoming days of the lockdown to focus on the 3 R's during this lockdown.
Re-Evaluate
Before the COVID-19 pandemic, our business somehow ran on word of mouth for getting new clients. But after this lockdown, we don't know till when the social distancing will continue, clients will not find suitable to your or any public place for meeting due to COVID-19. 
It is the right time to re-evaluate your business and marketing strategy. It is good to make your business online presence great that benefits you in many ways after the crisis is over.
Restructure
It is the right time to build your online presence more strong than ever. Restructure your digital assets. As people are surfing on the internet because they have time and not to go out. 
So this is the best time to use, if you are not socially active on social media, start it from right away or if you have already social media accounts, utilize them to make your digital presence. 
Tell your customers what you are, how you are working for them right now, how you help them in crisis, share your ideas with them, tell them what your services are, how you're different from others, etc. keep engaging with your clients this will help you in the long term. 
Regroup
This is the high time when you set back and think about your marketing strategies and plans you had executed till now and find some new ways to regroup your marketing efforts. This pandemic has turned out how the businesses operate and execute new plans. As your clients also finding a way to connect online so this is the best time you provide your services to your clients through new marketing ways. 
Summary
The entire world is facing many difficulties and challenges due to COVID-19 and all businesses are facing its impact. It is very crucial to understand the opportunity and plan and execute the new ways to take your business on a new path with more dedication and passion.
Till then, stay safe, stay at home, wash your hands, and be happy
For more updates, stay connected and keep reading
Toddles!!