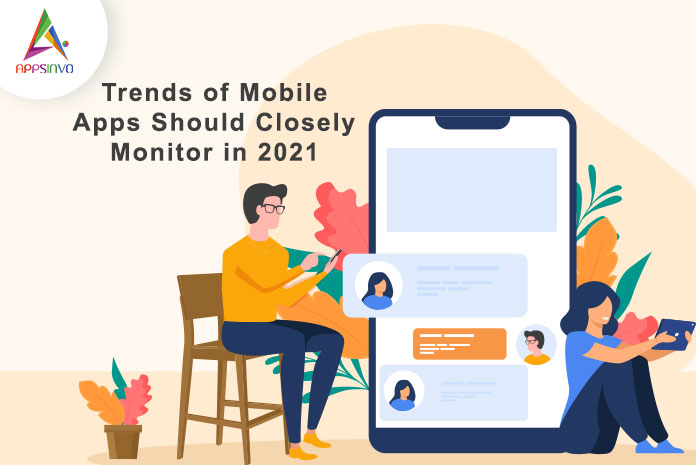 It is crystal clear that the usage of mobile devices is thriving tremendously and with it the usage of mobile apps too. But you ever think about why users love to use only some apps and other apps are end up forgotten or worse, uninstalled. There are many trends that come every day in the mobile app development world and these trends are important to track to follow, mainly because they summarize the market demands and the functionalities with the greatest acceptance by users.
2020 has marked the way forward for 2021 when it comes to mobile app development. It is not so easy to entice the users by just having a great idea, in this article, we will tell you some trends that will help your business to grow if you monitor them closely. 
Upcoming Trends of Mobile Apps
Augmented Reality & Virtual Reality
In the starting, both AR & VR are totally linked to video games. However, this time, this technology is moving out of its comfort zone and spreading to the other sectors as well. In 2018, these technologies had a global market of approx 23.4 B euros and it is expecting that it will reach to 181 billion euros till 2022. After seeing this number, it is expecting that we will see many innovative apps of AR & VR in the upcoming years. 
Artificial Intelligence
This is the hottest topic of technology from the last few years. The integration of artificial intelligence to mobile apps has begun to be seen in recent years, but AI apps are expected to accelerate significantly in 2021 especially in the health sector, eCommerce, social media, and many more.
Some mobile apps analyze the behavior of the users and deliver a satisfying experience to the users. They provide personalized customer service by reducing the cost and efforts of companies. 
Beacons
Beacons are small sensors that operate vis Bluetooth. These are perfect for automated communication in confined spaces and an ideal solution for broadcasting short-range radio signals.
It is easy to use the beacons and the benefits of it in terms of geolocation makes it more trendy for 2021, mainly for the proximity marketing. Everything shows that beacons technology will be a must for any app sector in the upcoming days.
On-demand Apps
Due to the COVID-19 situation and lockdown, the demand of the on0demand apps increased in a very impulsive way. These apps are basically mobile apps that operate as a mediator between the user and the provider. For example, Ola, Zomato, Swiggy, etc. this kind of apps are reaching new horizons.
This market has gained a profit of 57 million dollars in 2017 and the profit forecast for the year 2025 will be 335 billion dollars. The main feature of the apps is to provide the benefits of significant time, effort, and save money. 
Mobile Wallets
Mobile wallets are also known as a smart wallet for mobile payment systems with which can store different credit or debit cards, customer loyalty cards, discount cards. The main advantage of the mobile wallet is that they can make sure the payment is done in an adequate and flexible way.
Having a mobile wallet is making the user more receptive and less fearful is due to the highly secured transaction that comes by default with the mobile wallet apps. This is why blockchain is entering into this field for mobile payments to offer apps with great security. 
Internet of Things
After seeing the tremendous growth in mobile devices, the demand for IoT is also increasing. IoT is a network of internet-connected devices that provide automated control and convenience to users.
Smart home technology is a live example of the rise of mobile app development and IoT. Users can use mobile apps to control their IoT devices from anywhere ans this is convenient for the users and that is the reason why it is IoT is becoming trending. 
Conclusion
In the increasingly digitalized world, mobile apps are becoming more sophisticated, everyday software updates and product versions leverage new technologies. The change always good and the state of advancement, but it does not mean you should use all technologies and trends. Use the new technology trend wisely because it affects your required network bandwidth, computing power, and storage capacity. 
Till then, stay safe, stay at home, wash your hands, and be happy
For more updates, stay connected and keep reading
Toddles!!