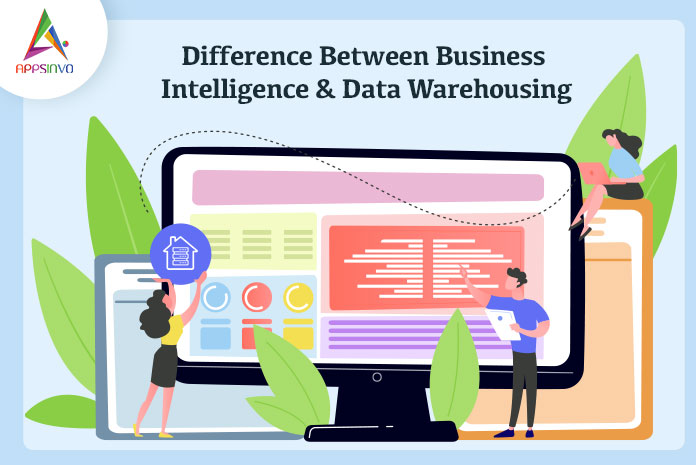 With the exponential increase in the usage of the technology especially in the business domain. It is crystal clear that the companies who are properly utilizing their data in the best possible ways will make them champions.
Big data analytics is for sure one of the best technologies in-vogue but it is a good practice to keep an eye on the trends in big data analytics. This will assist to implement the most possible trends and strategies that keep your business running.
In the era of big data, there are many terms that technology domain used in daily life, and two of them are the most common – business intelligence and data warehousing. Through this article, we are explaining to you these both terms and give you a difference between business intelligence and data warehousing.
What is Business Intelligence
Big data business intelligence solution allows several companies to have ideas of presentation. It is also known as business intelligence among business professionals. 
Business intelligence is the process where you take information from the available data and resources and utilize the analytics to produce productive action. During the process, business intelligence deals heavily with data warehousing act as the warehouse that is the source of information for analytics.
What is Data Warehousing
Data warehousing is a place where business data is stored so that it can be used easily as and when required. Warehousing can happen at any stage during the analytics process as the raw data can be acquired and rescanned. Due to the prominent big data analytics technologies, the original data in the data warehouse stay safe, secure, and unrecoverable.
Comparison chart between Business intelligence & Data warehousing
| | | |
| --- | --- | --- |
| S.No | Business Intelligence | Data Warehousing |
| 1 | A set of methods and tools to analyze data and discover, extract, and formulated actionable information that is fruitful for business decisions | A system of storage of data from several sources in an orderly manner to facilitate business-minded reads and writes. |
| 2 | Decision support system | Data storage system |
| 3 | Serve at front-end | Serve at the back end |
| 4 | Collect data from the data warehouse  | Collect data from several different resources and organize them |
| 5 | It consists of reports, graphs, and charts. | Comprises of data held in tables and dimensions  |
| 6 | Managed by the analysts and executives  | Managed and handled by the data engineers and system administrator. |
| 7 | Example – SAP, Datapine, Looker, Sisense, etc | Example – Amazon, Panoply, Redshift, Snowflake, etc. |
Conclusion
Data is critical in the modern-day business scenario. In the modern business world, managing the data can be tedious as it does not have a single action or even a set of actions to work with. There are many companies that are leading big data services and providing a platform where businesses can incorporate business intelligence and data warehousing with the touch of professionalism so it provides the best set of information to the business.
There are solution providers that keep resolving the problems related to the social and statistical-based information and make sure that information gets into the hand of a reliable and trustworthy person.
Till then, stay safe, stay at home, wash your hands, and be happy
For more updates, stay connected and keep reading
Toddles!!