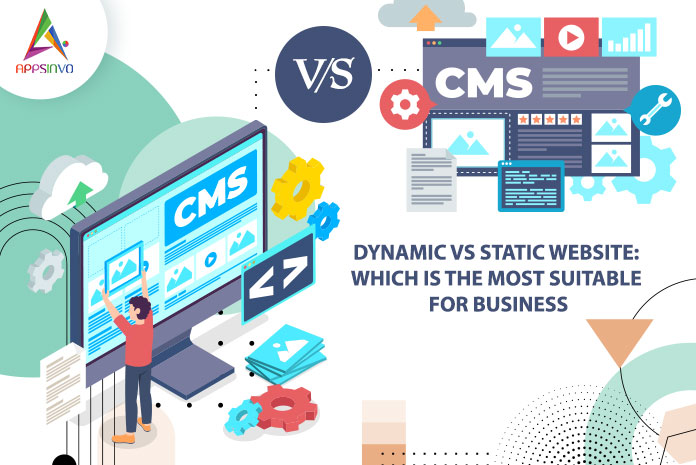 In every business, there is a turning point where the owner and business need to make them digitally empower, and at this point, they need a website for them. Before you plan to build a website for your business models you should know the types of the website for you. There are two types of websites – dynamic and static designs, create with different software and with their own set of functions. 
Each website delivers a different purpose satisfied for their business category and appsinvo is the best and leading website development company in Noida that will help you to make the right decision and find the right website for your business. 
This article will give you precise information about the dynamic and static website also tell you the benefits of both websites that will tell you which one would be suitable for you. 
Dynamic Websites
Dynamic websites are the most commonly used websites today because of their interactive user interface in the function. They can be defined as the websites that include client-side and server-side for two way interaction such as social networking and eCommerce websites which need a change in the updates and communication to function.
Dynamic websites have elements like search features, expensive navigation, two-way contact option, etc. there are many top website development companies in Delhi like Appsivo that will help you in building an outstanding dynamic website for your websites. 
Benefits
Ease to update data and content

Use a Content management system and it can be accessed and modified by you from anywhere at any time.

Suitable for medium and large scale companies with multiple users.

Seamless and separate user interface and content.

High on functional user interactivity. 
Restrictions
It can be an expensive investment because of its high-grade content, regular updates, and maintenance

It takes time in the development because it takes more time in testing and deployment. 
Static Websites
Static websites are read-only and stationary web pages built using the CSS and HTML and include fixed coding. This type of website represents the data as published on the webserver to the end-user without depending on the database and programming management. 
Therefore static websites look quite simple because new data or content is rarely get appended to them but this does not mean that this type of website cannot be updated. The source code will have to modify for each such type of update by the developer. 
Benefits
This type of website is cost-effective because the maintenance of this website requires only a few web pages. 

Suitable for small businesses and startups because it requires less user management that easily managed by a single person

It does not require regular updates.

The development of static websites is faster than dynamic ones. 

You can be resilient with the layout and designs of the web templates. 
Restrictions
It has a lack of user interaction

Inactive content and animation make this website less appealing.

On this website, clicking on a hyperlink will take you to the text and interface on the same web page. 

When it comes to making changes it requires reverting for each modification.
Conclusion
Choosing between a static and dynamic website comes down to what a website is required to do so. The difference between the dynamic and static website is quite large in terms of functionalities and features. You can choose whether a static or dynamic website as per your requirements. As a development company, we are here to help you in any way and deliver you quality products. 
Till then, stay safe, stay at home, wash your hands, and be happy
For more updates, stay connected and keep reading
Toddles!!