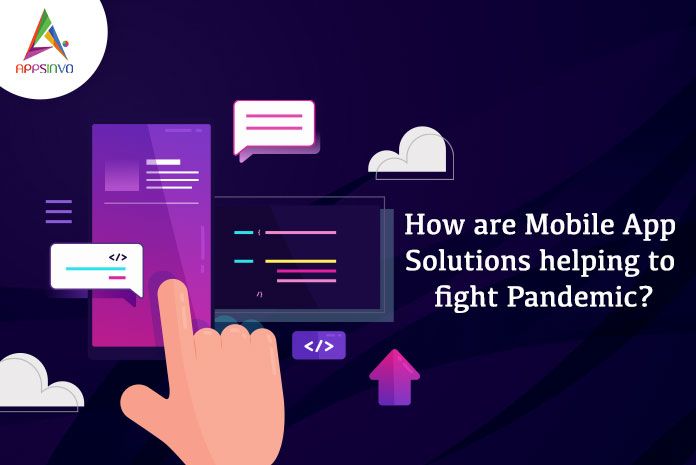 Many people are confronting many changes in their approaches to living due to the pandemic. There are many persons who lost their job in this pandemic period on the other hand business owners have experienced low income from business activities. All these effects led to extreme pressure among people, making it tough to survive. 
As much as the pandemic affected more people, those in the IT field got more opportunities to explore their capabilities and talents. Developers and programmers had to think of practical ways to uplift living and give hope to more people in many career fields. 
The basic aim of the mobile apps was to bring people together through online platforms, offer advice on the precautions and support online businesses so that life could continue as usual. That is why every programmer and app developer had an important role to play. 
App developers had to use their knowledge and experience to build app solutions to assist society on a large scale. During this period, the app in the demand included apps to accumulate personal information from people, apps for managing health status, and business-related apps to keep the economy growing. 
In this blog article, we are going to discuss that how mobile app solutions will help to fight the pandemic.
How mobile apps helping to fight the pandemic
Apps for Tracking Purposes
When the pandemic outbreak came into the news, we all were unable to understand what we should rather than living in our house. Here technology helps us in a different way, there was an element of tracking a person or people you interacted with the positive test outcomes.
The idea behind this tracking purpose is to get the people and isolate them so that they don't spread the virus to more people. Therefore, without the right technology and influential mobile app solutions, it can be tough to trace people since individuals have many activities from one place to another. 
Apps for self-analysis
At the times, it can be hard to find the outcome by symptoms alone. It needs an extra step of self-analysis to find out the health condition of a person. This is the reason why developers looking to consider such types of apps for the future.
Instead of visiting the clinic or hospital physically, the users can use the app and give a self-analysis test and accumulate the right situation of their health. 
Apps for Awareness purposes
When the whole world is confronting a different panic situation, everyone deserves regular and constant updates on the happenings. People require guidance and suggestion on what to do in case they experience a given situation.
That is the reason why information is mandatory. In this case, programmers and developers should think to develop the best awareness mobile app solutions to assist people in tough times.
Apps for Health Consultation
The deadly and contagious virus is attacking globally, organizations and countries are advising people to avoid social gatherings, physical contact, and maintain hygiene. This is the time when you must seek medical attention when you are feeling quite sick, you can use the health consultation mobile app solutions on that the experts of the specific domain will understand your situation and give you extensive advice and take the prescribed measures.
Conclusion
Remember one thing, the tough time required innovation and creativity. In this pandemic outbreak, technology has unfolded many unique and innovative ways that helped us in many ways and coping with the current situation. 
Till then, stay safe, stay at home, wash your hands, and be happy 
For more updates, stay connected and keep reading
Toddles!!