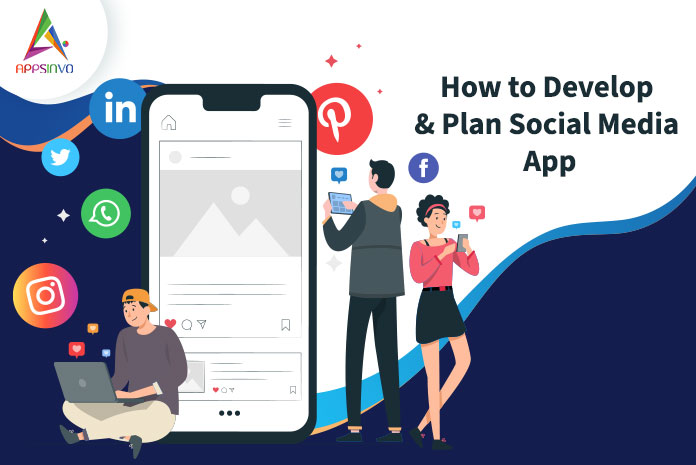 It does not matter what nowadays everyone is using at least one social media app on their smartphones. These social media or connecting apps fill the void in people's lives and help them to connect with their old friends and families and make new friends. Therefore, it has become impossible to live without it. 
The market of social media app is consistently growing because of their usage. Due to pandemic outbreaks, the usage of social media has increased. This is the best time for you to invest in social media app development from a business perspective. 
As per a report and statistics, there are almost 3.6 billion people are still using social media apps which is approx 45% of the total population and we are expecting this number will rise almost 58% in 2025. These reports show that the future of social media app is bright.
Therefore let's begin with developing and plan a social media app and find the estimated cost of developing it. 
How to Build a social media app
Define Purpose & strategy
Creating an app idea is not enough. You will be required to research the market and find the competitive field and evaluate the needs. Building a social media app is a quite challenging task and for this, you really need to understand your existing users' likes and dislikes. 
Once you are done with the purpose of your app, it is the right time to accumulate your ideas to develop the best social media app. Try to think of alternatives that help you to retain your users, find tactics to interact with new users, and grow your community.
Design the Workflow
After finalizing the idea of your app, it is the time when you need to outline the features, functionalities, and workflow of your app. The designing process of the app required several steps like sketching, wireframing, mockups, visual design, interface animation, design testing, etc. 
App development & Quality Assurance
The development process of the social media app is similar to the software development lifecycle. Once you decide the features, platform, and functionalities of your social media app and also done with the app's mockup, it is the time when you need to develop the back-end by setting up APIs, data backups, and servers with perfect storage solutions. Apart from all this also keep your eye on the quality of the app and try to do automatic and manual testing to ensure there is no technical glitch.
Expand and publish Your Community
After building and deploying your app in the market, it is the right time when you should connect with your audience. Implement the best tactics in your social media marketing requirements and try to find out how to convince people to install your app. This way will definitely help you to reach out to more audiences and grow your community with time. 
App Analysis
Analyze your app regularly is a crucial step as it helps to evaluate your social media app's success. There are many tools that are available in the market that helps you in the monitoring process of your app. 
How to select the best social media app developer?
To choose the best and trustworthy social media app developer, you need to address some basic points in them that fulfill your budget, business, and app requirements. Here are some points that you must consider before hiring any app development company for your social media app.
Verify the expertise and experience of the app development company 

Clear the app development team your needs about the project concept and TA.

Find the cost of hiring the app development team for your app.
Estimated cost to develop a social media app
We always suggest to our clients that it is not possible to find the exact and final cost to develop your app because there are many factors in the whole software development lifecycle that has the potential to easily influence your app development cost. If you want to know the estimated cost of developing a social media app, it will cost you up to $8500-9800 or for more detail, you can connect with our sales team.
Conclusion
Developing a social media app is a challenging and complicated task as it already comes with enough liabilities that you have to serve your audience. Therefore it is essential to choose the right mobile app development company that not only provide you best result but also a trusted partner and make your app flawless. 
Till then, stay safe, stay at home, wash your hands, and be happy
For more updates, stay connected and keep reading
Toddles!!