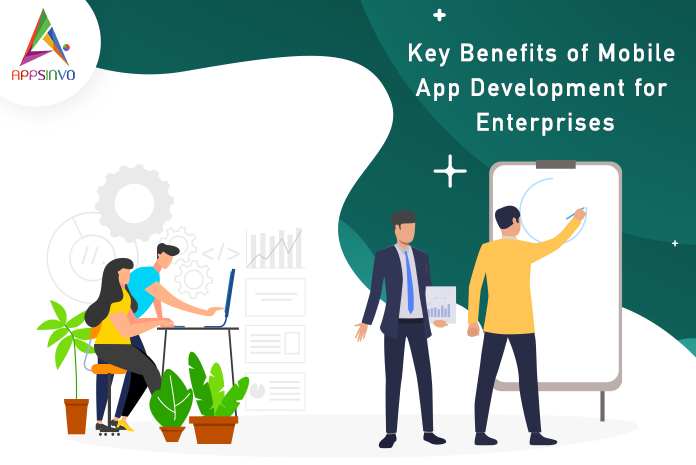 If we look at today's digital technology, mobile devices are not being just a piece of communication. 
It is getting its value more than just a mobile device. Mobile devices are highly important tools for businesses. HOW?
As we all know technology is evolving at the speed of light day by day. It is very important for all of us to stay updated as per the technology.
And with the increasing popularity of mobile phones, mobile apps are also becoming popular.
Mobile applications are becoming popular among service providers and businesses.
The mobile application has changed the way we do business. The importance of mobile applications for a business is very evident.
We use mobile apps from booking our movie tickets to our flight tickets, this makes the mobile app development field the most emerging and preferred field for the businesses.
The key benefits of mobile app development for enterprises are listed below have a look
Enhance Accessibility
Mobile app development enhances the accessibility of your business. With the help of your mobile app, you can notify your customers about your updates or new services that you are going to deliver them.
With the mobile app, you build a strong customer relationship that allows businesses to develop a reliable customer base and steady loyalty.
Businesses may also build robust connections by suggesting special discounts for old consumers all within the mobile app.
Improves Efficiency
Since the app developed it keeps minding the requirement of the business so it acts like a comprehensive app that performs the various functions and retracts the necessity of multiple apps.
The app developed for your business suits your working form that enhances your productivity and business ROI.
Improves Customer Engagement
This is one of the most important points of mobile apps for businesses. The mobile app enables the business to communicate effectively and directly to the customers. 
It helps in creating a direct link between the business and the customers. That helps businesses to send push notifications and in-app notification to as many as users. 
If your announcements carry valuable and appropriate information, then customers will get appended and become faithful to your brand.
Create Brand Awareness & Recognition
A mobile app is the best way and tool to build its brand awareness and Recognition in the market.
It is important for a business to allure more customers with your services or products. 
The more you get your customers connected with your product or services via your mobile app, the more likely or inclined they will be to patronize it. 
By a rule of thumb hearing or seeing your brand at least 20 times is what will get you noticed.
Stand out from the Crowd
The mobile app for your business makes a difference for your business because mobile apps for small businesses are still rare.
By offering the mobile app for your business will surprise your customers and stand you out from the crowd.
Cultivate Customer Loyalty
There are many ways to do marketing and mark the presence of your products or services in the market.
But these ways make so much of noise and distract the customers. It'll lose the hold on your loyal customers.
A mobile app for your business helps you to market your product or services in the right way and cultivate customer loyalty as well.
Conclusion
Now, from the above-mentioned points, you will get to understand why the app is crucial for any business and benefits from it.
For the professional advice and guidance regarding mobile app development contact the Appsinvo team.
For more updates, stay connected and keep reading
Toddles!!❤🙏