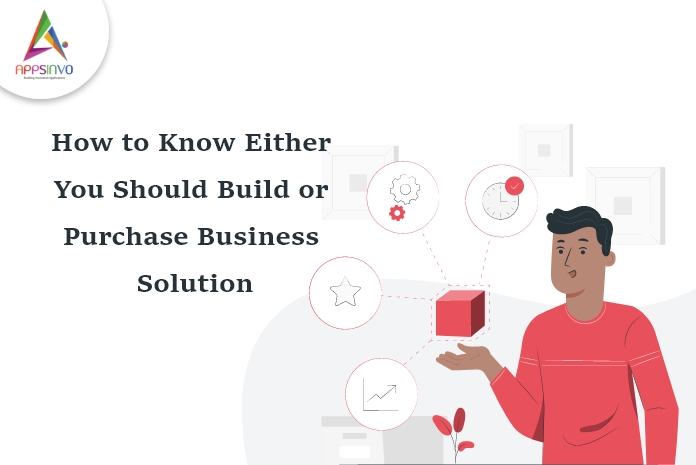 Create it or purchase it? If you haven't had this discussion yet, rest ensured that your day is arriving. Organizations regularly encounter challenges that need technical software answers, from automating scheduling and logistics to examining digital supply chain management, to managing and reserving terabytes of system or customer data. The victory of your department (or the organization as a whole) can rest on executing the fitting technology. 
Discovering the optimal answer often represents deciding whether to purchase a software answer or count on an internal team to create one from scrape. In my time operating with customers and clients, I understand you (and whoever manages your budget) can't regale determinations about enterprise-level technology lightly—which is why I've reserved a blog series to the complexities of this difficult, yet common query. 
We have gathered five key questions to assist you to take a deep dive into comprehending your organization and whether you should create or purchase. This process will show details into your internal processes, goods, and the problems you're hoping to determine. Let's get begun!
Establish your requirements
Begin by determining what you require your technology answer to do to sustain your business objectives. This is a crucial step and must be accomplished thoughtfully. Be precise and have a transparent picture in mind, including prioritization of the provisions, including:
What is the answer to your problem?

What are the characteristics and operations required for the software?
After you've selected your essentials for the solution, be just as clear about how it can be learned
Who will operate it?

Who will its outputs advantages?
Are your challenges unique?
Next, think if your challenges are really unique. Creating a homegrown technique is invariably an opportunity for organizations with special challenges and an internal software engineering team. But as you believe this, recall there's a good possibility that the issues you're running into are transmitted by many other organizations, and don't demand a new form from blemish.
Let's be genuine. You're not the foremost to work with the protection of HIPAA or financial data, nor are you the first to pursue on-demand or automated data feeds. Be apparent of how familiar your challenges are so the conclusive decision to purchase or create is honestly the best option.
What is needed to set a solution in action?
Evaluate the talent, expertise, and workforce within your community to additionally explain if creating the proper software solution is a practical choice. What is your organization's true ability to sustain, support, and troubleshoot, and what does the possibility cost? What won't get accomplished if you decide to create in-house?
A highly professional engineering team that's overcome with other duties, or whose preliminary commitment is in everyday systems management will have little bandwidth to commit to a custom build. An association with regular employee turnover likely witnesses institutional facts decrease over time, making it challenging to maintain a one-of-a-kind system.
How much time do you have?
Consider one of the most important resources of all: time. Keep a close eye on your event horizon, keeping in mind necessary deadlines, when you desire to execute a new solution, and how it might interact with other programs and divisions.
Remember, no matter the expertise you have on tap, a self-developed system can need considerable time to create, test, and onboard. It is also acceptable practice to count the extra buffer to any software engineering project timeline, to account for unexpected—but inescapable—obstacles that appear along the route.
Are there an open line of communication
Evident communication between everyone—information security, sales, marketing, IT teams, and more—is essential to assure the requirements of all appropriate parties are managed by your new business solution.
Till then, stay safe, stay at home, wash your hands, and be happy 
For more updates, stay connected and keep reading
Toddles!!