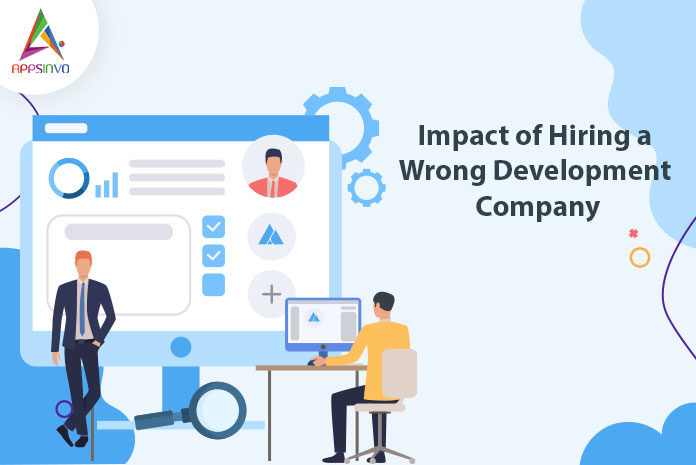 On an everyday basis, there are many businesses that are not yet digitalized their businesses and looking for hiring an app development company as per their budget. But sometimes they fall within a wrong development company that doesn't work as per them and becomes a big loss for your business. So it is very important to do deep research before hiring a development company for your business. Let's see the impacts of hiring the wrong app development company in today's blog. 
Crashing App
if the company you hire for your app project is not suitable for the project, they might be developing a crashing app (that crash frequently) that is not fruitful for you and your business. What if users install your app, and it crashes while using your app. For eliminating the risk of crashing, you need to hire an experienced company for your app. 
Bad Designing
A unique design of the app always entices the users because it is the first thing that users notice about the app. But a wrong development company with having less experience might develop less unique and creative designs. A bad design of the app will instantly drive users away from the app. So, it is very important to hire an experienced and reputed app development company for your app. 
Unsatisfied User Experience
The complex design of the app can leave your users unsatisfied with your app. The user experience of your app must be simple and easy for the users so they can easily understand and navigate your app. Wrong app development companies don't understand this, they use the features as much as they can use in the app and design the app complicated that is not good for your app and for the users as well. 
Late Deployment
A good and reputed development company will always deliver the product within or on the decided time but this is not applicable when you hire a wrong development company. It is very important to complete the whole development process within the given timeline because when the decided time of the app launch will be passed, there will be no reason to launch your app after that.  
Bad Communication
Bad communication is also an impact on hiring the wrong development company. The team members might not be available at the time of communication to discuss any issue regarding the app and taking updates. On the other hand, a good development company is 24/7 available for their clients and keeps you updated with the reports od app development. 
Post-launch Support
If you hand your project to a wrong company, they will take their hands off after the app launched. On the other hand, a good and reputed company provide their services after the app gone live in the stores. A good company delivers support and maintenance after the project delivered when there is any need for the fixes & some minor issues in the app after the deployment. 
Transparency
It is one of the impacts of hiring a wrong development company that transparent about the work. As an app or project owner, you have a right to know every single information about your app development process like how many milestones our app project is achieved, the progress of the development, the team working for your app, and more. A good app development company always be transparent about its operations on each phase and its feedback. 
Conclusion
From the above-mentioned points, you have learned about why it is important to hire a good and reputed company for your app development. Don't rush while selecting the app development company as your app partner, take your own time to decide and do a thorough study and research about the company and finalize them when you are 100% sure about them. 
FAQs
How to find a suitable app development company?
There are many platforms where you can find a suitable app development company. Some platforms are Freelancer, TopTal, Linkedin, and Upwork where you find many experienced and trustworthy app development companies. 
2. How much does it cost to hire a good app development company?
The answer to this question will not be definite because the cost of hiring any company depends upon the location, their experience, and the quality of their work. The costs also depend on the hiring model you choose.
Till then, stay safe, stay at home, wash your hands, and be happy 
For more updates, stay connected and keep reading
Toddles!!