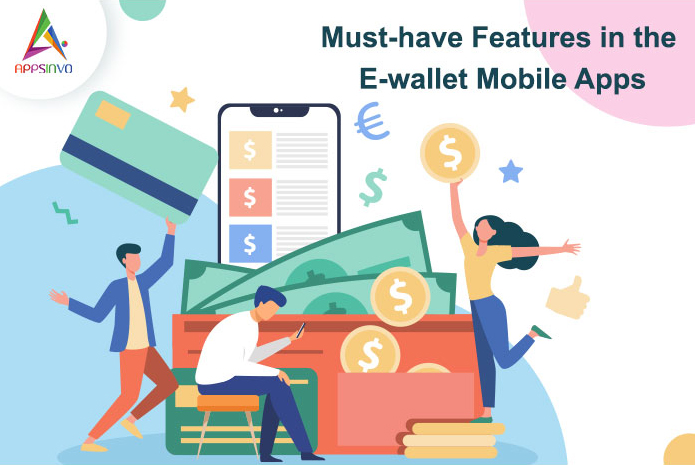 In the past few years, with the help of technology, the financial services have seen an unmatchable revolution in its domain. The presence and usage of digital wallets in our lives has made us forget about physical wallets because smartphones do the same job in a better and efficient way.
Technology always empowered us and found ways to connect directly with the customers by providing the cutting-edge and highly secured financial solutions that make the payments as simple as possible. As per the report of the global mobile payment market, the financial services market is expected to grow at a rate of 33% from 2019 to 2026 and reach up to $457.4 B in 2026. 
The financial institutions like banks, telcos, eCommerce businesses cannot afford to ignore the revolution brought by the technology in their domain especially the mobile wallet opportunity. But just building the e-wallet is not sufficient, you need to ensure high security with great customer experience. Therefore in this article, we bring some features that must-have in the e-wallet mobile apps to make your customers loyal, satisfied, and help your company to stand out.
Features in the E-wallet Mobile Apps
User Registration
This is the very first stage after installing the e-wallet app on your device. First of all, users have to register their accounts on an app and for this, they need to give their email ID and phone number. Users will receive an OTP or verification code and after entering the code, the account will be registered.
Linking Bank Account
This is the second step, here you need to link your bank account details to the e-wallet so you can easily make transactions and payments. For this, you need to add the details of your debit card like card number, CVV, and expiry date. 
Add Money into your Account
E-wallet mobile apps provide an option for users to add money to the wallet. This is for those who are concerned and do not want to use their account directly to make payments. Therefore, users can add money from their bank accounts to the wallet easily. 
Send & Receive Fund
This is the primary and basic function of the e-Wallet app as it allows you to send money to someone through, scanning QR code, by mobile number, or by account number. As per the advanced technology you can use the beacon or NFC technology to send and receive money in a simple and easy way. 
Mpassbook
It is essential to include a mPassbook in your e-wallet app. This helps the users to monitor their transaction history and keep the track of your expenses. Moreover, users can make the use of a filter option to go for a much leading search. 
Make Payments
The e-wallet is there for you to make your payment process, easy, simple, and secure. Therefore e-wallet apps give the facility you to pay your bills, book movie, flight, or train tickets, in the most convenient and easy way. Apart from all these, you can also recharge your mobile phone bills, making shopping payments using the same app. 
Promotional Offers & Discount
As there are numerous eWallet mobile apps in the app store, the level of competition is becoming higher now, therefore you need to offer discounts and promotions to entice the customers. These offers can be categorized into different names like cashback offers, get free vouchers, etc.
Ratings & Reviews
This is the vital feature where you can ask the users to give their valuable feedback whether they are satisfied or not satisfied regarding your services by giving ratings and writing the reviews. These feedbacks are valuable to improve your services in a better way. 
Payment History
The payment history shows the details of all payments customers have made from using the E-wallet app either it is bill payments, movie ticket payments, or shopping from a shop. If users make a payment to buy any item that you need to show the status of the payment. 
Select Language
If you want to increase the user base and make your app a part of the customer daily life, try to provide a range of different languages of the particular country so users can access your app in their mother language and easily enjoy using your services and offers. 
24/7 Support
This is one of the lists of the essential features keeping the needs of the users in mind. There should be someone on your behalf when your customer requires your help and support for the problem related to payment or any other technical glitch they are confronting at that time. You can either take the help of a customer executive or include a virtual chatbot service for better interaction with your customers.
App Settings
This is also as imperative as other features, it enables the users to personalize the app according to the users' needs or requirements. This section includes payment settings, security settings, and profile settings.
Sum Up
There is a drastic shift towards digital payment in terms of cash-in-hands. In recent years, we all have seen how e-wallets have changed our lives and become significant in the age of tech-savvy. For developing a top-notch and highly functional e-Wallet app, go for the top mobile app development company, they will assist you to develop a reliable and trustworthy e-wallet mobile app. 
Till then, stay safe, stay at home, wash your hands, and be happy
For more updates, stay connected and keep reading
Toddles!!