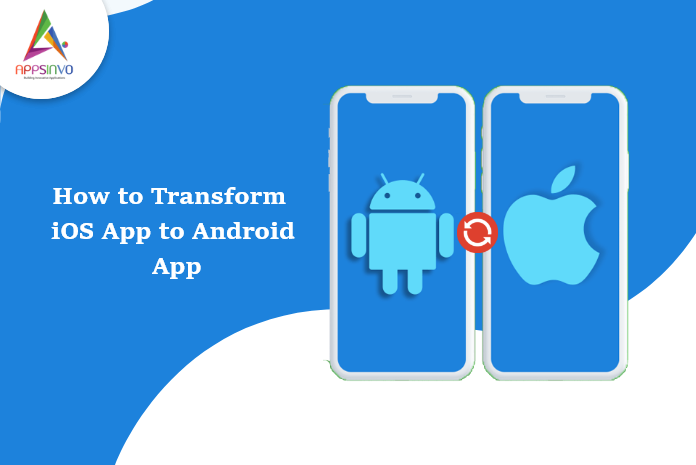 In the mobile domain, there are only two trendsetters right now and the relation between them is kind of bittersweet – Android and iOS, and this relationship between them will continue to exist till the end. There is no doubt that both android and iOS are successful and widely used to develop useful mobile app solutions. 
However, it is a universal fact that android holds the biggest market share in the mobile app development industry. As per the reports of the survey, it is clearly showing that android is surpassing Apple iOS. Therefore, we understand in order to obtain more clarity and stream of traffic, that you need to drive from iOS to android. 
But here the question that arises is how to convert an iOS app into an android app? Before that, let's just find out why you should transform your iOS app. 
Why should you convert a Mobile app?
Before you hurry to go to the developers for converting your app from one operating system to another, you need to be aware of the reasons why you should do it. Let's take a look at them
Wide your reach
The more they reach, the better it is. The majority of users prioritize one platform over another. And you should not miss out on your potential customer now. 
Extra features
When you transform your app from one to another, it will unlock a whole new world of opportunities to enhance the user experience, improve more unique features, and much more.
Improved ROI
You get a boost in the return on investment from your apps in terms of in-app purchases, ads, paid downloads, etc.
Fewer development costs
Building an app from the origin and converting an already app to a different operating system is totally different thing. So there is no doubt that if you convert your app from one to another it definitely reduces the development costs. 
How to convert the iOS app into android?
So here are some steps we need to follow while converting an app from one to another
Analysis & technical feasibility
Our analyst team will perform a complete analysis of your already iOS app to understand how it works, its functionality and features, the technology used while developing the app, frameworks, libraries, and tech stack to determine the optimization prospects and decide on the workflow. 
Developing android specific UI/UX design
The UI/UX design of the operating system is a completely different thing from each other. So if you copying the design of your iOS app to the android app, I must say it will not be a good choice for you. The most fundamental design difference between iOS and android is, iOS app designs are based on the flat design pattern, and android app design is the material design that provides uppercase with stylish buttons. So it is necessary to design the UI/UX of the iOS app as per the android to make it more visually appealing. 
Frameworks & code in action
In today's iOS app world, almost every app is coded with the Swift language on the other hand android app uses Kotlin and java. So you cannot just recompile the first code into the second one. The development team has to rewrite the code from scratch and then have to prioritize time-sensitive elements of the products. 
Testing & Launch
Now, this is the time for serious quality assurance that is performed by our skilled professionals. This is the most imperative step before the final release of the app. We cautiously check your app so that it remains bug-free and functions smoothly. Now you can easily launch your app on the android play store. 
Conclusion
So the procedure of converting an iOS app to an android app needs a carefully planned strategy and consideration to meet your business requirements. All you need is a top mobile app development company in USA to successfully implement the process without any hassles while saving your costs and time. 
Till then, stay safe, stay at home, wash your hands, and be happy 
For more updates, stay connected and keep reading
Toddles!!