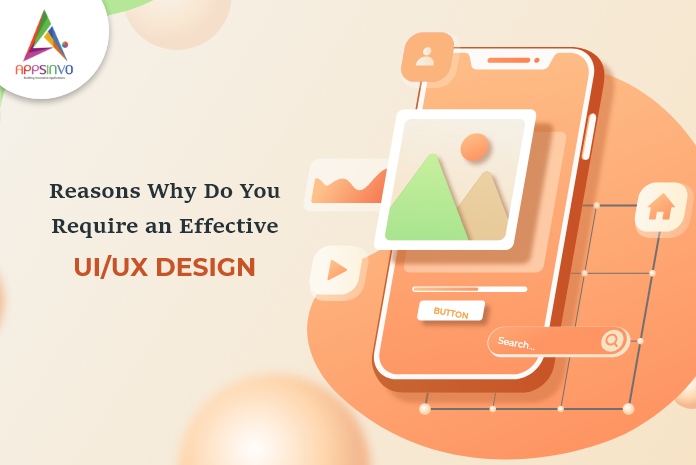 In the digital transformation era, where cut-throat competition is at the high edge. For mobile app development, it is necessary to have an excellent user experience. The user interface and user experience are the fundamental component of the digital solution to make it more enticing and enhance the user experience. 
Having a great user interface for your digital solution will help to leave an immediate impression on the users on the other hand having an amazing user experience can put a long-lasting impact on the users' minds. Therefore, it is sure that both are necessary and should be done properly to make your app visually appealing and successful.
Having a good user interface brings more revenue for any enterprise. All you need to do is to build a good UI/UX design so your users can easily browse the app. As per the survey report, more than 6.3 billion smartphone users are there all around the globe. As per the reports, the google play store has 2.89 million apps are available for download. 
So let's see the top reason why an excellent UI/UX design is essential for your app success, 
Reasons why you need an effective UI/UX for business growth
To make a good reputation for your business in the market your digital solution will help you and pay more attention to user satisfaction. Here we will discuss some points about why an app requires an excellent UI/UX design for its success.
Satisfaction of the clients
Before creating the user interface of your app, make sure you clearly know your users. This will assist you to make changes to your app as per your users' requirements. So make sure you design your app with all the required features. 
Make brand reputation
People normally use app that has a good brand identity in the market. With having a full-proof UI/UX design, an app can easily build an intriguing community. Hence, to enhance the market reputation of your app and business success.
Save your time and money
Handling a useful UI/UX design aid you to create an attractive user interface, which occurs in an enhanced user experience. A good user interface idea points to a magnificent user experience. Hence it preserves your precious time and money. 
Generate more traffic
If you design the UI/UX of your app accurately, it will help you to encourage more traffic to your app. As a consequence, it will assist you to obtain customers and engage them as well. You require a beautiful app UI/UX design in the cut-throat competitive market. 
Improves business productivity
Having a well-designed and developed app is definitely effective in terms of sales and growth conversion etc. you need to do easy navigation and a seamless user interface to lower the customer search time and meet their demands which leads to client satisfaction and improves business productivity.
Make your business unique
It is necessary for you to understand your customers and requires you to grow your business properly. An effective UI/UX design gives you the chance to easily influence potential users which can make more sales. 
Lessen development cost
The visually appealing UI/UX design eases the app development process. It includes appropriate app functionality, features, usability, accessibility, interfaces support, etc. So, you need a simple UI/UX design that is productive for your business and users. 
Final thoughts
UI and UX designs build a brand name and improve your digital presence. When it comes to user experience and the online user is always there to want and expecting more. So this is high time to do and give your best in the UI/UX design at the top mobile app development company in USA and make your app stand out in the digital world. 
Till then, stay safe, stay at home, wash your hands, and be happy 
For more updates, stay connected and keep reading
Toddles!!