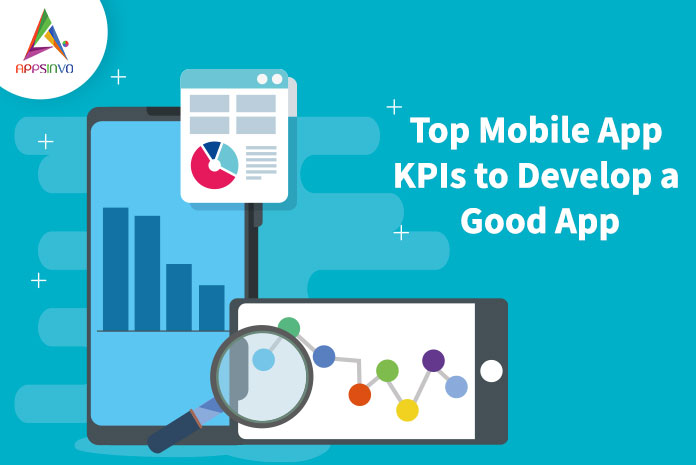 We develop mobile apps not just for including convenience to the customers but also offered a lot to businesses. In the tech-savvy world, mobile apps are a good source of revenue and an interactive platform to raise brand awareness and communicate with clients. But there are many companies who fail to identify that a mobile app is not a type that you built it once and forget it. 
It needs regular updates and maintenance to make it successful in the digital market and this is where many businesses fail to match. When business apps are failing to meet intended business results that can be attributed to the abundance of examining the right mobile app KPIs needed for a business to evolve their app successfully and easily. 
This blog is all about covering the mobile KPIs that every business should be monitor to make sure the app's success. The mobile app KPIs have been segmented into 4 major segments: user, performance, business, and engagement.
Mobile App KPIs to Make Sure a Good App
User-based Metrics
User-based metrics render more insights into a product's user base like how vast it is, the number of times they use your app, and where they came from. 
This information about the users will help the organization and developers to pay some needed attention to the users' behavior which is valuable for your app to make its place in the market and it also helps in producing ideas on how to build a more personalized user experience. This user-based metric gives you insights into the churn rate, daily active users, and acquisition.
Performance Metrics
This is the simple metric that aims at how an app operates. The performance metrics render informative insights into the considerable problems related to the app's performance and operations. For instance, if the app fails, every time it is opened on a device. The performance metrics give insights into the app like API latency time, crash rate, and app loading time.
Business Metrics
The success of the app directly depends on its potential to produce revenue or at least a noticeable return on investment. This metric gives you insights into the lifetime value and cost per acquisition.
Lifetime value:

LTV is majorly used for tracking the income and revenue of your app. This insight shows the financial value of the app and tells you how much each user is useful in his/her lifetime.

Cost per acquisition:

After installing and seeing your app gaining impulse amongst users can be overwhelming. It is mandatory to track how much user acquisition is costing. It will give you how much funds are spent to get new users and what they do into your app. 
Engagement Metrics
This metric takes a rough look into how your users are interacting with an app especially their app usage pattern and in-app behavior. This metric will give you insights into the session length, session interval, retention rate, and time-in-app.
Final Note
Tracking the mobile app KPIs will serve the businesses as regular checkups of the app's health. Businesses required to keep in mind that irrespective of the business model, a successful app that brings value and pushes sales is conditioned on building regular engagement and personalized experiences.
Till then, stay safe, stay at home, wash your hands, and be happy
For more updates, stay connected and keep reading
Toddles!!