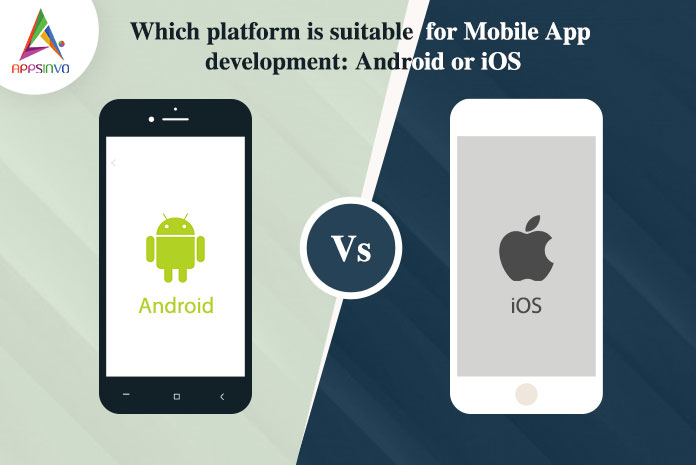 Opting a suitable platform for your mobile app is an important step towards either its success or failure. A large part of the world population is using smartphones and a huge market for organizations and businesses to serve their services. But the whole population is divided into two-part or you can say for the two different platforms the first Android and second is iOS. So here is the biggest and the evergreen question arises for those who do not have enough knowledge about this field is which platform is suitable for mobile app development: Android or iOS?
Both platforms religiously update their system and provide new update time-to-time, both have huge userbase. But still, most of the organizations fall into doubt about which one will be suitable for their app. So here in this blog, we will tell you some factors, advantages, and disadvantages of both platforms that will help you in some way to identify which one will be suitable. So let's dive into the blog ans let's see what will be the conclusion on this blog. 
Things need to consider before App Development
There are a large number of organizations out there that target both platforms for their app at the same time. But before moving ahead for the app development phase they should keep these points in mind and follow them
The app you are going to launch should be beta tested, the market may like or may not like your app. In case it does not go to launch at both platforms at the same time it could be a setback for your business or organization. 

In the expansion phase, it is imperative to handle their finances and keep them intact without any leakage. This leakage could cost an extra amount to be invested in the app development in various aspects.
Factors help to Decide the Right Platform for App Development
When you do not have good knowledge about the market, selecting the right platform for your app could be a tough task. So, for that here are some factors that will aid you to decide which platform will be right for your app development between Android and iOS. 
Targeted Audience
The first and foremost step is to choose the right audience for your app. Because finding the targeted customer and right potential customer is the crucial thing. Choosing the right platform is the one that should have a huge number of the target market for your app that helps you to lead to success. The size of the targeted market is still matters for your app and business. 
App Development Cost
App development costs play a vital role in the selection of the platform for app development. Whatever is your business or organization, you need to see and verify what the market they are looking to serve forward is worth to invest the huge development cost. The organizations need to seek revenue and good returns, after that they can go ahead with the development costs. 
App Downloads
Relatively to iOS, Android has a huge market and this is the reason behind the greater number of downloads than iOS. Android also provide space to do advertisement on its platform and this helps them to raise money to make a huge profit. At this point, it can be fair to say that Android can give your app a better platform but with some limitations in areas related to streaming your app service. 
App Revenue
The basic aim of every business out there is to earn profits and grow as much as they can. Every user has a different wallet size, so assuming that a large number of users will give you a desirable profit is not possible. Numbers are the only a game for the market, there is a lot more to do. 
App Update
Both the Android and iOS platform introduces their updated versions of their existing operating system every year. We often ignored the importance of updates and the price of this ignorance your app has to pay for it. Time to time update can decide the success of your app and the service you are looking to provide forward. 
Pros of Android
Due to the wide community base, Android has got wide assistance for the developers and the users as well.

Due to the large number of users and platforms to serve for Android, so it becomes easy to design the app or you can use ready to go template designs. 

Android apps are easily available in the market and easy to use with good marketing strategies due to their high compatibility and abundant platforms. 
Cons of Android
Each day you read news about the new update of the new android device and every Android device is different from others and each device is developed while keeping the different things in mind. 

If the android app is not developed in the right way while keeping the imperative points in mind, your android app will fail to keep up with the several features and aspects of different devices. 

Due to high variations in the device and versions, Android App goes through the complex testing process that is time-consuming, costly, and recurring. 
Pros of iOS
iOS has a higher echelon in the market and this makes the iOS app have the larger inflow of the revenue as compared to the Android. 

IOS apps are specially designed for Apple devices, so they can leverage the mobile prospects and features effectively and efficiently. 
Cons of iOS
App has a high chance of rejection due to the number of hurdles on the Apple store because the apple store has intact and strict guidelines for the release of an iOS app.

It will be complicated and have restrictions to customize the iOS app after once they have developed.
Comparison Table
| | | |
| --- | --- | --- |
| Key Factors | Android Platform | iOS Platform |
| Development language | Java, Kotlin | Swift |
| Integrated development environment | Android Studio | Xcode |
| Target Audience | Less valuable | More Valuable |
| Design Philosophy  | Specified Requirement | Flexible |
| Development Complexity | High | Middle  |
| Development time | Depends on complexity | Depends on complexity |
Final Thought
Before commencing the app development it is imperative to opt the right platform for your business and service. Do not take this point as a debate because there is nothing perfect in this world everything has its own positive and negative side both. The services you deliver to your customer will define the success of an organization. Thus make the right fit for the market is very important. Android platform has its own different purpose and target audience to serve and on the other hand, the iOS platform has its own purpose and target audience. Therefore, after considering all the above issues and factors together will aid you to find a suitable platform for your organization or service. So at last no matter which platform you opt just serve your audience with the right service at any platform will aid you. 
Till then, stay safe, stay at home, wash your hands, and be happy 
For more updates, stay connected and keep reading
Toddles!!