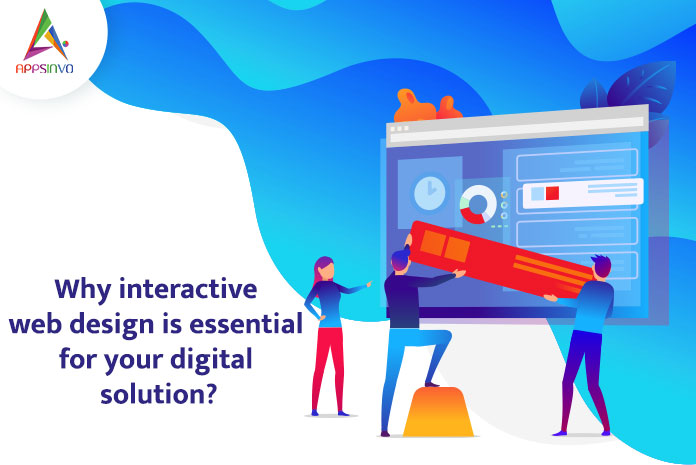 What new thing a web design can add to the success of your website? This is the most common question our Appsinvo team usually confronts and if you are also the one who is looking for the answer to this question or still in the dilemma of whether should go or no to go for professional web designing services, you must be in the right place.
In today's article, we are going to discuss why web designing is imperative for your website and how you could hire a proficient and highly skilled designer for your business website. But before we move into the importance of web design, let's take a look at some significant elements of an effective and appealing web design. 
Elements of web design to drive engagement
Before understanding the significance of web design, it is necessary for you to must know which points should comprise for designing a good web design. Not every web development company will help you in designing your website effective and engaging for your business
Usability

Aesthetics

Content

CTA button

Engagement

Color Schemes & Fonts
Significance of Web Design
There are many people who are not aware of the significance of having an effective and rich design for their websites. Most people may not find it right to hire highly skilled web designers and spend a lot of money on it. Here are some reasons that will explain why businesses must have a good web design and look out for a skilled web design company for their projects.
First Impression
The first impression of your business should be great. After visiting your business website, users will easily determine the capability and credibility. You must have visited many websites that are not that influential, hence they easily lose their visitors after the first visit. It is said that from the first few seconds after being on the website a customer decides. 
Get better rank
Having a well-designed website will also help you in getting a higher rank on various search engines. The main factor about the design is content and if you have strategically placed your keywords and structured your content well, it will surely help you in ranking better. 
Credibility & trust
A highly and well-designed website is the representation of your business team and its capability. If the users do not like the design or you feel that your website is visually appealing, there are high chances of them not returning to your website again and not taking up any product or service from you. 
Brand Awareness
If you a new company and looking for building your brand awareness in the highly competitive market, it is mandatory to bring consistency in your design. You must have seen that many big brands using the same color theme all over for their branding and seeing the same color scheme users can easily find the brand. Even some brands are keeping the catchy tagline that will help you to establish a link between the brand and its users. 
Final thoughts
If you are an SME or a startup, you must invest in good web design and search for people who have years of expertise in building engaging and innovative websites. Try to hire some professional web designers who have an understanding of the users and their requirements. A well-designed website can bring users and revenue too. 
Till then, stay safe, stay at home, wash your hands, and be happy 
For more updates, stay connected and keep reading
Toddles!!