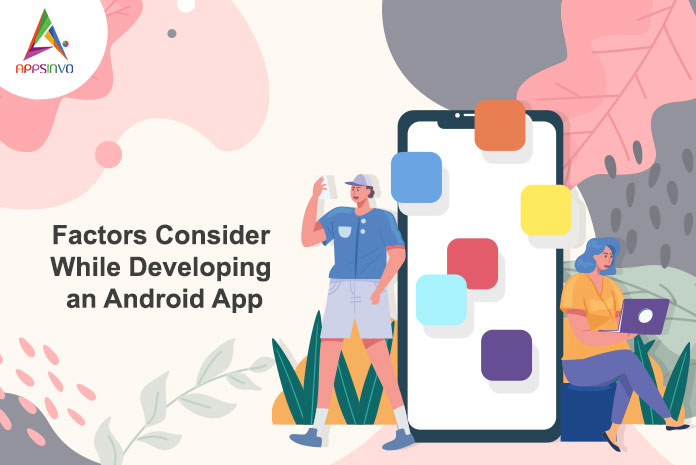 Android is the child of Google and it is maintaining its child with precise and punctual updates. There is no doubt that Android Apps are highly competitive. Google thrives to work on its android app development strategies since the google play store has tremendously gain acceleration. After seeing this tremendous growth of android apps, there are many developers out there to develop an android app.
Developing a widely successful and popular app is not a piece of cake. There are many things developers need to keep in mind while developing an app and these points help you to come closer to become successful in this field. Therefore we have jotted down some imperative factors developers need to consider while developing an android app. 
Factors Consider While Developing an Android App
Understand & Resolve the Problem
This is one of the most essential factors that is required as a developer. It is imperative to understand the pain points of the users and for this, you need to ask some questions to yourself before starting anything else,
What kind of stress people are facing nowadays?

The app we are developing is addressing the problem of the users?

What do the people need to operate their businesses and live smoothly?

What kind of tools will help people in a different way?
When you understand what people are looking for and address that is the key to your app that unlocks the first step for your app and make it unique. The answers to the above questions help you in the path of developing the android app. 
Save Users' time & Money
This point is directly linked up to the above point. How? After understanding and figuring out the problem of the users. If you developed a simple, unique, and intimating app and your users' will show love to your android app if it saves their time and money. Your app will likely get the deserved attention of the users and multiple downloads. 
Integration with the Wearable Devices
Wearable devices are the emerging technology of the digital world. It helps us to manage our daily tasks and become an integral part of our lives. That is why it is imperative to make your android app compatible with wearable devices. If you do not make your app compatible with wearable devices, the users who use wearable may stop using your app. Not adding this feature in your app made it an outdated app.
Limited Battery Usage
When developing the mobile app, developers should focus on the size of the app and the battery drainage it requires. I think there are more than 50% of users are there those who use mobile data instead of having wifi. So if your app size is more than 50-70MB, the users will think more than twice before installing your app. 
This way you are restricting your targeted audience from using your app. Hence keep the size of your app as much light as possible. After achieving this, the second hurdle is the battery drainage if your app sucks more battery than usual apps, the user will uninstall your app within no time. Therefore, while developing your app keep this point in mind. 
Keep it Simple
This is the last but the least factor that plays a vital role in the android app development process. Try to keep your app as simple as you can. This does not mean you stop being creative towards the app. Keep it simple means take the approach that creates something that is easy to understand for all age groups and try to keep the features and functionality of the app easy and simple. The app should be a problem solver, not the creator one. The user interface is a significant factor that should be simple and easy that keep the stuff simple. 
Conclusion
It is easy to build an app but it takes consistent and substantial endeavors to make the app that users love to use and appreciate. If you follow the factor mentioned above while developing an android app, it will make sure your app is a great and excellent product. 
Till then, stay safe, stay at home, wash your hands, and be happy 
For more updates, stay connected and keep reading
Toddles!!