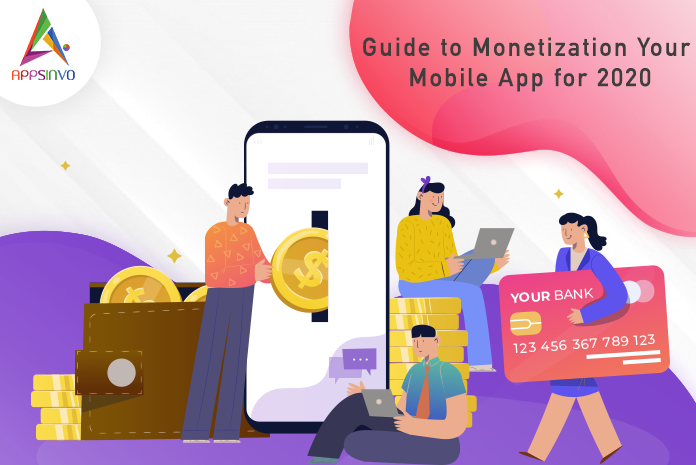 There are more than 5.5 million apps iOS and Android OS both, installed in smartphones and tablets.
This exceptional growth of the apps industry is fueled by smartphones, tablets, smartwatches, and other wearables hardware.
Now, every online business is here to make some profit. They all try several ways and strategies to get better ROI.
There is a huge variation in the means of people do business today. Nowadays it is easier to shop online.
Whatever application you want, you name it and the app is there for you.
Mobile apps the easiest and fastest way to get to the targeted audience, so make money from apps becomes easy.
Apps make life easy and fast this is the reason that makes them most preferred by users.
So we are here to guide or provide you some points  that will help you for mobile app monetization
Are you in the rush? Here are points 
Advertising

In-app Purchases

Subscriptions

Freemium

Pay per download
Advertising
Advertising is the most versatile solution to monetize an app. The users download the app for free but have to watch short add videos or watch display ads timely.
Development companies make them by selling places inside their app for ad inventory to other companies.
Advertising through mobile apps helps to enhance communication between the advertiser and the app.
We all know people spend a huge amount of day on the apps. Mobile users are spending 87per cent of their time in apps while 13per cent on the web.
So, if you want users to stick to your app, make sure it'll be free and take advantage of in-app advertising. There are five types of apps you can use
Notification Ads

Full-screen Ads

Advanced Overlay

Capture form

Banner Ads
Your prime focus should be to use these ads is to boost with the users. You need to ensure ads attract users not irritate them.
In-app Purchases
In-app purchase is a way to monetize your app to give your customers a choice to enjoy the basic functionality of an app for free or to get instant access to specific in-app items, content, or feature. 
A subscription plan may also be treated as an in-app purchase, but these two monetization strategies are different.
By paying for the subscription, you get unlimited access to all features included in your subscription plan. 
But when you make an in-app purchase, you get one-time access to the features or to one item.
Subscriptions
If you use a streaming device, you know how subscription-based app monetization plan works.
Usually, the process follows the users download the app for free and start its free trial. After this, they pay monthly, quarterly or yearly fees to get access to all content.
Subscription-based app monetization methods are recognized as the most reliable revenue streams for apps. 
If your customer wants to keep using an app, they should pay every month, while freemium, in-app purchases and pay per download strategies imply occasional payments, so your income flow may become sporadic. 
Moreover, subscriptions result in a more engaged audience people feel obliged to use an app to justify their expenditures.
Freemium
Freemium is the combination of Free and Premium with a way of app monetization where we have a free app with a premium version.
Even though freemium apps offer only limited features at the beginning, this doesn't mean their free version lacks value. 
If you choose a freemium monetization strategy, you need to find a sweet spot between offering too little and too much. 
Your free app has to be a tasty starter that eases hunger but whets the appetite for the main dish.
Pay per Download
This revenue model of app monetization is very challenging. If you are monetizing your app by this trick first you need to ask one question,
Why users buy your mobile app while there are tons of free analogs avail there?
I have the answer to this, an app that uses pay per download monetization model needs to be ahead of the competition. 
It should deliver a better user experience, more valuable features, and functionality.
Final Thoughts
Now, after reading the above points you definitely know the importance of mobile apps for the business and how awesome they are.
Through the mobile apps, your business spread its wings and make you reach to those users you never imagined of being connected.
By monetizing your app, you can establish yourself as the brand. 
Hence if you want to monetize your app above points will definitely help you.
For more updates, Stay connected with us and Keep reading
Toddles!!❤🙏