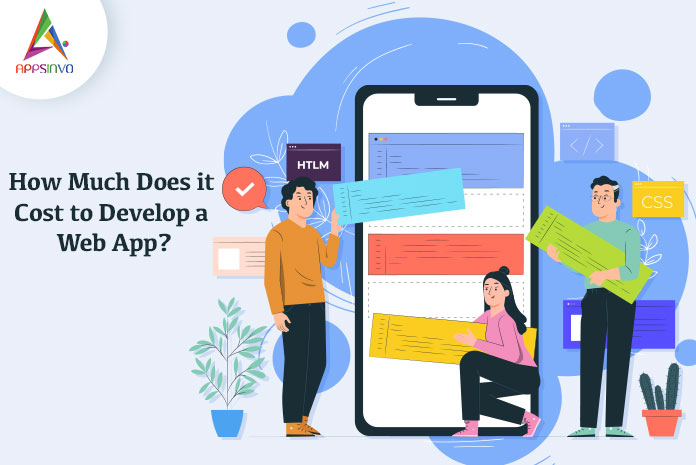 In the tech-savvy world, web apps are omnipresent and becoming an essential part of almost every business today. Many companies are utilizing the websites to widespread their business awareness about their brand to sell their products and services. 
There are plenty of websites registered and developed on a daily business and this is happened because of the awareness of digital marketing among the businesses. So there is no surprise that almost every entrepreneur is thinking about developing a unique and innovative web app in the budget.
So you need to know how much does it cost you to build a web app. Web apps are the first point for your customers where they get frontier in business. Therefore, you need to avoid cost-cutting in this area to make sure users have a positive image of your brand.
Reasons why you should develop a web app
The paradigm of the websites is changing because of web apps. As more and more people start accessing the internet through mobile devices, businesses are started taking the web app seriously. This is because it is quite a cost-efficient solution, easy to load and use a web app as compared to the native app or a website. There are many benefits of developing a web app that differs from domain to domain. Let's see the reasons 
Make your brand visible
The main objective of the businesses is to make their brand visible. For a business to gain profit, it is mandatory more and more people should know about your company and business. With the cooperation of web apps, a business brand can easily make itself visible amongst its potential customers. 
Customer support
By developing a web app, a brand can attain its objective of delivering the quality of services to its customers. A web app with the potential of being accessible across devices makes the web app one of the most mandatory points of contact for a brand with its customers.
Get a competitive edge
In a time where the environment is intense and competitive, it becomes necessary to edge over your opponents and this can only be done by developing an innovative and unique web app. Having a web app for your business gives you and your business a goal and you can easily target and give competition to your opponents.
Factors affect to develop a web app
The cost of developing a web app depends on the factors listed down for you. It is your choice either you are going to rob the bank for developing a website or you are going to build a cost-effective viable web app.
Complexity of the web app

Choice of web developer

Geolocation of the web developer

Features of web apps

App designing

App platform
How much does it cost to build a web app?
The development cost of a web app is considerably less than developing a native app. There are plenty of features on which the cost of the web app development depends upon.
If you need lots of features and functionalities in your web app, the cost of the app development will eventually increase. So if you want a cost-efficient product, try to focus on the core features that define your app.
It is not possible to figure out the exact cost to develop a web app, but the estimated cost to develop a web app can cost you in-between $4000- $7000 from Appsinvo, a top mobile app development company in India. If you have any queries or doubts related to web development, feel free to as us, we are always there for you.
Final Thoughts
Web apps are becoming a necessity now. In this cut-throat competitive digital world, if you have not thought yet about to develop a web app, you must consider it and hire experienced web app developers.
They will guide you in developing and designing suitable and innovative web apps that eventually benefit your business in numerous ways. By developing a web app, you will circumvent both these problems. We hope you find this article informative and help you in any way. 
Till then, stay safe, stay at home, wash your hands, and be happy
For more updates, stay connected and keep reading
Toddles!!