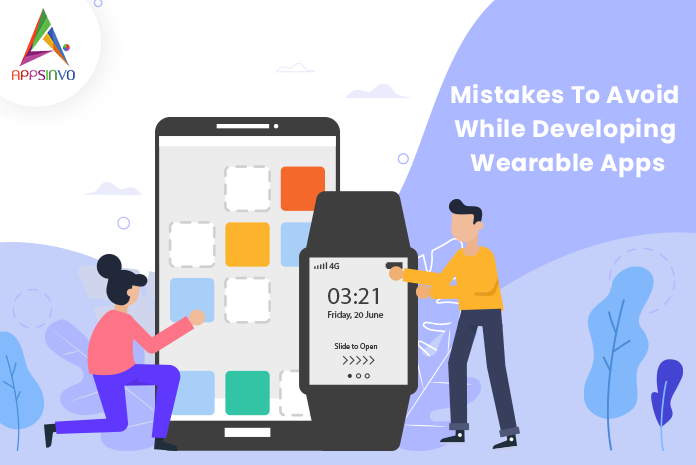 With the time passing people are becoming health-conscious because of their busy schedule and polluted environment day-by-day.
And in this tech-savvy world, many companies are providing their wearable technology solutions so you can easily track your fitness activities.
Many companies in this world are developing wearable apps but only developing is not enough. 
It is really crucial the develop an app that has unique design and functionality. 
Providing important information in the wrong way could be an expensive blunder for app developers.
So this time we have jotted down some points that will tell you how not to make these mistakes in your wearable application while designing and developing.
Fail to Maintain Assumptions
If startups, SME's & big organizations don't have a distinct understanding of the issue they are trying to overcome while developing a wearable app, they would be crushed or burnt out.
It will be great to consult a wearable app development company before starting the development phase to perform it properly.
Ignoring Efficiency
It will not be so efficient if you get the news late or not on time. Same as with the wearable apps.
Wearable gets more value when the notify something on time without bothering the users for little things.
It also helps in another issue that is battery drainage. As wearable devices have defined power and users will not love it if it drains for power.
Imitating Others
If you don't do something unique or uncommon, it will not be on the list of anyone, yes anyone.
This means setting your preferences accurate and adding features by following a less is more mentality.
Just add some important features for better product efficiency and customer experience.
Overinvesting on Hardware
As the digital technology world moves rapidly and hardware is no exception. 
Be sure not to build or invest in your whole budget for the hardware that could effortlessly become out-of-date.
It is good to invest in the software with updated technologies.
Not Analysing Market Before
It is very imperative to analyze your competitors and market before starting the development phase.
Because in the wearable app every single feature or idea is viable and great if they are unique and great.
Complex UI
The screens of the wearable devices are small and tiny, so it is very important to keep it clean, simple.
Don't make the user experience and functionality of the device complicated.
Forgetting about Security
As wearable devices and apps have information about the health and fitness and user/patient-related health data is very important.
Be sure and possess more focus on the security and privacy about the app while the development phase.
Conclusion
These are the points that will definitely be going to help you while developing the wearable app development. 
Keep these points in mind and avoid miserable mistakes in your wearable app development.
For more updates, stay connected and keep reading.
Toddles!!❤🙏