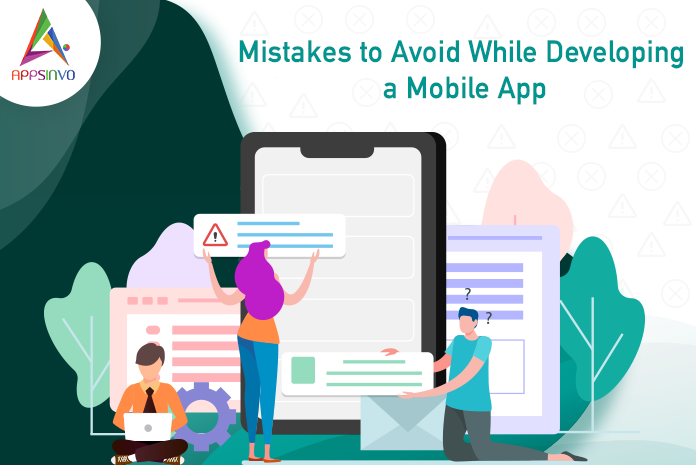 When we make a mistake we can do three things – Admit it, learn from it and never repeat it.
But, but, but there is a fourth thing also – Not make a mistake at all or avoid to make any mistake.
In today's blog, we will tell you all the possible mistakes that made meanwhile developing an app.
Most of the blog you read will tell you success stories or how to increase revenue from the app, but they don't tell you how to save yourselves from avoiding mistakes.
Plenty of people hire a web and mobile app development company and launch their application.
They put their heart, soul and saving to build their own application yet it fails. No one talks about the failures and mistakes behind the worthless attempt.
After so much analysis and research, we have jotted down some important points that we should avoid while developing an app.
Not Meeting User Expectation
It is important for any web and mobile app development company to make new users and retain the existing ones.
As the famous one says "the first impression is the last impression". The first interaction with the app should be taken utmost care of.
Users have the expectations that the application has a simple and short registration process, simple design and easy navigation.
Difficult login and confusing design will drive away plenty of users.
Target Audience & Proper Research
Many of us do this mistake. Not define or target audience and proper research before the app development. 
Because with proper research and planning must be done before the application development, it will help in creating a roadmap and deciding the target audience.
This will help you to decide what features are essential for the application.
Too Many Features
If you are the one who thinks that "more the features, more the users" sorry to say but you are on the wrong track.
As per the users, they need something that has value-added and much-needed features.
This will make the app meaningful and demanding.
Developing Multiple Platform
If you thing deploying the app on multiple platforms at once is a good strategy to expand its presence and visibility.
It is high time to burst this bubble because it is not.
Instead of this just opt one platform having the majority of the target audience that will increase the chance of success.
Not Choosing MVP
MVP means a Minimum Viable Project. Develop the app with essential features and launch in the market.
If the idea worked and allure more users, you can add more features later with the updates.
Not considering an MVP model at the initial stage and opting for a feature-filled app is a huge mistake.
Develop Huge Sized App
Users don't consider huge size apps that eat up the considerate amounts of space on their phones.
So stay away to develop huge or heavy size apps.
Improper Testing
Not testing your application with the view of 360 degrees is the biggest mistake of all time and will make your lag in this competition.
A single mistake in your application will make your app get uninstalled. The application shouldn't be crash and avoid all bugs before its deployment.
Unattractive User Interface
"What is see is sold" we all have listened to this proverb. And it is absolutely right in all aspects, especially in mobile application UI.
The first thing users interact with or see is the Application UI. If your Application UI is great, it suppresses some negative points of the application.
A good UI will allure the new users and retain the existing ones.
Ignoring Feedback & Reviews
Never ignore to read and implement the feedback and reviews given by the users for your application.
This will help to make the application more valuable and make users' favorite. Keep the next update of the application as per the feedbacks.
Wrapping Up
The points mentioned above will definitely help you to avoid these unseen mistakes.
But these are only the tip of the iceberg considering the huge number of faults that are done meanwhile developing an app.
So, if you are experiencing any kinda difficulty or problem in the mobile app development.
Feel free to call us and share that problem. We would love to solve it.
For more updates, Stay connected with us.
Toddles!!❤🙏