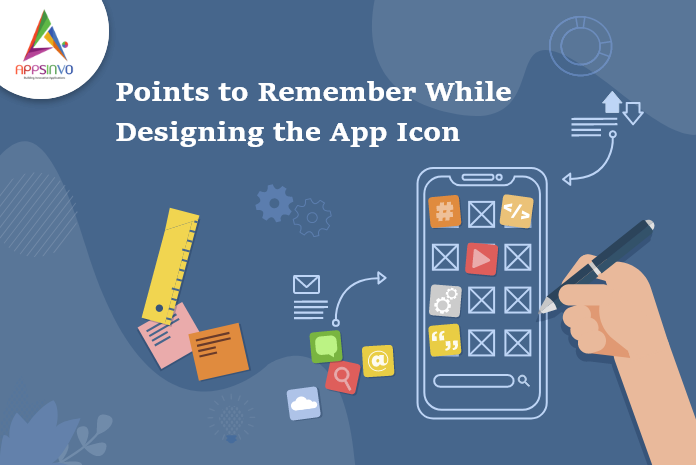 The process of mobile app development is quite a time-taking and needs a lot to render a phenomenal and successful mobile app. It not a piece of cake to develop an app that makes your target audience download it and more difficult is to retain and engage them to the app but it comes later when it comes when the users at least install it to know what the app has to deliver them. 
There are many vital things to consider for your users to download your app, its name, its description, and well-designed app icon.  The best and the creative app icon will definitely encourage your users to download it. If we talk about the numbers, on average mobile has 30-40 mobile apps, and if you want your app should be in this number, you will have to make it more intuitive and creative to grab the users' attention so they install and use your app.
There are millions of apps are already present on google play and the app store. Hence, this blog will aim at a few practices you must consider for designing your app icon to influence your users. 
Tips for mobile app icon
Avoid overloading the icon
Keep the foremost thing in mind is the fact that the app appears smaller on the user's phone screen. Therefore it is better not to overfill the icon with too many colors and details. Try to keep it as much simple as possible to make it look unique. The second thing you need to remember is that the app icon colors much match the color theme of your app to maintain brand consistency.
Don't use an image
This applies in all cases. If you have an image you like that is simple and unique, addresses your brand, create a vector photo version of it. You can also use a few elements from the image to inspire your vector image design. This app designs the icon by experiencing the app's purpose. They render you the photo showed and add a letter to it, enhancing the icon's overall looks and making it look sophisticated.
Add a border
The basic reason behind including a border is to build more impact on the design or the content inside the border, thus making it stand apart from the app store. This will finally lead to more app installs and more revenues. Moreover, remember that the frame you use should have a vivid color that sets off well with the colors which are within the border.
Give well-defined and Unique shape
Giving the right shape to the app icon can make it more notable amongst your nemesis. Having a unique shape makes it stand out from its simplicity and including simple things often tends to entice more potential users.
Avoid using words
Your app icon will look smaller on a mobile screen, therefore users might need a magnifying glass to read the content written on your icon. Therefore, for avoiding confusion, try not to use words in your app icon. For the details of the app, they can look at the app summary to know about it more.
Select the right size
The app icon must be the right size as per the screen where it will be viewed therefore before submitting your app in the app store, pay attention to the details of the app. The last thing that you want is to waste all the effort and money on a small error that you could have rectified initially.
Summary
Now that you have all the required information for developing a fantastic app icon, good luck with your journey. If you are a business owner and looking for the right mobile app development to help you with it, contact top app development companies and share your unique ideas. 
Till then, stay safe, stay at home, wash your hands, and be happy 
For more updates, stay connected and keep reading
Toddles!!