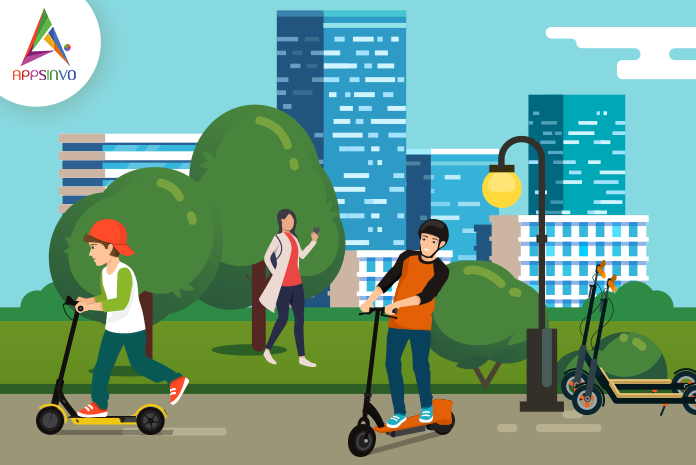 If you are in Santa Monica, Washington DC, LA, you might have noticed e-scooters everywhere.
It's the most preferred choice for people to commute daily.  
Within a year, there were dozens of e-scooter startups in the US and San Francisco.
Which was considered as a trend to transit, these companies made more than $250 million from venture capital.
A scooter- sharing system is a type of service that allows users scooters to use for short-term rentals, just like carsharing or bicycle-sharing systems. 
The service has been launched since the year 2012. 
It was first started in San Francisco and then expanded to other cities such as Washington, D.C., Los Angeles, and Europe. 
After seeing the increasing demand and growth of e-scooter trends, the e-scooter companies more quickly scaling into large companies.
Before I told you about e-scooters operators in-out. Let's see what is e-scooter and its advantages and disadvantages.
What are e-Scooters?
The e-scooters we're discussing are dockless, rent-by-the-minute electric scooters that can zoom down sidewalks at 15mph or 25kph. 
Battery-powered scooters have been available for years, but now they're outfitted with GPS trackers and wireless connectivity. 
Companies offer on-demand fleets of them that you can rent through an app – sort of how Uber and Lyft offer on-demand fleets of taxis.
Advantages of e-Scooters
Take your destination faster than driving a car.

Require less operational costs.

Eco-friendly, help in curtailing carbon footprint.
Disadvantages of e-Scooters
Not successful for the long-distance destination, limited to average 50-60km.

Less safe than a car.

Can't use in raining or flooding

Scooters take too much time to charge approx. 6-8 hours.
Top e-Scooters Sharing Operators
Bird
The Bird is a dockless scooter sharing company, based in Santa Monica, California, provide scooter at a cost of $1 to rent and $ 0.15 cents per minute. 
Travis Vander Zanden founded the company in September 2017. 
It is available in over 60 cities throughout Europe, North America with approximately $415 million in total funding.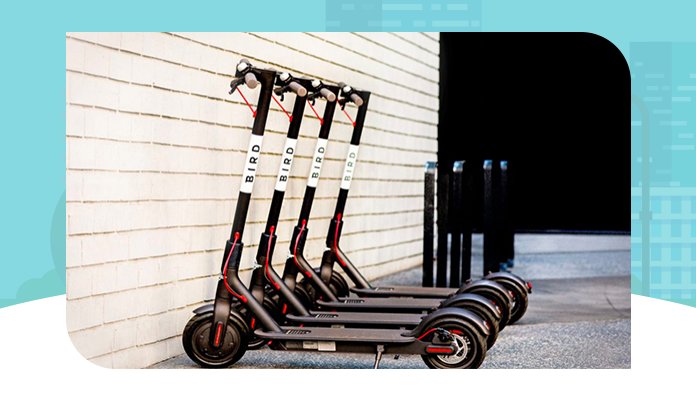 Lime
Lime is a scooter sharing company that is based in the United States. The company was founded by Toby Sun and Brad Bao in the year 2017. 
This is the first company that brings bike-sharing to an American territory. It allows ride-sharing in more than 75 markets worldwide. 
It currently operates in more than 100 cities around the world, with nearly 335 million dollars in total funding.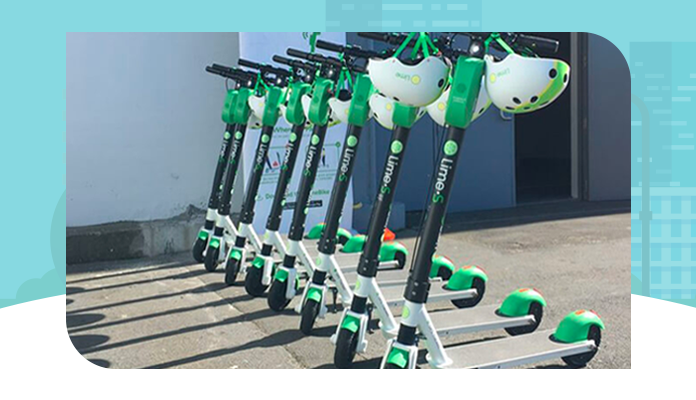 Spin
Ride your way is a scooter sharing company that is available in more than nineteen cities with approximately 8 million total funding amount. 
The startup was discovered in 2016 by the ford motor company. 
CRCM Ventures, exponent, and Grishin Robotics are the leading investors of this company. 
Using the spin application, users can find the nearest e-scooters and can get an automatic free trip.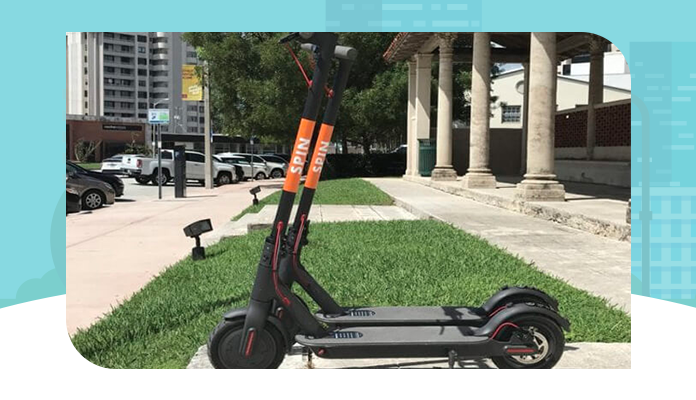 Skip
A San Francisco based e-scooter startup that is inaugurated by Boosted Boards. 
Skip has raised six million in Seed funding and the capital amount was initialized through Reddit co-founder Alexis Ohanian. 
The features include easy to book feature from the app, Maps to unlock, Social media integration and much more.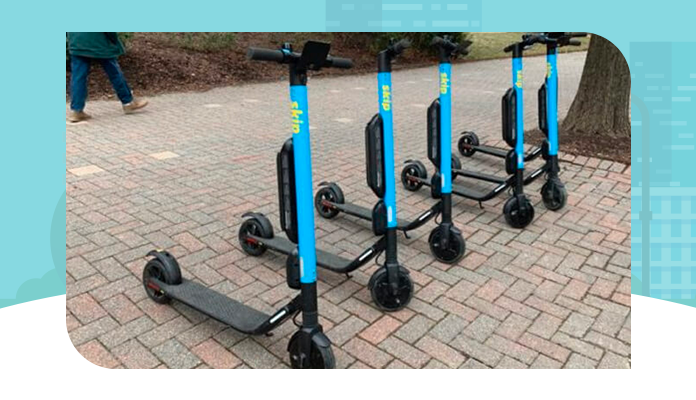 Wind
OFO is an e-scooter sharing company based in Berlin and Barcelona. 
The company was founded in the year 2017 by Eric Wang.
The company offers safe, convenient, and fast transportation services to its users. 
It has raised $50 million in Series funding and giving fierce competition to top e-scooter sharing companies such as Bird and lime.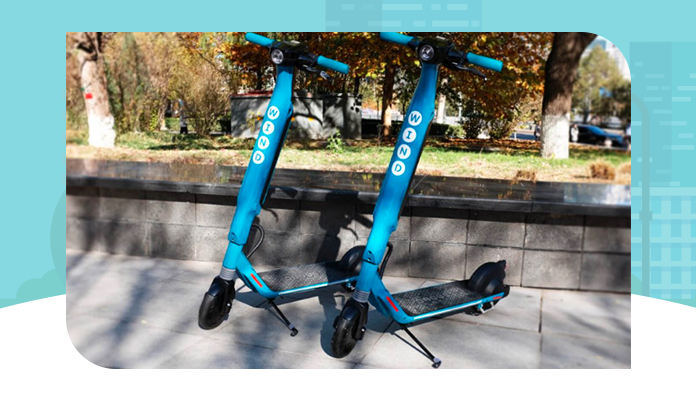 Goat
Goat is an electric scooter company that is based in Austin. 
Michael founded the company, Schramm. 
It charges $1 to ride and 15 cents for every minute similar to other scooter services. 
It can find a nearby scooter on the map and unlock it through QR Code. Currently, this company is bootstrapped.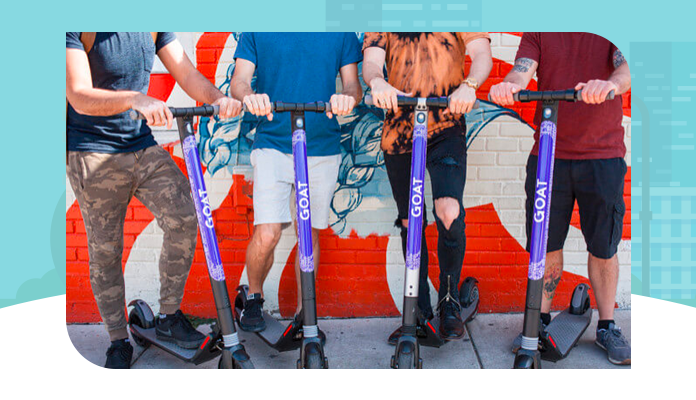 We make it easy for you to check out all e-scooters sharing operators apps
| | | | | |
| --- | --- | --- | --- | --- |
| Sr. No. | Name  | Country | Play Store | App Store |
| 1 | Bird | USA | ✔ | ✔ |
| 2 | Lime  | USA | ✔ | ✔ |
| 3 | Spin | USA | ✔ | ✔ |
| 4 | Skip | Germany | ✔ | ✔ |
| 5 | Wind | Spain | ✔ | ✔ |
| 6 | Goat | USA | ✔ | ✔ |
Features that you required for e-scooter Application
Here are some must-have features that required when you are going to develop an e-scooter application:
Google Maps Integration
This feature allows user to search nearby avail scooters and make it easy to hire a scooter with just few clicks on the screen.
Real-time GPS Tracking
GPS tracking helps people to find nearby locations for the corresponding parking area. 
QR Code Scanner
Built-in scanners to read QR codes for lock and unlock e-scooters.
ID Scanner
Another use of an in-app scanner for scanning ID verification or drivers' license.
Smart Lock
Users can forgo to lock the ride from the QR code scanner. This Internet of Things technology enables keyless locking/unlocking of a scooter. A smart scooter will automatically unlock as soon as the user approaches it and lock when they leave. 
In-app payments
A payment gateway feature in your app helps users to pay online.
Ride Stats
This feature allows scooter users to track their ride stats and history.
Booking
With this feature, users can book their ride earlier.
Social Media Integration
Users might like to share their ride experience with friends on social media.
Push Notifications
Tell about discounts, special events, and suggested routes with the help of push notifications.
How much does it cost & hours to develop a scooter sharing app?
The timing and cost of an app depend on the features of the app that you required in the app.
The approx hours it took to develop an app are 900 to 1000 hrs it may vary if you add more features in it.
To get the exact development hours and cost according to your needs, talk to our sales representative, who renders you the free consultation.
So, if you have an e-scooter sharing app idea, share it with us.
Till then for more updates, Stay connected with us.
Toddles!!❤🙏