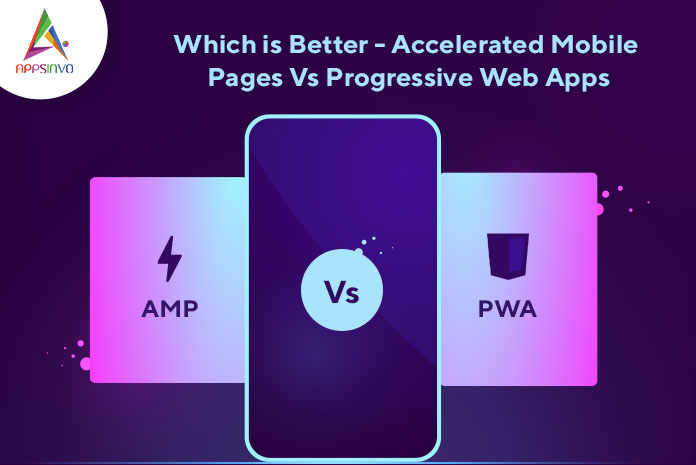 The internet is drastically expanding its domain in the last few years along with numerous challenges. With the expansion of the internet, there are some issues arises that troubled the users because of the unreliability and slow nature of the mobile web. There are several technologies that emerged to resolve such technical issues like accelerated mobile pages and progressive web apps. 
Both technologies are taking guarantee to offer a fast, rich, and immersive experience to the users so they get engaged and inspired. These technologies emerged at the right time when the utility of the mobile has experiencing unpredicted growth. In research, it is shown that half of the traffic on the web is coming due to mobile users.
Therefore, developers shifted their focus to the tools like (PWA) progressive web apps and (AMP) accelerated mobile apps that help to deliver an exceptional mobile experience to the users. Therefore, we have decided to tell you about the various aspects of AMP and PWA, identify which one is suitable for mobile usage. 
What is Accelerated Mobile Pages (AMP)
Accelerated mobile pages are also known as the AMP is an open-source project introduced by Google that enables developers to develop web pages that load faster on smartphones. AMP is introduced on javascript and delivers a seamless and instant experience than the regular HTML. AMP removes all the unnecessary scripts that can impact the overall user experience on a website and make sure the information should be delivered as fast as possible. 
Characteristics of AMP
Improve the loading speed of the lower page and speed up their website

The publishers of websites have full control over the visual design of the business app.

It will improve the SEO of your website using the relevant keywords and rank them on mobile devices.
Pros of AMP
Extremely beneficial for the content-based website like news or study websites. 

Improves the page loading speed up to 4 times.

It supports all the ad facility and formats. 
Cons of AMP
It can not improve the search engine rankings, 

This is not useful for the eCommerce websites as it does not involve all the fancy elements that are required to boost user engagement.

It has lazy loading for the images

Unable to track the user activity on AMP pages

Low user engagement compared to the HTML pages.
What is Progressive web apps (PWA)
Progressive web apps are also known as PWA. these are kind of web pages that seems like native mobile apps and offer identical interaction and navigation. PWA also helps the users to revisit the website by offering the fast-loading, push notifications, and offline web pages. They support all the modern web capabilities that make them presentable to users as native mobile apps.
Characteristics of PWA
PWA works for every user regardless of browser choice.

It must be responsive on any mobile, desktop, tablet, or any other electronic device. 

It does not require a complicated installation process.

It supports notifications like push notifications which makes re-engagement easier. 

It is always up to date due to the service worker update process.
Pros of PWA
No installation requires

Fast page loading required

Provide smooth navigation and animations

Less and secure intrusive

Cheaper than native apps

Can be used offline

Unified customer experience.
Cons of PWA
Does not maintain all native features

Not supported all browsers 

Access to sensors and hardware features

Modify logs or system settings
Difference Between AMP & PWA
Both PWA and AMP work to reduce the loading time of web pages on smartphones. 

AMP is suitable for lightweight content like blogs and articles while PWA is suitable for e-commerce sites.

AMP required standardized CSS component & javascript on the other hand PWA contains service workers, app shell, web app manifest, etc. 
Which is Better
Selecting one of them will depend on the type of website that you are running. You can choose AMP if your website does not have too many heavy images and mostly related to content like news and education websites on the other hand PWA will help if your website is kind of eCommerce, it will let your visitors have a user-friendly experience without installing the mobile apps. That is why the choice is all yours. 
Till then, stay safe, stay at home, wash your hands, and be happy
For more updates, stay connected and keep reading
Toddles!!