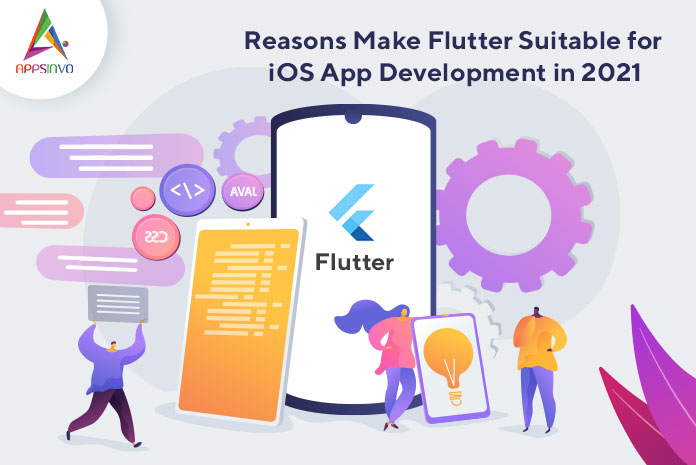 Are you planning to establish your startup and want to develop an app that assists you and business in a digital way and unable to figure out which is the best framework for your app?
Then the answer is short & simple – Flutter. 
Nowadays almost every app development agency that has no shortage of budget and time, they are looking for cross-platform solutions to develop and design new app solutions but on the other hand, some companies have limited time and budget to launch the separate app every day. 
Flutter is a useful cross-platform solution that is highly different from the native iOS development. Therefore, iOS developers must focus on developing apps to get a joyful experience while developing apps. Flutter is an open-source mobile app SDK introduced by Google where developers can use the single code developing the app for iOS and Android. 
There are some reasons that make companies to embrace iOS app development. Now you must be eager to know about this framework more for developing an iOS app development? In this article, we will discuss what makes the flutter suitable for iOS app development in 2021.
Reasons that make Flutter suitable for iOS app development
Technical structure
There are high differences in the iOS app development in terms of flutter technical architecture. All the tools used in the iOS app development are secretly developed by apple but Google has openly developed its flutter platforms. All native app developers use Swift to develop apps because of their fast and slick features. There are some other awesome features Dart has like generics, powerful typing, a rich library, and many more. Therefore, the dart system does not require to interact with the native modules. With the help of dart features, you can easily put your hands on a rich library to select and use the widget for the iOS app development. 
Swift Development Concept
If we look earlier using traditional compilers is not that easy, but flutter has taken the development fast a step further. You can use the dynamic scripting languages to observe the good performance of the compiled languages. You can easily opt for the dart as a programming language as it features a powerful system. The latest features of the dart show that it is amazing and suitable for developing mobile apps for a flutter. 
Increase Productivity
This is one of the most imperative benefits of flutter, being a developer you should know how much productivity is vital for your iOS app development. After using flutter you can observe the drastic transformation as it increases your productivity. Flutter is different from the native iOS development as it does not require Gradle that disrupt the quick development cycle. 
UI Factors
There is no doubt that the development of the Ui for mobile apps takes time, especially for the iOS app development. The UI kit of the iOS offers complete native support for the document, animation, drawing, and printing. The UI components of the Flutter are quite different than others that assist developers to make the development cycle fast. While using the flutter you can easily create tricky UI using any widgets.
Testing support
Flutter offers a testing system to assist the developer while writing the test at the designing level, unit, and functional. There are features in the flutter that helps in running UI tests quickly. Flutter also features fast documentation which explains how a developer can test the app at several levels with the usage of code. Flutter comes with an individual package named flutter driver for running all these tests.
Conclusion
Flutter has some cool features that make it more perfect. But it is still a new platform and has many other ways to develop. Flutter apps look really native and slick and if you are an iOS developer, you simply can not ignore this platform. From the above reasons, you may easily find out how does flutter suitable for iOS app development in 2021. Therefore, flutter should be the first choice for any business to develop an iOS app development.
Till then, stay safe, stay at home, wash your hands, and be happy
For more updates, stay connected and keep reading
Toddles!!