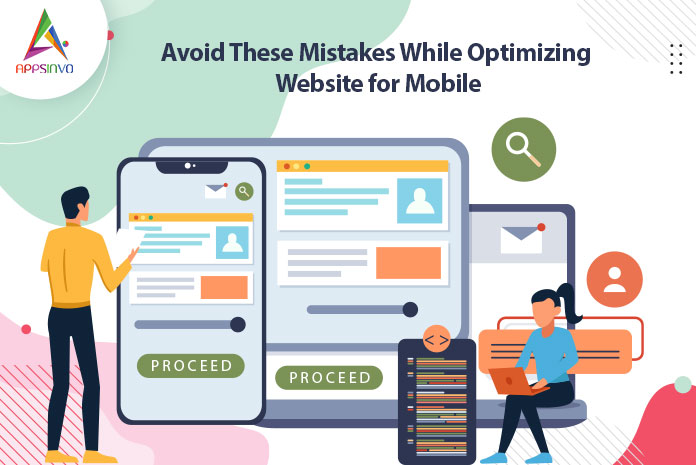 In this tech-savvy world, the usage of the smartphone is increasing day by day and it is the high time when you should focus to optimize your website for the smartphone users. To make your website mobile-friendly will depend on the results of your google search. This idea will help the users and provide them whatever their requirements in a seamless and smooth manner. 
After experiencing the rise in mobile searches, Google also ranks websites that have mobile versions of it. Mobile traffic can bring a tremendous fruitful impact on your business.  So here are some mistakes you should avoid while optimizing the website for mobile users.
Avoid Mistakes While Optimizing Website for Mobile
Using Multiple URL
If you are opting for different URLs or links for desktop and mobile, this will leave your customer confused. Therefore try to opt for a responsive website, develop a dynamic layout that easily adjusts to the dimensions of the devices will use your website.
When your website is easy to access on any device, it will improve the user experience and customer satisfaction. A single link for desktop and phones will become easy for the users to access your website without maintaining different links. 
Not Mobile-Friendly
The potential customer of your business expects to get whatever they are looking for in a mobile site, smoothly and instantly. So before finalizing the layout of your mobile website, conduct research on the layout that mostly preferred and appreciated by the users and check if it follows the guidelines.
This test will help you reevaluate the website and find out what changes you need to make. In the mobile version of your website, it should display readable text, integrated common software, adjustable content so there is no need to zoom, it will enhance the customer experience. 
Loading Time
Having a mobile website that takes ages to load is not good for your website and business. So try to make sure the loading time of your website as soon as possible. In a study, it shows that 29% of the users will switch to the other website if they cannot access your website on the second try.
In a recent survey, it is shown that 53% of the users left the website which took a longer time than 3 seconds to load. So try to reduce the loading time of your website, it will boost the revenue and visibility by up to 25%.
Avoid Lengthily Forms
It is often websites contains the long registration forms that are okay, but having long forms on the mobile website can be lengthy for the users because users need to scroll a lot and they may confuse or may lose the track.
It will be frustrating when something gets miss and you have to scroll again for rectifying it. Therefore for avoiding these tedious jobs keep your forms easy and short and it will make your website mobile-friendly. 
Not have Call To Action
Have you ever struggles to find a call to action button on a website due to having too many images, designs, and content? Or mistakenly tapped on the wrong link or button nearby? I must say it is definitely relatable to all of us, to resolve this issue when you optimize your website for mobile try to use action words that assist the users to easily navigate the website.
Design your CTA buttons in such a way users can easily spot it and divert their attention. Follow the gesture guidelines and place the CTA button in the thumb zone this is the right way. 
Final Thoughts
Mobile web surfing is growing day by day and your users or visitors will leave your web page if they find it annoying and time-consuming. So, try to optimize your website well for mobile otherwise, your users and visitors will shift to your competitors to fulfill their requirements.
Furnished your website with the relevant CTAs, responsive contents, less loading time, and short forms. Avoid these mistakes and experience the traffic of your website growing at a fast pace.
Till then, stay safe, stay at home, wash your hands, and be happy
For more updates, stay connected and keep reading
Toddles!!