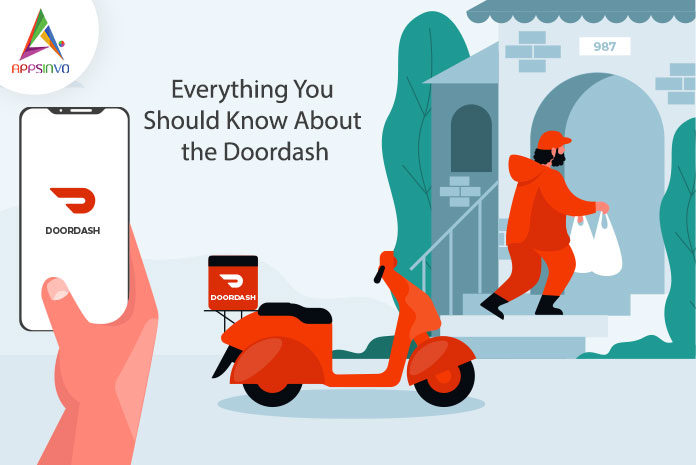 We all love food. Some of us like me live for delicious food. We all love to order food at our doorstep. So take advantage of using the different platforms that give your chance to try new things and their services. Today we have a special app called DoorDash. Let's take a look at this app's history and features that make this app different from others.
What is DoorDash
Doordash is an on-demand logistics based startup that operates as a bridge between the buyers and merchants who wants to sell their products to the local customers and deliver their order at their doorstep. Since 2013, Doordash is only working as a food delivery agent. 
The Doordash is designed to give benefits to the users and restaurants as well. It allows users to search nearby restaurants and order their favorite food. On the other hand, Doordash gives a platform to the restaurants to extend their customer base, in fact it also helps the other people while giving them jobs. 
Facts About DoorDash
Founders of DoorDash –

Andy Fang, Stanley Tang, Evan Moore, & Tony Xu

CEO of DoorDash –

Tony Xu

Founded in –

2013

Headquarter –

San Francisco, California

Valuation –

$12.6 Bn

Net Worth –

$717 Mn
DoorDash Timeline

How DoorDash Works
All on-demand business operates on the same business model but a minor difference can make you different from others. If you are also a businessman and want to start your own same business, here are you should know how this Doordash app operates. 
Choose your Order
From the list of vast restaurants, users can make their orders by just click from the vast menus listed on the Doordash. There some features users will get like Search, nearby restaurants make your choice based on the category that helps the users for the better-sorted experience. 
Make Payment
Users can make payments online once they place their orders. As soon as the order received by the Doordash, it forwards to the restaurants to prepare the order and packed it for the delivery.
Track your Order
Dasher picks the packed food order from the respective restaurant. The in-build software used by the dasher helps them to accept the order in their downtime. Doordash provides the facility to track your order location so you get the estimated time of arrival of your delivery. 
Delivered
The dashers will try to deliver the food at your doorstep as soon as possible. The customers will give the tip to the dasher but not necessarily and dashers can keep their 100% tip received from the customers. 
Features Of DoorDash App
There are some salient features of the Doordash app that make this app more unique and different from others. Let's take a look at some important features: 
No contact Delivery
Doordash provides no contact delivery by default until one has picked the option "hand it to me". If users have requested for the no contact delivery, the dasher will leave the parcel at your doorstep and alert you to pick your order. 
Schedule Delivery
The advanced services allow the users to schedule the delivery as per their convenience. 
Real-time Tracking
This feature enables the customer to track their order with the real-time tracking feature. 
No Minimums
There is no minimum range, users can order as much low as they want. 
3 Segment of DoorDash
Doordash works like a bridge for the restaurants and users who wanna order their food online. This app also provides full time or part-time employment. In the food delivery app, Doordash there are three segments that the app should have work – users, restaurants, and dashers or delivery boy.
Users
Those foodies who have no time to go out.

People who do know how to cook or don't want to cook.

Working and college-going students have no kitchen facility. 

Giving treat or party to your business team without wasting your time and disturbing schedule. 
Dashers
Who wants to do a delivery job with flexible timings.

Those who want to do the job of getting good tips. 
Restaurants
Restaurants that don't offer home delivery

Restaurants that want to expand their business and customer base
Business Model Used by DoorDash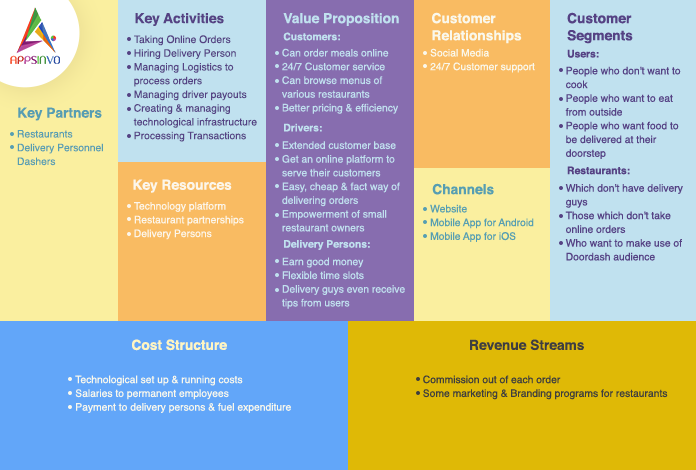 Value Proposition of DoorDash
An ideal food delivery mobile app should focus on all three sides of their business model. That is why Doordash works on the Y structure business model and builds up parallel coordination between the restaurants, dashers, and the customer. It gives special attention and feature to the customers by providing them the facility to track their order. Doordash has the potential to take control of the whole process so it delivers a smooth experience to the customers. 
For Customers
Doordash is reliable, easy to access, and covering a vast number of restaurants menus just away from one click.

Deliver 24/7 customer service. 

Facility to track their order

Great experience with better efficiency in better pricing. 
For Dashers
A chance to get good tips from customers

A good source of employment full time or part-time. 

Dashers get payment for every delivery they fulfill on a weekly basis and able to earn usually more than $600 in the USA. 
For Restaurants
This app empowers restaurants to expand their business.

Fast, easy, and cheap way to deliver the orders.

Expand their customer base

No tension to deliver their food to the customers.
How DashDoor Generate Revenue
Before entering into the business of food delivery or On-demand logistics, many startups or businesses need to understand the mode that helps in generating revenue because it is very crucial. So let's see how Doordash generate revenue through its app
Delivery Fees
Doordash doesn't hire any other company for delivering its food to customers, it hires its own drivers called Dashers. Doordash charges delivery fees from its customers and it depends upon the distance food has to travel but on average they take delivery fees from $5-$8 on per order. 
Commission on Each Order
This app serves the food by delivering from the restaurants to the door of the customer who orders their food through the Doordash app. There are 20 percent of commission Doordash charges from the restaurants on each and every order. 
Advertisement of Restaurants on the App
Apart from taking the commission from the restaurants, Doordash also charges to provide its platform for the advertisement and marketing of restaurants. Either, restaurants want to be in the top of the list of restaurants for a limited time or for pop up their name in advance search, this app takes charges. 
The Future
It seems like Doordash is taking the full benefit of technology as much as possible in their processes and will also use it for further things. Doordash has innovated a unique rating system for the restaurants it is known as Delight score that have a rating scale up to 10 points. This rating system includes some factors like restaurant popularity, delivery quality, and customer feedback. 
This helps the new customers to give an accurate estimate of how much they can expect from the delighted. This rating system will help the customer to find a suitable restaurant for their order. For now, Doordash is aiming only at the on-demand food delivery, but for a long future, they may expand their business apart from delivering food. 
So, if you are looking for developing an app like Doordash, Appsinvo team is there for you. Doordash like the app is something that encourages startups to build and introduce app like this so the range startups can invest in this app from $4000-$10,000 or you can discuss with our sales team for more details in brief. 
Till then, stay safe, stay at home, wash your hands, and be happy
For more updates, stay connected and keep reading
Toddles!!