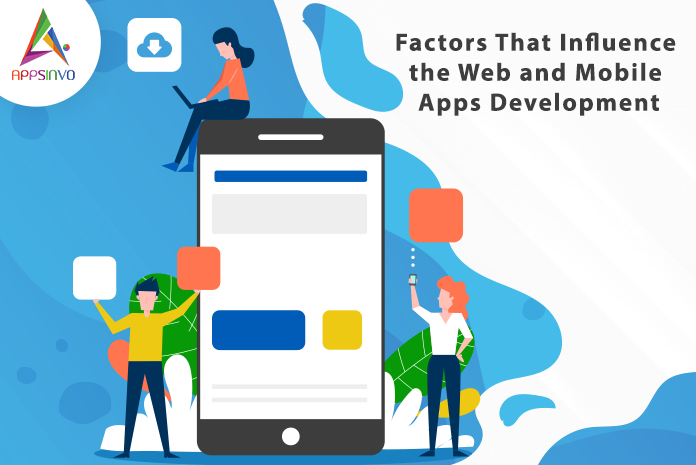 In today's world App development is getting demanding day by day.
Coming to the talks that both web and mobile app development are getting a higher number of services than other fields.
For the investment in the mobile app development, all you required a few bucks for investment and a logical mind to get the approval of the success rate.
For instance, you are a cloth merchant and running a cloth business & you require to boost the sales thus you require an online or offline medium called app to enhance the engagement between the owner and customer.
When it comes to mobile and web app development many companies require their engagement to get increased by the user, thus by using the apps, it is easy to engage the user.
In today's digital and high tech world each business and profession requires a mobile and web application to maintain its online presence.
So here we have jotted down some factors that influence the Web and Mobile app development:
Impressive Layouts
In daily life, we judge many people by either their looks, clothes or both. Because the outer beauty affects us most rather than inner beauty later.
The same thing goes with each and every field in fact also in app development. 
In the mobile and web app development field, applications judged by their layouts and their user interface.
The display is important to allure the customer or user in terms of mobile and web app development.
For this, you need to design the required framework which implies them to acquire their feature based on the requirement.
Users always look out their comfort zone to operate any kind of work. 
Thus as per psychology, it is required to give more importance to the layout, which can easily elevate the conversion rate.
User Attraction is Utmost
"The first impression is the last impression" no matter what you have developed it will be worthy of the first impression by the outer look.
Designing an app is an art and it acquires the visitors for the website easily. 
Each pattern you applied for the design has to speak out the feature that you placed on it. 
Try to be always in a creative approach and engage with some fundamentals of the design approach.
Choose Platform Wisely
Choosing the right platform for app development is very crucial, it is an important requirement for the developers and the clients.
The opting appropriate platform will take less time to develop. Hence there are many platforms to develop apps for both mobile and web apps.
If you have chosen the relevant platform for both mobile and web apps, it will always save you to reduce the workload for the developer.
Marketing and Launching Tactics
Every service and product required a strategy to deliver its products to users. The same procedure requires for mobile and web app development.
For marketing your app you don't have to wait for app development completion or the launch of your app.
First, pre-launch marketing of the app makes a successful launch more likely. This is important, especially for apps that don't cost very much. 
Generally speaking, attention toward and excitement for your app is highest when it's new, and by taking advantage of this, you can push your app toward the top of app store sales charts. 
If you don't, it's quite likely that your app will fade into nonexistence like thousands of apps are launched every week, so it'll be tough to recover from a slow start.
Wrap up
The success of web and mobile apps depends on many factors. 
It's supported by how great these factors are optimized and how well they interlock with each to achieve the ultimate goal. 
Eventually, it rests in the hands of app developers on how they make the app user-friendly, pleasant and efficacious through sturdy development measures.
Appsinvo is one of the leading mobile app development company. Our highly skilled and broad experience of development in different domains made us the most dignified web and mobile app development company in India and the USA.
If you are planning or having any idea for app development, share it with us we would love to code.
For more updates, stay connected with us and keep reading
Toddles!!❤🙏