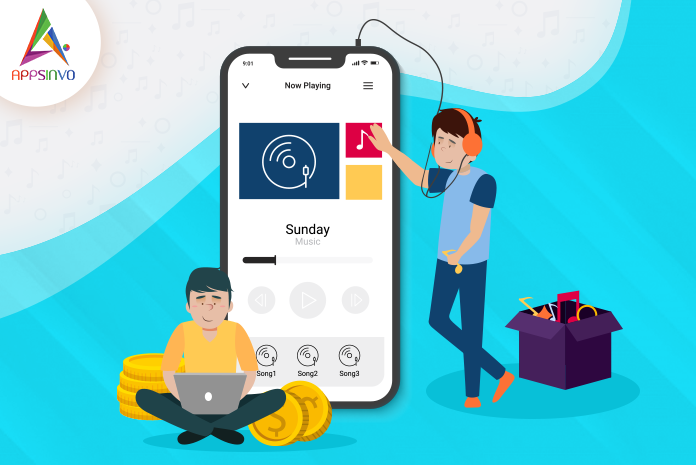 Technology is evolving new technologies day by day, so our lives also changing with the new technologies.
For instance, in earlier days, we used to download our favorite or any new song from other platforms to listening whenever we want.
Life is somewhat like a movie whenever something special happened there is music playing in the background.
Music has become everyone's universal companion that follows wherever we go.
Half a decade ago an iPod with a couple of hundreds of favorites was fair enough.
But today the elevation of internet connection speed has changed the need for music.
This resulted in the rising demand for music streaming apps, thus, raising the demand for music apps development.
With 75 million active users worldwide, with 20 million paid subscribers Spotify is topping the chart of the audio streaming apps.
What is the reason for Spotify's success and how much development cost require to develop a music streaming app like Spotify?
Let's dive into the briefing.
What is Spotify?
Spotify is a video and music streaming app that allows users to browse for any song, artist, album or genre. 
Users can share favorite tracks, add them to playlists or even collaborate with their friends to create compilations. 
The Spotify app was launched back in October 2008. 
The idea behind it belongs to two friends, Daniel Ek and Martin Lorentzon, that came up with it sitting in the nearly empty apartment in Stockholm, Sweden. 
It provides access to all music in the world, anywhere and anytime.
Expected Revenue from the Music Streaming Apps by 2021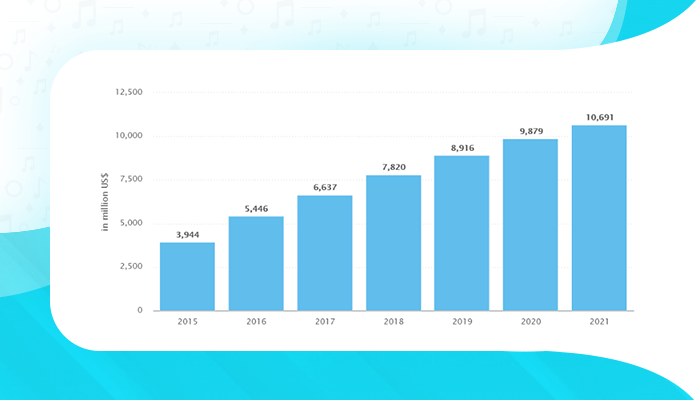 Types of Music Applications
There are various types of music application those you need to know
Music Streaming Apps

Music Editing Apps

Music Learning Apps

Apps for Music Bands

Music Identification apps
Top Players of Music Streaming Apps Market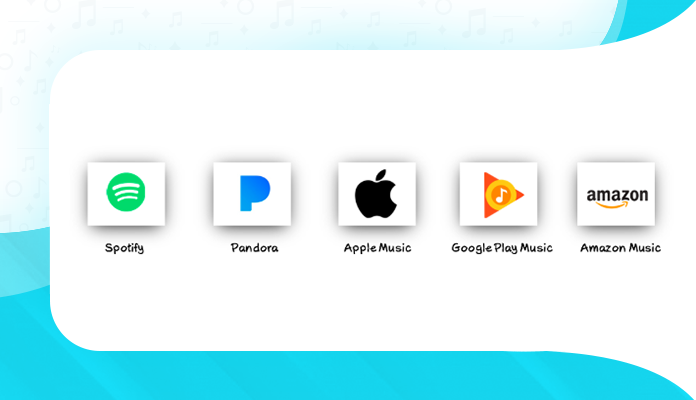 Important Features For a Music Streaming App
Above mentioned statistics prove that the development of a music streaming app is one of the most successful areas to invest. 
And following are critical features of music streaming mobile app which has to be included
Audience Captive UI UX
Login/Registration
After the installation, the user needs to get registered by providing their basic details like name, age, contact number, country, and such. 
Users can perform this task of registration via mail or using any other social media platforms.
This data can be used by the developers for future purposes like tracking and such. 
Also, let developers know the taste of the particular user by analyzing the types of songs that they are preferring. 
Music Playlist/Home Page
Over the app, there are so many numbers of songs made available, users can choose the one which they want. 
The number of songs can be made limited as per the access level. 
A developer can also create some categories like Top 5, Latest Hits, etc. this section can be made as attractive as possible in order to attract and stay attracted to the app.
Discover/Search
Though the music app contains so much data, the search option on the app needs to be made easy for the user to find their favorite songs, albums and such.
Share on social media
The various songs or albums on the app can be made accessible to share it on social media. 
This will also account for the publicity of the app.
Push Notifications
When the songs or the albums of user choice are shared over social media, it's updated via push notifications is mandatory. 
When the music tracked shared by the user are like the user will be notified.
Offline Music
Users can also download their favorite songs and can store them in their device's internal storage. 
This serves very usefully especially when the user's data is exhausted.
Bitrate Matters
The best and commonly used format for uninterrupted music streaming is M3u8, this is absolutely very important because a user can best enjoy the music only when it has no interruptions. 
The format in which the songs are presented matters a lot in delivering the best experience to the user.
Music quality
The quality of music is one of the deciding factors of user experience within the app. 
For the flawless quality of the music, lossless or FLAC is used.
Personalization
This serves a lot in providing the best user experience. The app developer needs to take care of the easy switching of themes, suggest some related songs, and all such things will undoubtedly enhance the user experience.
Additional Features For Music App
There are various mobile music apps are listed below
Provision of ticket booking for musical events

Maintain event calendar

Add chat functionalities

Create categorized sections like themed radio, user's favorite

Mark your favorite songs or albums.

Accessible to various languages.

Music according to mood
Factors That Affect the Development Cost of the App
There are some important factors that basically and broadly affect the cost of an application. The factors that affect the cost are:
Finding Tech Crew

Designing the App

Platform

Getting Licensed

Features
Finding Tech Crew
When you finally have a vision of what your product is going to be, it's time to locate the team that will build it for you. 
There are lots of factors (e.g. rates, location, language and time zone differences, etc.) to consider while setting down with one company. 
In case you want to roughly estimate how much it costs to build an app like Spotify, use the average rates per region given below: 
North America 

Western Europe 

Eastern Europe 

Asia
Designing the App
Keep the designing of the app simple and sweet so that users can easily access the app without facing any kinda hurdle. 
Platform
It's one of the key aspects to influence the final development cost. 
It'd be better to create native applications for each platform so they would perfectly interact with the existing operating system, and offer users the most authentic user experience. 
Get Licensed
There is no way you will be able to take someone's composition and spread it everywhere all that simple. 
There are copyrights and legal procedures that should be followed. Otherwise, a lawsuit is there for you. 
To provide users with high-quality audio or video content, you have to receive a Public Performance Rights license. 
Moreover, a particular share of revenues will have to be paid to artists as royalties for using their music.
Features
Here we advised you to keep a few features in the first launch of the app, with the upcoming time you can add more features with the new updates.
Approximate Overall Cost of Music Streaming App
We can say that the development of an average music streaming MVP is going to take a minimum of 530 hours (development time). 
So the sole development is going to cost approx USD 7500-10,000 and for more details, you can contact our sales representative.
Why Opt Appsinvo for a Music Streaming App
Reasons to opt Appsinvo for your music streaming app:
Rich experience in developing audio streaming apps

Professionals for Android/iOS mobile app development

Expert consultation

Coding as per the App Store and Google store guidelines.

Quality Assurance

Budget oriented

Time-to-time Upgradation

24/7 Support and Maintenance
Feel free to call us if you have any music streaming app ideas.
For more updates, Stay Connected with Us.
Toddles!!❤🙏