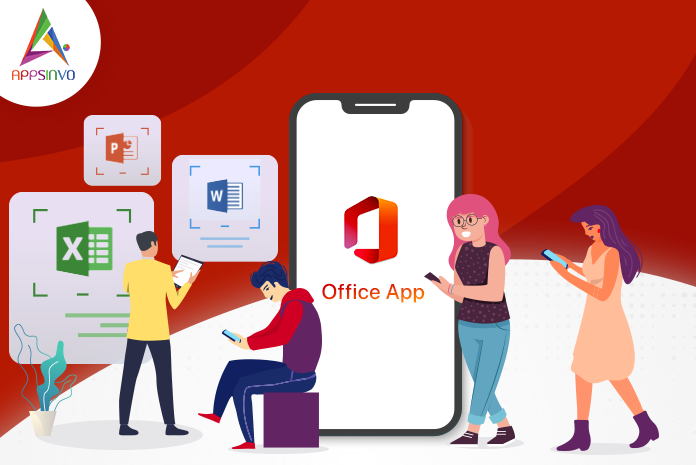 Tired of using different Microsoft Office different apps for word, excel, and powerpoint?
Want to put Microsoft Office's popular apps on an iOS or Android device? 
Soon you won't have to download individual versions of Word, Excel, and PowerPoint to use them. 
Microsoft on Monday revealed that it's beginning to publicly test a new version of the Office app that combines the three apps into one. 
The tech giant made the announcement at its Ignite conference in Orlando, Florida.
Microsoft has unveiled its new Fluent Design version of the Office logo.
Microsoft has been steadily tweaking the icons used for a variety of Office apps over the past year, and the new overarching Office logo is a more colorful version of the flat orange icon the company has been using in recent years. 
It's included as part of this Office for iOS and Android app, and it will be used elsewhere across Office.com and Microsoft's other Office apps in the coming months.
In the new app, you'll be able to create new documents, presentations, and spreadsheets as well as edit and view existing documents.
It is available now as a public preview on Android and as a beta through Apple's iOS Test Flight program
In this app, you'll also be able to "snap a picture of a document" and make it into an editable Word file, create and sign PDFs, or "transform tables from a printed page into an Excel spreadsheet."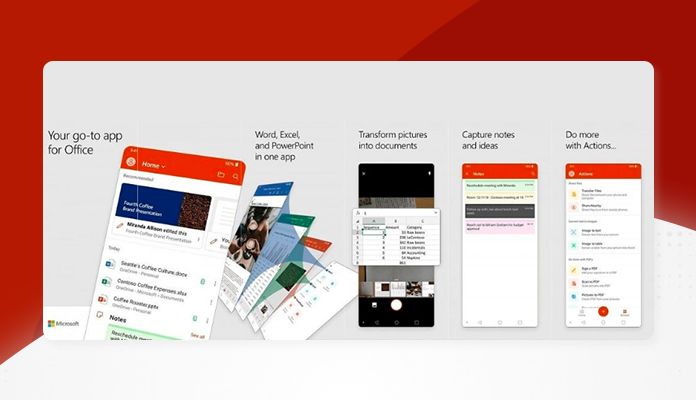 Microsoft's individual apps have been popular on mobile.
All three rank in the top 25 productivity apps on iOS, while each app has been downloaded over 1 billion times on Android. 
Microsoft says the new Office mobile app won't be replacing the existing three individual apps. 
A company spokesperson tells CNET "We know some users may only need to use one of the apps, and it is the consumer's choice to install the app that best fits their needs."
"However, if you use all of the core apps, we recommend using this new Office app, as it means you only need to install one app and it will actually take up less space."
Google, however, has been providing strong competition to Microsoft on mobile, with the Docs, Slides and Sheets apps from its G Suite set of productivity tools all ranking higher on iOS. 
Despite this, Microsoft's Office 365 productivity tools take the overall lead across devices, according to a 2018 report from cloud security firm Bitglass. 
In 2016, Office 365 had more than twice as many deployments as G Suite in the business realm, at 56% compared to 25%. 
This new app now feels like a central hub for Microsoft to showcase all of the new features it has been gradually adding to Word, Excel, and PowerPoint in recent months.
There's a prominent action section that includes the ability to transfer files from your computer to a phone, convert images into text or tables, scan pictures into PDFs, and even scan QR codes.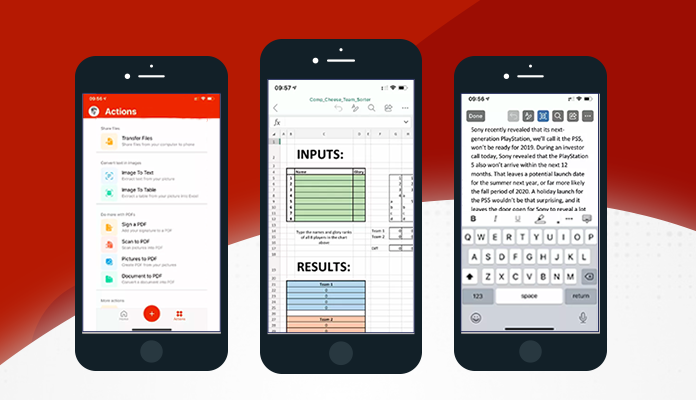 These were features that were always hidden away before, but they'll likely be used frequently now that they're surfaced up top in this Office app.
They're also useful quick tasks that you're more likely to use on a phone than a PC.
The all-new Office app combination for iOS and Android follows Microsoft's release of the new Office app for Windows 10 in February, which offers access to all the Office productivity apps in one window. 
The general release for the new Office app will take place in the first half of next year.
So, utilize your time by using the Microsoft Office App.
For more updates, Stay Connected with Us.
Toddles!! ❤🙏