"Just one more episode, please" 
"Have you seen this show?" 
"Do you like the new season of Money heist?"
These phrases we all have heard in this lockdown or ever in our life while outing with friends or while gossiping with our colleagues in the office and all the credit goes to our beloved Netflix.
This video streaming app takes the entertainment experience to the next level that we can't even think about it. It delivers high-quality content from "The Witcher" to the "FRIENDS", from "Money Heist" to "Stranger things". Netflix offers a different taste of thoughts, culture, time period, and circumstances. 
Netflix expands its presence to the 190 countries in its last seven years with having 182 million paid subscribers. After seeing this huge success of Netflix or video streaming apps, many business enthusiasts are looking for mobile app developers that have experience and knowledge of creating such kind of mobile apps. 
That's why we come up with this article to provide you a brief detail of developing an app like Netflix. In this blog, points we are going to discuss,
What is Netflix

Facts About Netflix

Top features of Netflix

Design Analysis of Netflix

Reason Behind Its Demand

Business Model of Netflix

Factors that decide the Cost of Netflix like App Development

Cost to Develop an App like Netflix
What is Netflix
Netflix is a video streaming service platform that delivers a wide range of TV shows, movies, documentaries, and many more on the millions of internet-connected devices. But 23 years ago, Netflix was a subscription-based DVD based service that delivered the DVDs straight to the doorstep. 
After 10 years in 2007, Netflix rolled out its streaming services and allowing users to stream many shows and movies on their devices without any ads. And today Netflix becomes the most preferring and entertainment platform that acclaims the wide range of TV shows, movies, documentaries, series, and many more. 
Facts About Netflix
Founded – 29 August 1997
Founders – Reed Hastings, Marc Randolph
Owned by – Morgan Stanley, Reed Hastings
CEO – Reed Hastings
Headquarter – Scotts Valley, California, United States
Top features of Netflix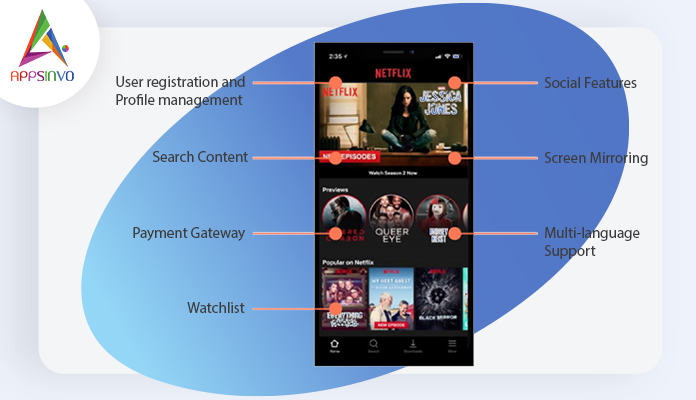 User Registration
This is the essential feature that every video streaming app must-have. When users need to fill the registration for the signup process keeps in mind ask as much as minimum details to the users. You can also add features to signup through social media that helps to improve the retention rate.
Search Bar
If there are hundreds and thousands of shows and movies, you should give a search and filter feature in your app. Through this feature user will able to search his favorite shows, movies, and documentaries based on their language, country, production, or genre.
Payment Option
If there is an in-build payment option in the app, it will add more value in your app and users easily make payment and it helps the app owners to deliver extra services when you have different payment options. 
Playlist
The playlist is the primary feature that you should consider when you are planning to develop a video streaming app. In this section, where users can add their favorite shows in their list and watch them when you get the time. 
Social Sharing
In the era of social media, users love to share their things on social networking sites. On that note, you can add the feature of sharing on social media whatever your users are watching. 
Multi-language Support
This is the last but not the least by supporting the multiple languages the Netflix extending its content beyond English and this feature makes it a more preferred app. This feature enables the app the expand its reachability to several countries. 
Design Analysis of Netflix
User-friendly Design
The UI/UX design of Netflix is simple and easy to use. It delivers the users to access the app easily without any hassle and even you can watch your favorite show right after where you have left. This app also gives users some other features like 'add to my list', 'skip intro' & 'auto-play next episode' that is more user-friendly.
Search space
The Netflix app shows the search button right after the home button in the bottom part of the app, where users can search their favorite shows by entering text with the virtual keyboard. This diminishes the efforts to come across the content they want to watch.
Suggested Content
Netflix uses AI and machine learning mechanism that helps to suggest the users as per their search or watch tv shows and movies. Users appreciate this and this helps the users to spend some more time on the Netflix app.
Multiple devices support
This is one of the most unique features of this app, this app supports the multiple devices with this you can use the same app in the different devices.
Reasons Behind the Demand of Netflix
Convenient
Like other old and traditional TV operators, Netflix or other video streaming apps don't require any kind of contractual obligations. Video streaming app gives users the freedom to unsubscribe their plans when they need it and they give users to watch their favorite shows from anywhere.
Easy Connectivity
For accessing the great entertainment content of the video streaming app or Netflix you only need a high-speed internet connection and a device either PC, TV, Laptop, or mobile phone. 
Wide range of Choice
The important benefit of preferring Netflix or other video streaming services gives its users access to a wide range of content that lets the users access hundreds and thousands of shows, movies, and documentaries at once. 
Low Cost
This is the most important cost, the cost you have to pay for watching the shows, movies, and series on Netflix is economical. 
These benefits of Netflix makes it more special and different from others and that is why it gained huge success in the field of entertainment. 
Business Model of Netflix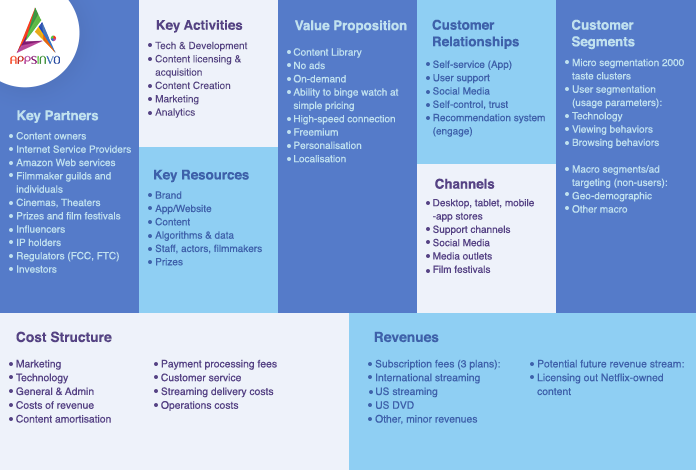 Factors that decide the Cost of Netflix like App Development
Video streaming apps like Netflix come under in the database category apps that need a heavy backend to give you a buffer-free video streaming experience and this point also affects the cost of the app development. Let's see some other major factors that decide the cost of the Netflix app.
App Design
Designing complex apps will not be appreciated by users. It is very important to understand that simple and unique design will definitely help to entice more users to your app. So users find it easy to use your app and stay connected with your app.
App Development
If we compare the costs of developing a video streaming app like Netflix, you will find India is much cheaper than the US market. You will find many development companies in Delhi, Mumbai, Noida, Hyderabad, Bangalore, and Chennai. 
App Platform
The platform also plays an important role that helps to decide the cost of a mobile app. In terms of cost, there is a considerable difference between the Android and iOS platforms. Android is much costlier than iOS as it has a large number of users having various screens sizes.
App Features
The more feature you use in your app, the costlier it will be. So, we suggest our clients build MVP (Minimum value product) in the first version that reduces the costs. With the time and market trend, you can add more fascinating features in your app in the next version to gear up its value.
Mobile Wallet
If you use an integrated mobile wallet in your app for the payments, it will take less time for making payment and also give hassle-free payment done.
Cost to Develop an App like Netflix
The actual cost of developing an app like Netflix can not be determined. Although from the factors mentioned above, you can get a rough idea of the cost. The cost depends upon the technique we have chosen for the app development. So on average, you have to pay approx $4400-$9500 for developing a video streaming app like Netflix or you can contact our sales team that'll give you precise details about the project.
Till then, stay safe, stay at home, wash your hands, and be happy
For more updates, stay connected and keep reading
Toddles!!