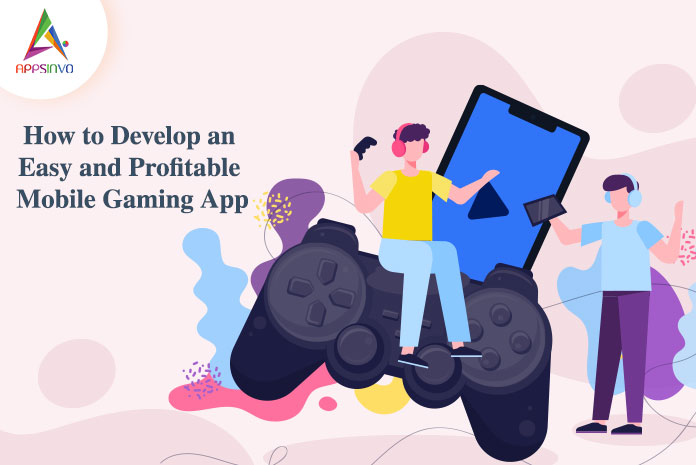 Mobile gaming is becoming a huge market with having the potential to earn huge revenue. There are countless success stories of mobile gaming apps like Angry bird, Candy crush, Ludo king, CoC, PUBG, and etc. these games are persuading others to take an initiative in the gaming app development world and live your dream game. In a study, it is shown that approx 62% of smartphone users will install a gaming app withing the 1st week of purchasing the device. 
After reading this study I am sure you will not be amazed anymore because we all have done this but there is also another harsh side of the coin is there are many gaming apps that are not able to recover the development expenditure. Developing a gaming app is not a piece of cake, for creating a gaming app you need to do a deep study of your targeted market, develop an engaging game, and ways to monetize it. To make this process easy and understandable, we have jotted down some imperative steps that will help you to develop an easy and profitable mobile gaming app
Steps to Develop an Easy and Profitable Mobile Gaming App
Work on your Idea
In this world, the idea is everything and the unique idea will automatically stand out itself in the millions of crowd. So it becomes imperative to have a killer idea but unfortunately, there is no straightforward process that can produce new ideas. The key to find an idea is to think about something engaging and innovative. 
Tell a Story
Stories loved by every age groups and it goes longer in a long way. Therefore, try to run a story in your gaming app, creating a story is not so difficult. To create a story, find the answer to the small questions like, who is a hero and villain in your game, strengths, and weakness, how will hero achieve. These questions will help to make a story. 
Make it Easy
A little addiction lasts for quite long in the gaming way. It is proven that if your game is a little addictive, it helps you to boost your targeted audience. Try to give an easy level in the starting and gradually increase the level of your gaming app because usually, the players lose their interest in the lengthy games. So try to keep your user engage with the easy, short levels with some fun elements. 
Find Key Platforms
Before moving to the design and development of your gaming app, it is mandatory to decide which platform you want for your gaming app. There are 3 choices you have iOS, Android, & Windows. The best way to decide the platform for your app is the market you are targeting. Focus on the platform which has your most profitable players and prioritize them. If you think your targeted audience market is across the multiple platforms, you need to opt the more than one OS.
Develop a stunning Design
The design of anything will decide the success of the app. So it is very important to maintain the design of your gaming app, a good app design considers several factors like navigation in the game, character, appearance, and the graphics of the app. And the design is the second thing after the app idea that can differentiate your app from the other apps in the market. For designing the app, there is an enormous number of designs like 3D design, flat design, or a comic style. Give a unique and innovative touch to your app design and no one can beat you. 
Choose the Monetization Strategy
There are several gaming apps that are no more profitable that is why you need a monetization strategy before moving to the development stage. Developing a gaming app is expensive and time taking process, so you should have a plan to monetize your app, here are some common ways to monetize your gaming apps
In-app purchases: This is the most common model and we all have seen experience this while playing a game. In this model, users can use the app free of cost but for the pro version or get new objects of the game they need to pay some amount.
Ads in the app: There are many apps that give space to the other apps to show their ads when users play the gaming app. Also, try to pay special attention to the content of the ads, it should not be inappropriate and annoying, then the result will be counterproductive. 
Premium Versions: For the premium versions, you can offer free demo of your app to the players so they can decide after that they want to play this game or not but this will significantly diminish the number of purchases.
Select the Technology
Once you are done with your gaming app idea, you need to work on the development and decide the design tools to use for your gaming app. You will have three choices and have to pick one of them.
Native

: It involves using languages to a device platform for coding, for instance, using java for android or swift for iOS. If you want great performance in your gaming app, native technology is the best option to go.

HTML5

: This mobile gaming app development technology has users other web technologies apart from the HTML5, which are CSS and JavaScript. HTML5 has a write-once run anywhere policy that suitably fits for the cross-platform gaming app development. 

Hybrid

: This mobile gaming app development technology that has the benefit of HTLM5 & Native both. This uses HTML5 design inside a cell to operate the game on any platform. 
Select Right Developers
It is one of the most important steps to develop a successful gaming app is from the outsourcing game app development company. You need an app development company that has experience and skill both of the gaming app development and can develop a lucrative app. Developing a gaming app is a complex process and you need experienced developers at your back. 
Conclusion
The phase of the mobile app development market is changing drastically, still many are able to make money from this market. There are some reasons and features that help to make the gaming app more successful and profitable. The app has come from the quality of the game, driving a new trend when they hit the market with the right strategy in order to achieve success in the app market. Appsinvo team has years of experience in developing gaming app and can handle projects of any size. 
Till then, stay safe, stay at home, wash your hands, and be happy
For more updates, stay connected and keep reading
Toddles!!