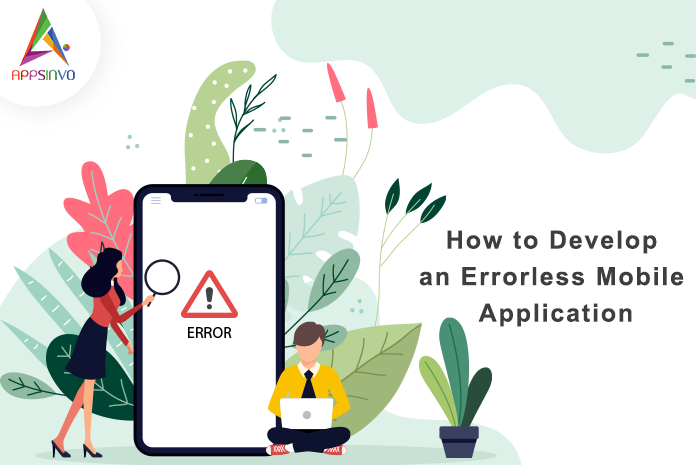 In this tech-savvy era, the need for smartphones devices has become our basic requirement of themselves. 
We can't dispute the fact that most of the people consume time using smartphones. 
A user-friendly & well-developed app can support startups, companies, organizations, and institutions to attain their targeted audience and promote their services.
Therefore, developing a mobile app is notably beneficial for businesses. But the thing is not done by just developing an app. 
It is equally important to develop an errorless mobile application. Now, the question comes, how we can develop it?
Here we are to answer your query through today's blog, which has some very important points that will help you to develop an errorless mobile app.
Security Matter
Security is a bothering feature of mobile application development because most of the glitches that arise are straight results of infringements that happen in this sector. 
So simply, developers should be extra vigilant when confronting with app security matters, because reducing the possibilities of the app striking the faults in this section can essentially enhance the entire product's security. 
Well, this is one and only one good alternative to maximize flaw mitigation.
Beta Testing
One of the best alternatives for taking out the most beneficial of mobile applications when you need super performance, it is Beta Testing. 
It is a bug proofing way and it has constantly demonstrated the critical factors to make a flawless mobile app. 
You can get the app review from different people by passing it through various filters. 
The sound thing regarding this is that there is no limit to beta testing you can undergo. 
Code Revisions
You must have intuited the third important concern. Yes, it is code revisions, of course.
Honestly, code revisions can protect you from a lot of trouble. For many specialists, this is a very helpful way of assuring the quality and efficiency of your own code.
All it is to be done is examining the code elements and compare them correctly. Irrespective of who you are: an individual developer, project ally or mobile app development team, all you can easily review other code. 
Isn't it a simple and advanced option? You can easily recognize the difficulties that deceived by you.
Automated Testing and Error Reports
By using Beta testing that enables you to perform automated tests and collect automated error reports through different people, you can increase the constant amount of effort you are getting. 
The best thing about this is that it doesn't waste much time and agile development takes place along with the testing.
Investing Resources in a Debugger
Investing sources into a debugger will also display the quality level of the final build.
Yes, debugging can be quite the discomfort when you take a common path that indicates using PHP, Python or Ruby.
Conclusion
These points will help you to develop an errorless mobile application. If you think we have forgotten any point, please tell us in the comment section.
For more updates, stay connected and keep reading
Toddles!!🙏❤