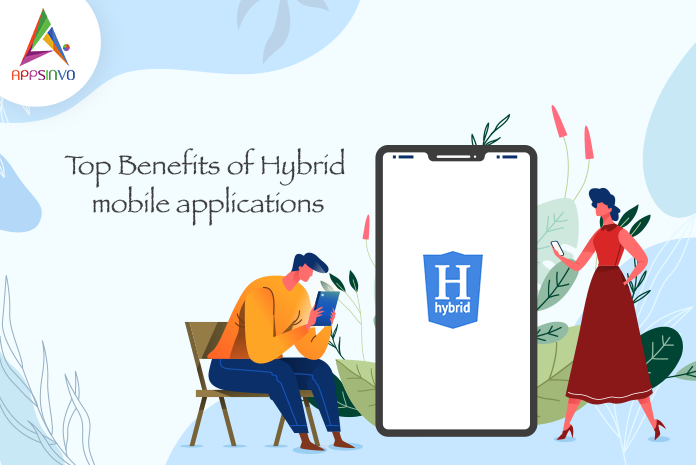 In this tech-savvy world, no one can deny the power of smartphones, especially for business purposes. 
When you make your products and services available through mobile phones there are many ways to reach out to the customer.
The best way to fill the gap between the customer and the company is to develop a mobile app. 
By using the app you can provide your services and products to your customers and market your app without any third person involvement.
Many of us get confused before they start their project about what kind of app they should prefer four their app.
From native, web and hybrid apps, hybrid apps are considered as they are the best combination of the performance and speed of the native apps into the web containers to leverage the best of both kinds of apps. 
Therefore, hybrid mobile apps are essential and best for any business nowadays. Let's take a small tour of the benefits of hybrid applications.
What is a Hybrid App? 
A hybrid app is a blend of both web and native applications.
Fundamentally, a native app is created for a specific platform and installed on a computing device, while the web app is developed for various platforms and is distributed over the Internet through a browser.
And if we discuss the hybrid mobile apps, it's the combination of both and usually described in the meaning of mobile computing.
Advantages Of Hybrid Mobile App
With the prologue behind us, it's time to take a closer look at some of the main advantages of hybrid mobile apps. 
Allied Development
The biggest benefit of hybrid mobile apps is that it can grant unified development.
Companies can keep a much amount of money that would unless have to be settled on maintaining and developing separate code bases for various mobile platforms.
This, of course, drives to lower cost of development and, potentially, higher profits. 
Speedy Deployment
The Minimum Viable Product (MVP) method requires the active deployment of effective solutions in order to be the first to hit the market and obtain a solid competitive position.
Those who want to have their app in the App Store ASAP should sincerely prefer hybrid applications.
Low-Level Access
Hybrid applications smartly connect the gap between the two approaches and render all the additional functionality with very little burden.
As a result, developers can accomplish a much wider spectrum of ideas and achieve the attention of their target audience.
Offline Support
Web applications are critically restricted by their deficiency of offline support.
This may seem like a less significant concern for people who live in metropolitan cities, but possible customers from rural areas and less developed countries could be cut off from access to the application.
By choosing the hybrid app development for your app enables your users to use the app offline or without the internet.
Scaling
Hybrid applications are bounded only by the underlying framework.
Companies who partner with a good provider can spontaneously target all important platforms without any further trouble at all.
The platform that is popular, it can be assumed that it will instantly add assistance for any new mobile operating systems and their similar incremental updates.
Conclusion
So, these are the benefits that make the hybrid mobile apps are more preferred than the native and web mobile apps.
If you think we had missed some benefits of hybrid apps, tell us in the comment section.
For more updates, stay connected and keep reading.
Toddles!!🙏❤