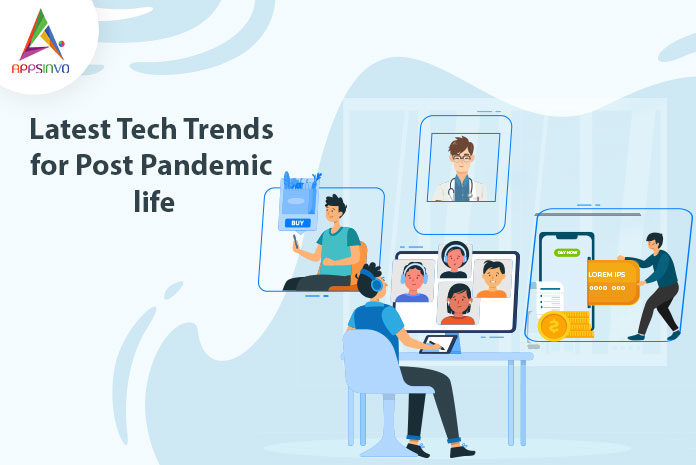 Technology is evolving with many new techniques and implied as a manner to easy human difficulties. COVID-19 pandemic has major impacts not only on the economy but also on our daily lives. Technologies play a very predominant role in this pandemic situation. It holds our society operative in the time of the lockdown and there are some technologies that are becoming the latest COVID-19 tech trends that help to lessen the spread of the virus. 
These technologies will have a long-lasting impact on the post-pandemic life. So we have listed some technology trends that are going to be used by us and businesses 
Digital/Cashless Payments
As we all know this disease is contagious and it can be spread by touching or come in contact from an infected person can spread due to cash and by exchanging hand. 
So for that many of us can use the cashless or digital payment methods that help to evade the spread of COVID-19. Digital/cashless payment methods make online purchases easy in fact you can make cashless payment at the shop also.
Online shopping 
In this lockdown, when everything is shut down, we can't go out even, and at that time only online shopping only for essential things available. Online shopping has bees reinforced by a robust logistics system. Going live delivery is not an antivirus. So many delivery companies in the US, India, and China are establishing contactless delivery services. 
Distance Education
Due to lockdown in many countries schools and colleges also shut down. But for not making this situation more complicated for the students they have started online classes or distance education courses so students can learn directly from their home.
Work from Home
Now everyone is in lockdown in their homes but office work is a component of daily life. So many companies ask employees to work from home. Remote work is activated by technologies that include VoIP, VPNs, cloud technology, work collaboration tools, virtual meetings. These technologies allow a person to emerge before a visual background to ensure the privacy of the home.
TeleHealth
Telehealth is the best way to prevent the spread of coronavirus and in this way, it renders foremost care. Wearable or IoT devices can help to track the critical signs of patient health that will let the doctors take the necessary steps to cure the disease and save a patient's life. Telehealth provides the space where medical service and doctors can serve patients in a very innovative way and keep them away from this virus threat.
Communication Technology
With the help of technology, it is possible for us to stay safe at home and stay connected to our loved ones. In the lockdown situation, everyone got stuck wherever they were. At that time only communication apps and devices help us to connect with our family, friends, and loved ones.
Wrap up
Coronavirus has major impacts and it also reveals the prominence of digital readiness and it enables many corporations to keep proceedings normal that will not impact the business conquest. The all above-listed points are new trends in technology for the post-pandemic life. The latest tech trends will make our life and working culture of organizations a more effectual and human-centered solution.
Till then, stay safe, stay at home, wash your hands, and be happy
For more updates, stay connected and keep reading
Toddles!!