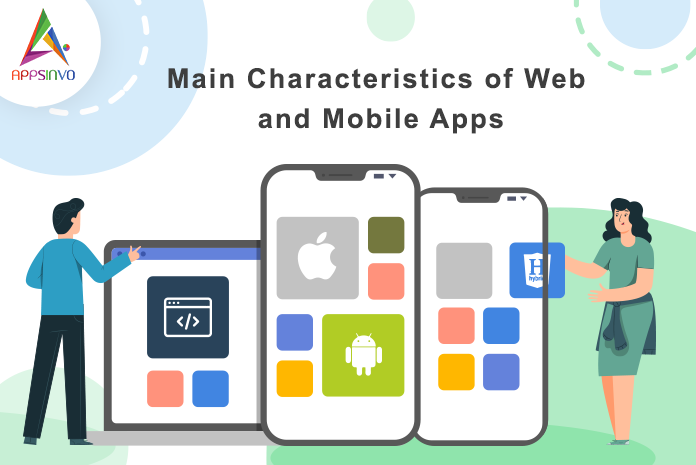 In this technological era, mobile app demand does not stop growing. The mobile application business is on the new heights. 
Therefore, many entrepreneurs and startups are substantially confined to this technological product.
Applications demand is the only reason why startups, entrepreneurs and SMEs don't want to miss the chance to build a solution that gives solutions to the demand of a targeted audience.
There are many people who want to build their own app but don't know which type of app they should prefer for their project and targeted audience.
So in this blog, we'll tell you the main types of mobile apps and their advantages and disadvantages that will definitely help you to find which one is suitable for your project.
Main Types of Mobile Apps
Web Apps
The Web App can run on different devices, without any need to create multiple applications because they programmed independently in the operating system in which the application will going to be used.
By using a URL, these applications operate within the own web browser of the device. A Web App is, one of the kinds of mobile applications, built by using well-known languages to programmers, like Javascript, CSS, or HTML.
Advantages
Reduce business costs.

As it can be accessed from anywhere, so it has better reach.

Always up-to-date.

No installation needed.

Reusable base code.
Disadvantages
Internet connection required.

Security risk.

Not so sophisticated interface.

Take a longer time to develop.
Native Apps
A native app is one that is created specifically for a given operating system. You must have to be aware that each of the platforms has a different system either it is Android or iOS. 
So, if your motive is to make your app available on all platforms, you need to create several apps with the languages of the operating system that you will select.
The main benefit of using this platform for app development is they don't require an internet connection. 
Advantages
These are fast.

Easily distributed in the app stores.

More intuitive and interactive.

Easily interact with any feature of the app.
Disadvantages
Build for a single platform.

Expensive to build 

Difficult to maintain.
Hybrid Apps
This type of mobile application is a combination of both native and web apps. The hybrid apps bring together the best of the native and web apps and are developed with web app languages, i.e, javascript, CSS, and HTML.
Advantages
No need for a browser.

Single app for all platforms.

Cheaper than Native app.

Easy to build.

Faster than Native App.
Disadvantages
Expensive than web apps

Slower than the native app

Less interactive than the native app.
Summary
Various types of apps have their own stable and weak points and it's up to you and your business requirement which type of app you choose. 
Mobile app developers and testers have to ensure that the app runs smoothly and function well.
For more updates, Stay connected and Keep reading
Toddles!!🙏❤