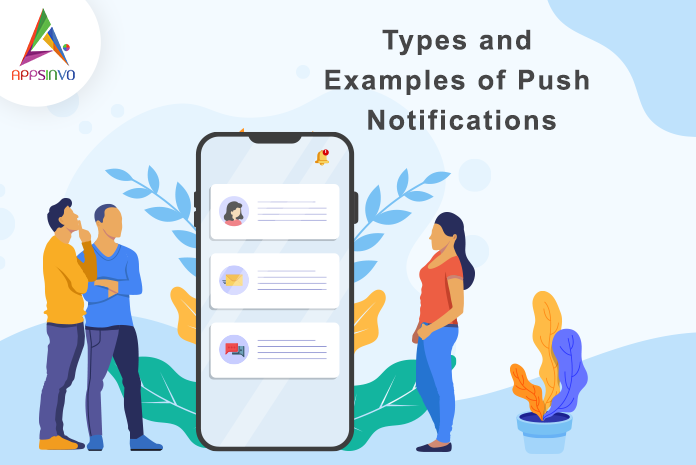 Many of us get confused or misunderstand the push notifications by SMS or text messages. 
Push notification is something different that is an instant and direct message that users get on mobile apps, websites, and web apps.
A text message could be considered as a push notification but for that, it must have followed some minimum requirements.
The content of the push notification must be promotional. But you should know that Push notifications can't be considered invasive because it can be enabled by the users only.
Now you're getting curious to know what push notifications are, its types, examples, benefits, etc in detail. So, let's go take a small dive into the detail of push notifications.
What are Push Notifications?
Push notifications can easily build a connection with the users who use your app and it serves to send any kind of marketing and promotional info.
Through the push notifications, app or website can send information about the offers, special promotions, events and many more.
These messages show on the notification bar or some time on the screen whether you use the app at the time or not.
Push notifications are basically used to attain loyalty in order to turn the leads into the initial customers.
Types of Push Notifications
If we take a look at our daily activities we can easily find out the types of push notifications.
If we categorize the push notifications, these are the types of push notifications you can relate 
Personalized Notifications

Encouraging Notifications

Time-Sensitive Notifications

Reminder Notifications

Offer Notifications

Location Specific Notifications
Examples of Push Notifications
Today, push notifications is one of the most used techniques by SMEs to create more traffic to the website of their company or business.
The most used and strong push notifications examples are
Send notifications by a mobile App update.

News and related and particular information.

Reminders (for events, conferences, offers).

Exclusive proposals/offers for each user.

Invitation for events, conferences, etc.
Now you can assume easily how much push notifications are useful for any kind of business.
Benefits of Push Notifications
Push notifications are the faster and easiest way to communicate with your audience. Let's consider the advantages of push notifications that can bring your business.
Stimulate user engagement

Re-engage/retain users

Increase conversion rate

Target right users

Track actionable metrics

Enhance brand consistency
Conclusion
Mobile push notifications are a leading marketing approach for businesses. Forwarding well-considered, appropriate, and up-to-date notification messages to people who have an interest in your business is a great marketing strategy.
For more updates, stay connected and keep reading
Toddles!!🙏❤