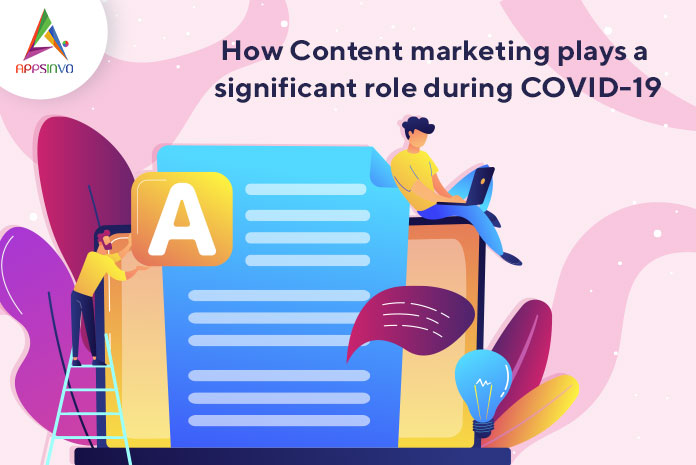 Coronavirus has brought a sad moment to the globe and we all are still confronting with the global threat due to the COVID. Consistent lockdowns and maintain social distance becoming new normal for the world. The terrific situation is, every business is hit by inflation in several ways. There are some industries like airlines, hotels, construction, textile, and many more that have adverse effects due to pandemic. 
Every business had faced challenges in their pre-business processes and practices. There are many activities that are used to manage the revenue and growth need to be amalgamated to connect with the new opportunities and avenues. 
Therefore, in this pandemic time when everything was under lockdown, there is only one thing that is helping businesses to keep afloat and it is content marketing. It helps to raise the businesses and came as the most significant trends for a marketer to handle the crisis. 
Content marketing is multidimensional and it is used for taking the benefit of the deep involvement with the consumer, consumer acquisition, retention along with upselling and cross-selling. Through this article, you will understand the significance of content marketing.
Importance of Content Marketing
Content marketing is a great way to stay connected with your customers and enhance pipeline production during the COVID-19 epidemic. 

With the changing landscape of the digital market, content marketing is the best way to engage and interact with your business audience, and COVID-19 content marketing gives you a platform in the digital world to showcase your business potential. 

Due to COVID, everyone is looking for entertaining content that should be educational, informative, and inspiring at the same time. Having a robust content strategy for your business will give you the chance to improve the key components through online marketing tools. 

Content marketing can completely change the ways of approach customers for the brands. 

The brands that are able to survive in this pandemic is because of content marketing.
Create a Wise Content
Due to pandemic, there are major and serious disruptions that happened in the ecosystem of digital marketing. So are you going to cut down your marketing budget, or are you keep going the ways things were going, or are you really increase the marketing costs? Therefore before deciding the answer to this question you need to make proper planning to make wise content for your company marketing. Here are some main reasons to keep creating content during this COVID pandemic
Take a position into the market through your content

Isolated customers are looking for diversions

Creating content is a long-term benefit.

 People are now using everything on a digital basis. 

Regularity and consistent are the faces of content success. 
Strategy for Content Marketing
It is vital to consider that our targeted audience is fearful and economically volatile and confronting many challenges and searching for reverts. The last thing your customers wanted is for a business to try to convince them to buy your services and products. Content marketing is a way to impress your customers in pandemic time. Therefore we have to bring some points that help you to build a result-oriented strategy for your business content marketing
Concentrate on the facts and think tactfully

Know your audience and give them what they are looking for

Build click-bit headlines

Also, aim the video content

Be prepare to evolve day-by-day

Mark your online presence on the local market

Add spark to your boring content.

Consistently run A/B tests
Final Thought
The impact of the covid-19 and this situation will not stay for longer, but with this pandemic, we all have learned a lesson, we should always be ready for any type of challenges in our lives. Content is the marketing valuable resource in this pandemic. Content marketing is imperative for every business out there remember that content that adds value to your business & customer lives will never go out of style. So keep creating content.
Till then, stay safe, stay at home, wash your hands, and be happy
For more updates, stay connected and keep reading
Toddles!!