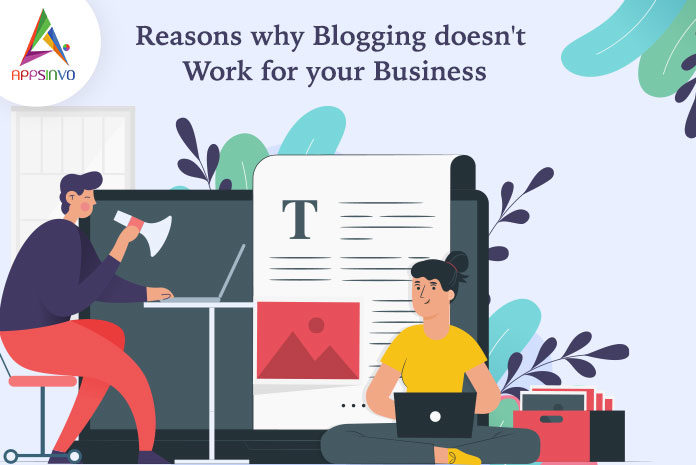 Modern era demand changes and with this we have to make enormous changes in our strategies, ways to work, plans, and etc with them. We need to walk along with the trend otherwise we'll lag. If you had built a company blog page and unable to get the expected results. 
No need to get panic, you just need to make some changes but it doesn't mean you have a bad strategy. It means you need another perspective to see where you're lagging and have changes to improve it.
After doing some research work, we have found out some reasons why your blogging page doesn't work for your business. 
Lack of Keywords
Most successful blogs are focus on more than 2 targeted keywords. For making your blogging successful first you need to do some market research that what kind of keywords your users are looking for and use those keywords in your blog this makes your blogging more beneficial.
Remain Readers Uncertain
If on your website users can't understand where they have to go, it would be risky for your website. This will leave your users clueless and they will head somewhere else to find what they are looking for. So you need to make sure, your blogs should be in a guide reader form that provides the direction to your users. 
Unattractive Design
"The first impression is the last impression" we all have heard this line so many times in our lives. It helps us in every domain or field in our life. When it comes how to make your blogging interesting the first thing everyone will mention the layout of your blog page. It is the first thing that everyone would notice whenever they visit your page. It is imperative to make your page attractive and have appealing designs, so it gives a pleasant experience to the users. For that, you can make changes in the font, images, blog layout, background color, and whatever that make the page more enticing.
Unclear Objectives
Technically, blogging doesn't work for you until you give a clear idea of your brand to your users through blogs. It doesn't mean you only talk or brief about your products and services and totally ignores the other facts. Due to this, you are creating confusion in your readers' minds. Do some market research on branded companies blogs and you'll get the idea of what is missing in your blogs exactly.
Summary
Basically, blogging has the aim of driving organic traffic to your website. It is imperative to follow the above-mentioned points for your business and website to make the blogging fruitful. Creating unique and optimized content is the right blend for achieving the beneficial outcome of blogging. 
Till then, stay safe, stay at home, wash your hands, and be happy
For more updates, stay connected and keep reading
Toddles!!