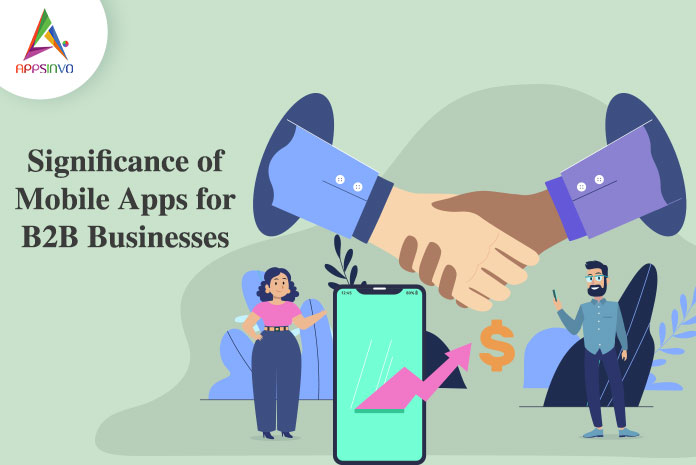 Every business is taking advantage of mobile apps nowadays, it is not just limited to B2C businesses. There are many B2B companies and businesses are also taking benefits from mobile apps. In a research study, it is shown that companies using mobile apps are more productive and employees become more involved rather than others. Mobile apps are experiencing a rise in B2B businesses and it can be great in the upcoming years. 
As per the B2B companies, 80% of employees are using smartphones at work as per them it plays a vital role in their job. By using mobile apps, businesses easily boost their sales up to 40%, and 75% of the B2B buyers prefer to decide their things on their own without any intervention of a sales representative. From all this, it becomes crystal clear the significance of the mobile apps for B2B businesses. 
In the B2B concept, there are variants provided in mobile apps. As a responsible business owner, you need to be very careful before analyzing the options for mobile app development before investing in it. The customized mobile apps for companies are enough to create opportunities for your business. Having a mobile app for your business will make it easier for the other clients to make the purchase without any hurdle and keep it on track as well that provides great productivity and builds better relationships.
Must-have Features in B2B Business Apps
Invoicing
This is the core feature of the B2B business app. This feature in your business app allows you to make your own place in the market and sync the app with the current market. This feature helps the businesses to easily keep the track of their various orders and in fact, generate automatic invoices. You can easily get the payments of your orders via the app and expand your delivery process to overseas as well. There are apps available in the market to create invoices.
Appointments
If in your businesses that include communication and interaction with the other companies, this feature is good for your business. Clients will love those features that connect them directly to where they want in simple and easy steps. The appointment feature in your app will be quite fruitful in these scenarios because through this feature, your clients can easily schedule the appointment and you can also answer them easily. It is not just finished, the app will also send reminders to both parties, so they do not miss it. 
Notifications
This is the best and economic way to spread the word about your business is to inform your people about your businesses and services. Push notifications are a powerful tool in the world of app marketing. In a study, it is shown that the rate of push notification is 90% and 52% of people prefer to push notifications to find deals and discounts. Therefore it becomes crucial for your businesses to use this feature in your B2B business mobile app. 
Promotions
There is nothing without promotion, every business needs to promote itself to get identified. Designing a portal to allow your clients to showcase their features will improve customer relationships and development in the business. If your company is the one who is engaged in events, training, workshops, and seminars, this promotional feature will enable your business to get more clients. This feature in your app can easily tackle everything like comment, attendee list, posts. 
GPS Connectivity
By using GPS connectivity it becomes easy to manually track the order. GPS tracking feature enables the businesses to opt for a wide delivery location as per the client's connectivity. This is a must-have feature for the B2B businesses mobile apps for current and potential clients. 
Optimized carts
When we are moving towards the 5G connectivity world, no one wants to work in a slow connection and hinder their whole progress. If your business is an eCommerce business, you should make sure to have high-speed internet connectivity to finish the payment transactions successfully. 
Newsletters
This is another way to promote your business and services through this feature. Email marketing is the best and cost-effective promotional tool for businesses to promote and engage with existing and new clients. With this feature, you can give updates to your clients about your newest services and products via greeting emails, rendering discount emails that aid in building a trust relationship with the customer.
Wrap up
After reading all these points for the B2B businesses, it is mandatory to make a proper strategy before jumping to the development of the mobile app and hiring the right mobile app development company. Because it is very important to understand the needs and then design the most suitable app for your B2B business. If you have any queries, feel free to ask. 
Till then, stay safe, stay at home, wash your hands, and be happy
For more updates, stay connected and keep reading
Toddles!!