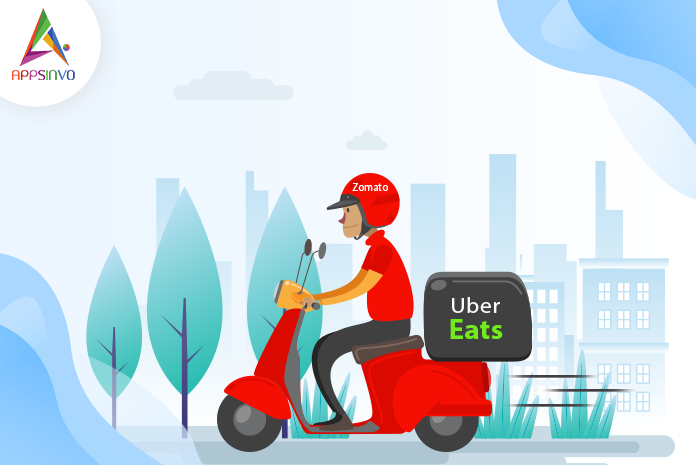 Till today, we all have three to four leading and amazing online food delivery companies that acquire the food delivery business market.
But from today it is lessened by 1 and remains two to three leading companies.
Yes, on Tuesday early Uber eats and Zomato both announced that Uber eats is acquired by the Zomato.
Zomato, the on-demand online food delivery app on Tuesday announced that it has acquired the Uber Eats food delivery business in India.
In exchange for acquisition, Zomato, a company backed by China's Ant Financial gives a 9.99 percent stake to Uber. 
In India, Uber eats will discontinue its services and operations, users, delivery partners of the uber eats to the Zomato platform from today.
Uber eats will transfer the basic information of the customers including their order history and contact details to the Zomato.
When Indian users click on the uber eats "Get Food Delivery" will redirect to the Zomato for six months.
The deal value is estimated at around 350 million USD (Rs 2485 cr).
Uber eats employees will not take in the transition. Around 100 managers will either be relocated to Uber's other verticals in the country or laid off.
As Uber's CEO Dara khosrowshahi told Reuters that the importance of the Indian market is exceptional and uber will continue to invest in the rides market.
Uber CEO is also mentioned that they were impressed by the rapid growth of the Zomato in a capital-efficient manner.
As per the Uber Eats India tweet, they are no longer available in India with the immediate effect.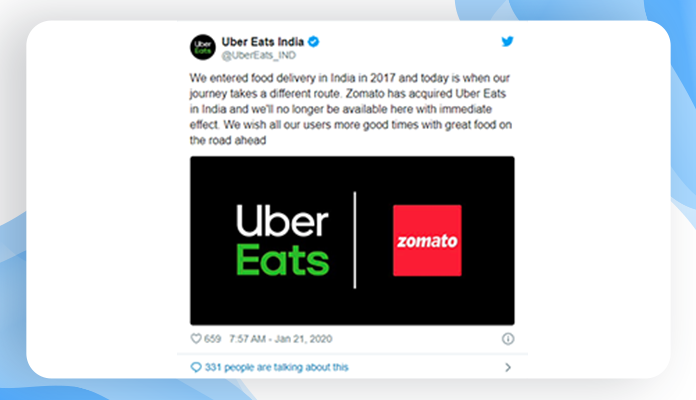 Uber eats is shutting its page down. If its users and customers have any kinda queries they can freely ask their customer service number.
After acquiring Uber Eats, Zomato will now collectively have a 55 percent share of the food delivery market and compete largely with Swiggy. 
About Zomato
Zomato is food delivery, restaurant discovery, restaurant review, and dining out transactions platform.
It provides in-depth information across 24 countries of over 1.5 million restaurants and serves more than 70 million users every month.
About Uber
Uber was started in 2010 to solve a simple problem of how to access a ride by using the app. 
This is how Uber comes into existence. Its mission is to create opportunities through action. 
After doing more than 15 billion trips, we're building goods to get people more familiar with where they want to be. 
By improving how things, people, and food pass through cities, Uber is a platform that initiates the world to open new opportunities.
For more updates, stay connected and keep reading
Toddles!!❤🙏